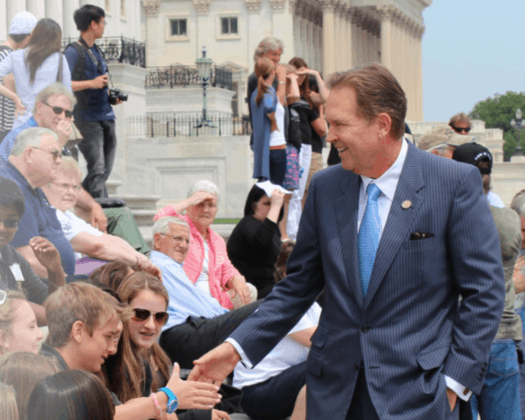 Spoiler: It's less than what Margaret Good has raised.
With $356,000 in 3rd quarter contributions, Republican U.S. Rep. Vern Buchanan's campaign has raised $1.35 million for the 2020 election.
That's less than Democrat Margaret Good announced she has raised in her initial filing. She raked in $450,000 from the time she launched her campaign in July through the end of September.
But Buchanan's camp noted it's averaging $450,000 a quarter. Now that Buchanan faces a Democratic challenger, he's ready for a serious campaign.
"Vern is fighting every day to end the Washington gridlock and produce real results for his community," said Max Goodman, Buchanan's campaign adviser. "We are humbled by the tremendous outpouring of support from Republicans, Independents, and Democrats throughout the region."
Good said support coming to her campaign shows a hunger for change.
"There's a clear choice for voters in Southwest Florida and I'm proud that our campaign is showing up, working hard, and listening to the people of this district," she said.
"After 12 years of Congressman Buchanan, Floridians are realizing it's time for a change and our momentum is growing because I show up for the people of this district. I am laser-focused on lowering prescription drug prices, protecting our Florida environment, and working across the aisle to get things done."
Democrats have previously noted Buchanan's numbers ignore that as of June, his coffers still included a $250,000 candidate loan. With Good raising resources, it seems less likely that debt will be paid back to Buchanan any time soon.
"Margaret Good just outraised Congressman Buchanan and it's time to start the retirement clock on him after yet another underwhelming fundraising quarter," said Kevin Lata, Good's campaign manager.
But the Buchanan campaign has scoffed in the past at assertions the long-time incumbent may retire, suggesting the incumbent is popular enough to win regardless.
"Margaret is already advising her team to go negative," Goodman said. "Gotta love it."
Buchanan defeated Democrat David Shapiro by 10 points in 2018. That happened in the face of a national blue wave where Democrats retook control of the House.
In that race, Buchanan spent $3.78 million to Shapiro's $2.2 million. But the Democrat also saw almost $2 million in additional help from the Democratic Congressional Campaign Committee and a dark money PAC, most notably some $1.5 million spent by Floridians for a Fair Shake and a related group.
That means even when outspent for the first time ever, Buchanan won by a landslide, Republicans say. Knowing that, Goodman said Buchanan will have more than enough resources.
And Florida's 16th Congressional District is still territory GOP President Donald Trump won by 11 points in 2016.
Still, Good's haul grabbed attention this week. It will likely get more for the fact she outraised a seven-term incumbent who had all of July to accept checks.
Sources close to Buchanan dismissed that as noise. One source close to the incumbent said the campaign anticipated Good would raise more and exceed half a million.
Those close to the campaign suggested Good would be even more successful if she hadn't spent the summer distancing herself from such liberal policies as the Green New Deal, Medicare for All and impeachment.