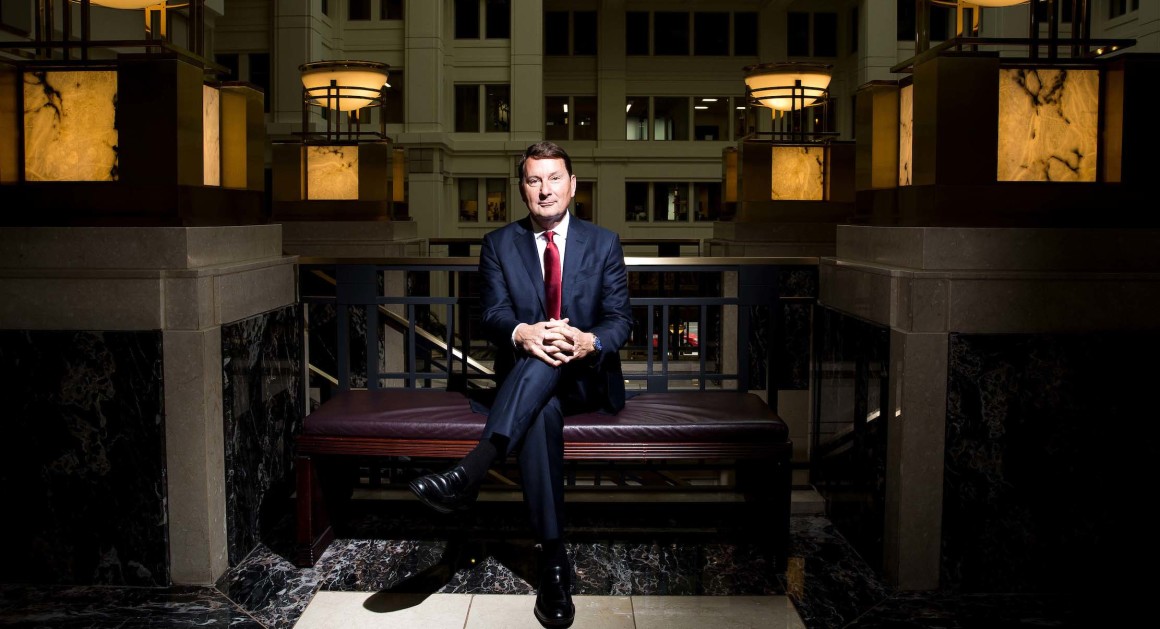 The bank hired Ballard Partners in August 2017.
Ballard Partners, the Florida-based lobbying firm for Halkbank, told Al-Monitor it will no longer represent the Turkish state-owned bank. The decision came after federal prosecutors on Tuesday announced a six-charge indictment against the institution.
"For some months now, we have been arguing that in its consideration of this case, it was important for the U.S. government to taken into account the fact that Turkey is a close NATO ally and the bank is especially important to the country's financial system and economy," James Rubin, a partner at Ballard Partners, told Al-Monitor.
"Since the matter is now in the judicial channels, we felt it was the right moment to bring our representation to a close."
Rubin was registered as a lobbyist representing Halkbank, as was Brian Ballard, who has worked with President Donald Trump's campaign.
Halkbank, Turkey's second-largest state-owned bank, spent $3.3 million on lobbying over two years. The bank hired Ballard Partners in August 2017 and has paid the firm more than $2.6 million
That was largely in hopes of avoiding exactly what happened in federal court on Tuesday.
U.S. Attorney Geoffrey S. Berman said charges related to a multi-billion to circumvent U.S. Sanctions on Iran.
"The facts that emerged at the full, fair, and public trial of Halkbank's deputy general manager, which culminated in a jury's January 2018 guilty verdict against him, illustrated senior Halkbank management's participation in this brazen scheme to circumvent our nation's Iran sanctions regime," Berman said.
"As alleged in today's indictment, Halkbank's systemic participation in the illicit movement of billions of dollars' worth of Iranian oil revenue was designed and executed by senior bank officials.  The bank's audacious conduct was supported and protected by high-ranking Turkish government officials, some of whom received millions of dollars in bribes to promote and protect the scheme.  Halkbank will now have to answer for its conduct in an American court."
Congressional lobbying records show that the bank hired McGinn and Company in December 2017 and paid that firm $690,000, according to Al-Monitor. King & Spalding also briefly registered as a lobbyist for the Turkish Foreign Ministry in December 2017 after one of its partners, Andrew Hruska, asked the U.S. Attorney's Office for the Southern District of New York for a continuance in its case against one of the bank's top executives, Deputy General Manager Mehmet Hakan Atilla.
Hruska's letter prompted the Department of Justice's foreign lobbying unit to request that King & Spalding register. But the firm afterwards never reported any activity on behalf of Turkey or Halkbank
Atilla was ultimately sentenced in May 2018 to 32 months in jail. He was released in July, his sentence served. But the verdict against him prompted speculation or the bank itself would be charged.
FBI Assistant Director-in-Charge William F. Sweeney Jr. said decisions were ultimately being made by the bank that were intended to deceive allies.
"Halkbank, a Turkish financial institution whose majority shareholder is the government of Turkey, willfully engaged in deceptive activities designed to evade U.S. sanctions against Iran," Sweeney said.
"Halkbank illegally facilitated the illicit transfer of billions of dollars to benefit Iran, and for far too long the bank and its leaders willfully deceived the United States to shield their actions from scrutiny.  That deception ends today.  The FBI will aggressively pursue those who intentionally violate U.S. sanctions laws and attempt to undercut our national security."