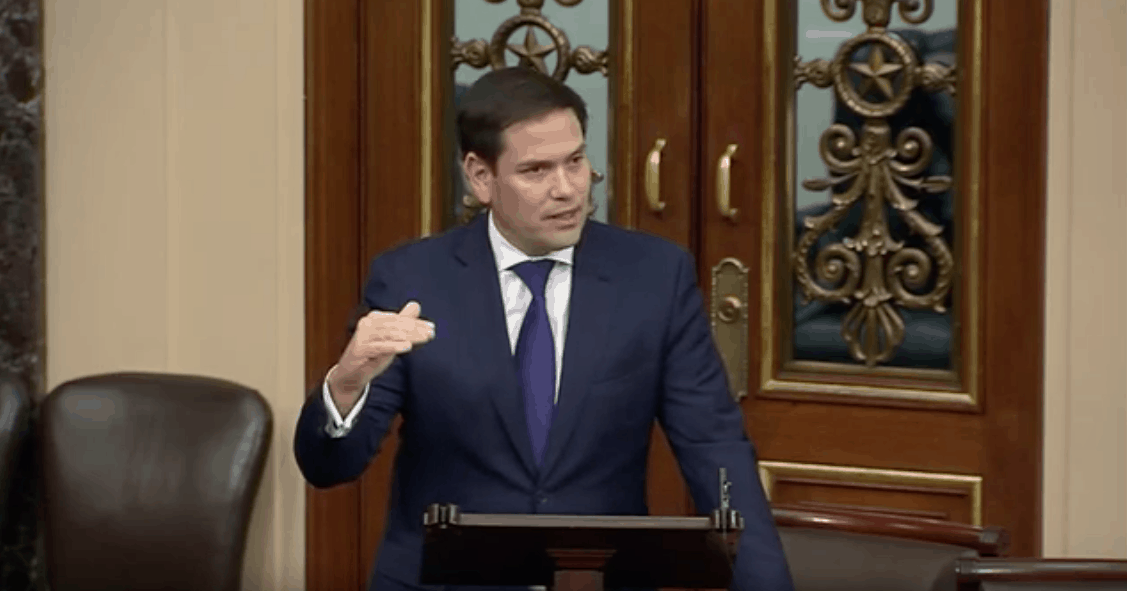 That leaves Israel far more vulnerable, Rubio charged
While supporting the deal announced Thursday with Turkey for a cease fire as a way to save Kurdish lives, U.S. Sen. Marco Rubio blasted President Donald Trump's Syria policies for undermining and unraveling America's interests and giving Kurds only the choice of fleeing or dying.
In a 16-minute speech on the floor of the U.S. Senate Thursday, Florida's senior Senator thoroughly and unequivocally denounced Trump's policies as abandoning America's moral obligation to an ally; loosening the grip on ISIS in Syria and Iraq; enabling Syrian President Bashar al-Assad, whom he called a "stone cold criminal;" empowering Iran; emboldening China and Russia; and endangering Israel.
"I want to tell you the administration and the President's decision has undermined every single one of them," Rubio said of American interests in the region. "And that's the only way to talk about it. And I think has done so in ways that we're going to regret for a long time."
Rubio's lengthy address touched on America's security interests throughout the Middle East, and for that matter throughout the world, charging that Trump's policies in Syria increase threats throughout the region by giving Iran new power, confidence, and influence. That, Rubio argued, undermines additional American interests from Iraq through the Arabian Peninsula to Yemen and Bahrain, and makes real war more likely.
And that leaves Israel far more vulnerable, he charged.
"His decision actually, I fear, makes it likelier that there's going to be a war and I'll tell you why," Rubio said. "As I pointed out first, the Iranian attack calculation. This further strengthens their belief that they can get away with even more brazen attacks because the threshold for a U.S. military response is higher than it's ever been because we're looking to get out and this proves it. What that can mean is they can miscalculate. We're going to have to respond, and all of a sudden you're in a real shooting war. Not a 2,000 person on the ground working with the Kurds war, a real regional conflict."
He expanded that concern to raise credibility concerns involving other American alliances in other areas.
"And ask yourself, after this, will any ally relying on the United States security assurances be more or less confident of our security assurances?" he added.
Rubio sought to walk a tight rope on the deal announced Thursday by Vice President Mike Pence and U.S. Secretary of State Mike Pompeo, praising it as "noble" for saving lives, but blasting it for having no strategic value to American interests, for unraveling all other American efforts there to date, and for not offering any concession to Kurds, other than a chance to live.
"It does not appear to me, however, with all due respect, that this is really a cease-fire. It is more an ultimatum because what it basically is saying is [Turkey President Recep Tayyip] Erdogan is saying 'here's land that I intend to take, I intend to drive every Kurd out of this area, and I intend for Turkey to control this area in northern Syria as a security zone,' as he calls it. And the only thing he's done and agreed to is an ultimatum: 'The Kurds can leave this area voluntarily in the next five days or I'll move in and take it and kill them.'"

Rubio expanded the criticism to warn that America's abandonment of the Kurds gives Russia and China evidence for their arguments that the United States is an unreliable partner, and that countries would be safer aligning their interests with Russia and China.
"I can tell you when China and Russia go to them the next time and say America is unreliable, they'll have one more exhibit to show them as evidence to prove it. And that's why I say that this decision has an impact that goes well beyond Syria," Rubio said.
He spoke pessimistically about what can be done now, contending, "there are some mistakes and some decisions that cannot be reversed. There is some damage that cannot be mitigated.
"I think there might be some opportunities for the administration in the weeks and months to come to do some things about it, but right now I think we need to prepare ourselves for the consequences of what this is going to mean in the long term," he concluded.