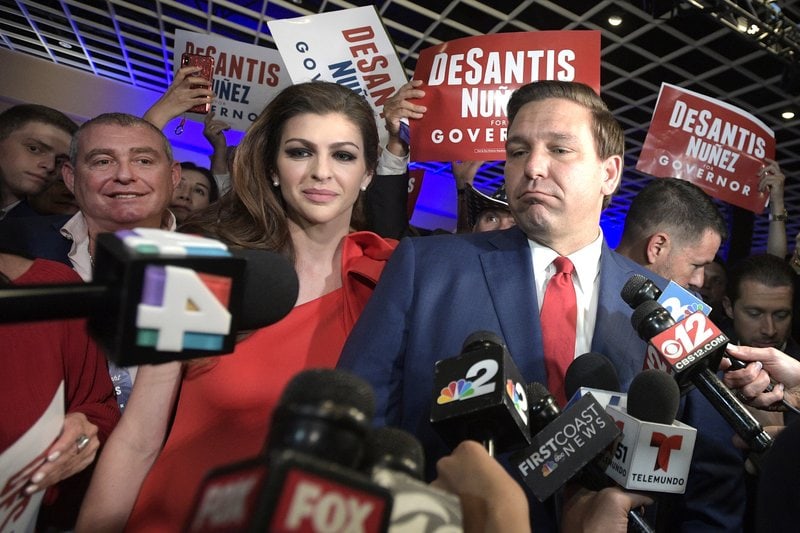 Seeks communications with Rudy Giuliani, Lev Parnas, and Igor Fruman
The Florida Democratic Party is demanding that Gov. Ron DeSantis turn over any records he has that might show associations with the two South Florida men arrested last week for allegedly laundering foreign money into American campaign contributions.
The Democrats' public records request also seeks such records involving Rudy Giuliani, at the heart of the Ukraine scandal involving President Donald Trump and the two South Florida men arrested last week, Lev Parnas and Igor Fruman, plus their company, Global Energy Producers.
The request comes after DeSantis acknowledged he had a relationship with Parnas, and after federal indictments against Parnas and Fruman indicated they had provided, among many Republican campaign contributions, $50,000 to DeSantis' 2018 gubernatorial campaign. DeSantis said he would return the money.
Parnas and Fruman — U.S. citizens who were born in Ukraine and Belarus, respectively — were charged with laundering foreign money to a number of Republican campaigns while seeking to build political support for the removal of now-former U.S. Ambassador to Ukraine, Marie Yovanovitch.
They also reportedly worked withTrump's private attorney Rudy Giuliani to try to get Ukrainian officials to investigate Democrat Joe Biden and his son.
Giuliani has sought to distance himself from Parnas and Fruman in the campaign contributions case, saying he had no idea what they were doing with that.
DeSantis said he knew Parnas as one of the top Trump supporters in Florida, but did not know Fruman as well.
A third Florida man, David Correia of West Palm Beach, also was arrested and charged in the laundering case. But the Democrats' records request did not mention him.
"There are still a lot of questions DeSantis has yet to answer regarding his relationship with these men — and what was asked of him by Lev Parnas and Igor Fruman for the money he received," said FDP Chair Terrie Rizzo. "Floridians deserve to know if their governor is compromised in any way to these shady individuals."
Among the questions that would go beyond anything involving DeSantis is what role Parnas and Fruman played in Giuliani's alleged efforts, on behalf of Trump, to pressure Ukrainian officials into digging political dirt on Biden and Democrats, to potentially aid Trump's reelection campaign. That issue currently is the central focus of U.S. House Democrats' impeachment inquiry into Trump.
Yovanovitch reportedly told the House Intelligence Committee last week that she was forced from her post because of Giuliani's efforts, because she was pushing back on his assertions that there had been any corruption in Ukraine that could be tied to Biden or his son Hunter Biden.