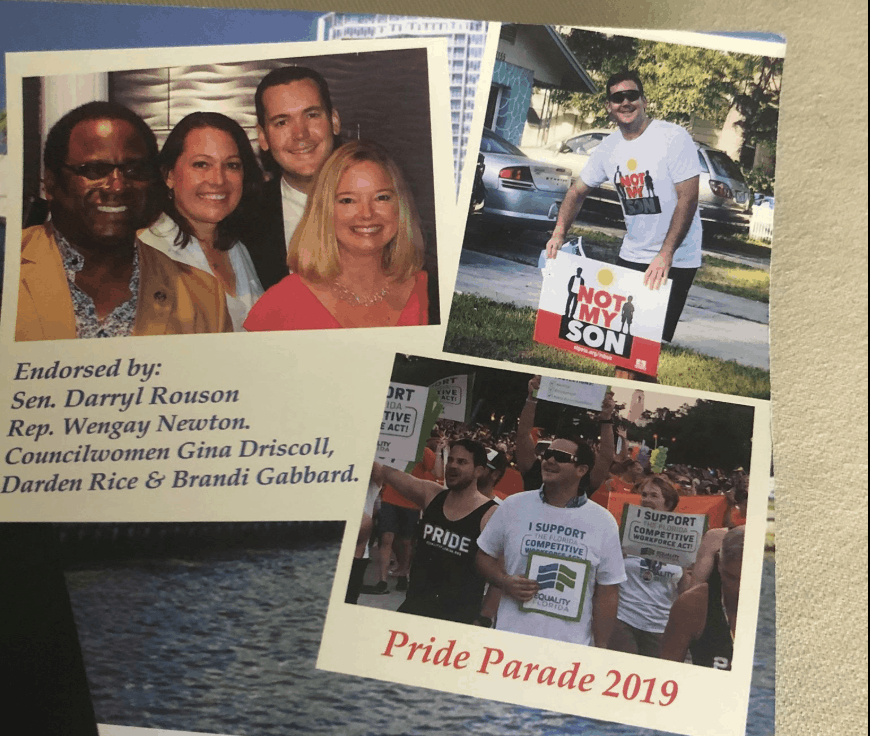 Can a Republican be 'progressive'? Robert Blackmon thinks so.
Voters in St. Petersburg saw some new candidate fliers in their mailboxes over the weekend.
District 1 City Council candidate Robert Blackmon hit voters with a positive ad touting himself as a "progressive voice" for St. Pete.
The mailer hit some voters with a bout of irony. Blackmon is a Republican.
One of Blackmon's opponent's most vocal supporters, Lucinda Johnston, took to Facebook to ask if a Republican could be progressive, a term typically reserved for leftist Democrats.
Several commenters answered yes and pointed to Dwight D. Eisenhower, a Republican who continued New Deal programs and expanded Social Security. Others pointed out that while a Republican could support progressive issues then that's not the case now because modern conservatives no longer support those types of policy reforms.
Still, Blackmon has been using his campaign outreach to ditch the conservative image associated with his party affiliation talking up things like environmental protection, LGBTQ rights and positive reforms to help the African American community.
"I'm running for City Council because we need new leadership to rise to the challenges and opportunities our city presents," the latest flyer reads.
The mailer shows a photo of Blackmon with Democrats who have endorsed him including City Council members Darden Rice and Gina Driscoll and state Rep. Wengay Newton.
It also shows a photo of him marching in this year's Pride parade and another of him planting a Not My Son campaign yard sign into someone's yard.
St. Pete Mayor Rick Kriseman launched the campaign before his 2017 reelection with the goal of promoting positive achievement and anti-crime awareness in black youth and young adults.
Blackmon is currently way out ahead of his opponent, Democrat John Hornbeck. In the latest St. Pete Polls survey, Blackmon leads Hornbeck, who has struggled to gain traction in his campaign, by 16 points.
Another mailer supporting District 5 candidate Deborah Figgs-Sanders also sends a positive message to voters. The mail headline notes Figgs-Sanders has "solutions to meet our needs" and touts three key campaign platforms including economic growth, investing in kids and protecting the environment.
To do that, the flier says Figgs-Sanders would support local businesses to encourage job growth, include education and mentorship programs and preserve the city's natural beauty.
The other side claims Figgs-Sanders has the "leadership to meet the needs of St. Pete" and touts Figgs-Sanders as a dedicated mother, small business owner and community leader.
"District 5 and the city of St. Petersburg should have a representative who is keenly aware of the current issues and has a plan that is dedicated to addressing the needs of the future," the flyer reads.
Figgs-Sanders leads her opponent, Trenia Cox, by 11 points, according to the St. Pete Polls survey.