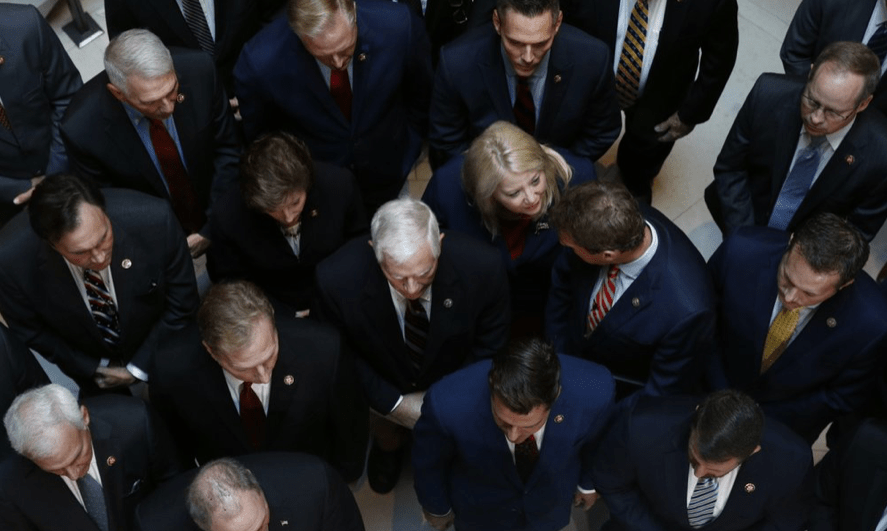 Did Gaetz violate security rules by tweeting from inside?
In a show of protest, Florida Republican U.S. Rep. Matt Gaetz and other Republican members of Congress crashed the hearing room where President Donald Trump impeachment inquiry hearings are being held. The group included U.S. Reps. Michael Waltz, Ross Spano, and Bill Posey.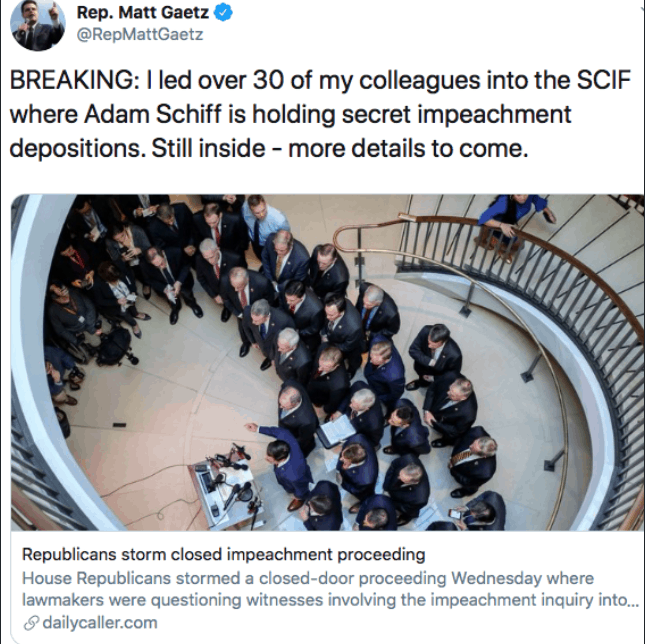 "I led over 30 of my colleagues into the SCIF where Adam Schiff is holding secret impeachment depositions. Still inside – more details to come," the Fort Walton Beach Republican tweeted around noon Tuesday.
A few minutes later a second tweet seemed to clarify whether Gaetz had violated the rules of the Sensitive Compartmented Information Facilities in the basement of the Capitol Building, by communicating from the inside, though it was not clear. The second tweet read: "Tweet from staff."
The SCIF rooms are used for classified briefings and other sensitive matters and communication devices such as cell phones are forbidden inside.
A Democratic staffer confirmed that the Republican protesters broke the rule by carrying in such devices.
Waltz indicated in a news release that the protest and its reception were apparently far more civil than a storming, though others gave a different assessment.
"Waltz and fellow Republicans requested access to the House Intelligence Committee's impeachment proceedings. The members were led inside the committee room but were denied access to proceedings and transcripts," the release from Waltz's office indicated.
The protest apparently ended the morning proceedings being led by House Democrats, but to which House Republicans who are members of the inquiry committees are welcome. Gaetz is not a member. The deposition with Laura Cooper, a senior Defense Department official who oversees Ukraine policy, was temporarily on hold.
Democrats deny that Republicans are being treated unfairly, noting they have had equal time to question witnesses and full access to the meetings. But they said the lawmakers — several of whom do not sit on one of the three committees — had compromised security at the closed-door deposition by bringing in cell phones.
Orlando's Democratic U.S. Rep. Val Demings, a member of the House Intelligence Committee leading the inquiry, blasted her Republican colleagues' action Wednesday as a "circus-like stunt [that] will delay but will not prevent our search for the truth about the President's stunning misconduct."
U.S. Rep. Debbie Wasserman Schultz, a Weston Democrat, gave a vastly different account from Waltz's. She said Republican lawmakers blew past Capitol Police officers and Democratic staffers. The staff member who was checking identification at the entrance was "basically overcome" by the Republicans, she said.
"Literally some of them were just screaming about the President and what we're doing to him and that we have nothing and just all things that were supportive of the President," Wasserman Schultz said.
Republican U.S. Sen. Lindsey Graham of South Carolina also criticized the Republican House members for the tactic, calling them "nuts" to make a "run on the SCIF."
"That's not the way to do it," he said.
Gaetz is positioning himself as one of Trump's most activist supporters in Congress. Last week he was thrown out of an earlier impeachment hearing, for not being a committee member, during testimony from diplomat Fiona Hill. However, two weeks ago he was a no-show at his own stop the impeachment rally in St. Petersburg.
The hearing room has capacity for about 75 people. When diplomat William Taylor testified on Tuesday the room reportedly was at capacity for his opening statement, but Republicans left en masse after that, with only a few staying to question him about his testimony regarding President Donald Trump's actions in Ukraine.
The protest came after Gaetz and Republican Whip Steve Scalise of Louisiana led a news conference protesting the closed-door hearings, contending all members of Congress should be allowed to participate. They called the hearings a sham with the Democrats' only intention to overturn the 2016 election of Trump.
"Behind those doors they intend to overturn the results of a presidential election. we want to know what's going on. And it's only reasonable that we would have questions," Gaetz said. "Because so far Adam Schiff's impeachment inquiries have been marked by secret interviews, selective leads, weird theatrical performances and transcripts that never happened, and lies about contacts with whistleblowers."
Waltz, of St. Augustine Beach, also spoke, stating, "I have fought from Afghanistan to West Africa – I have operated in countries in third world countries who have fairer processes to deal with their elected leadership than what we see today."
Spano, of Dover, and Posey, of Rockledge, were part of the news conference.
U.S. Rep. Fred Keller of Pennsylvania tweeted that when the Republican protesters entered the room the Democrats recessed the hearing and left.
The protest came a day after Taylor delivered some of the most profound testimony of the investigation. The acting Ambassador to Ukraine charged that he was advised that the White House made an ultimatum that Ukraine pledge investigations into Democrats or the country would not get $391 million in military aid that had been authorized by Congress.
"An overwhelming and growing body of evidence shows that the President exploited and abused national security funding in a scheme to interfere with the 2020 election," Demings declared. "The White House readout of the President's call, the text messages between senior diplomats, the public confessions of the President and his chief of staff, and yesterday's stunning testimony by Ambassador Taylor are all consistent, credible, and damning.
"Republicans in Congress have disputed none of it. Instead, they've decided that their only course of action is to disrupt the investigation so it can't uncover any more evidence," Demings continued.
Associated Press reporting contributed to this report.