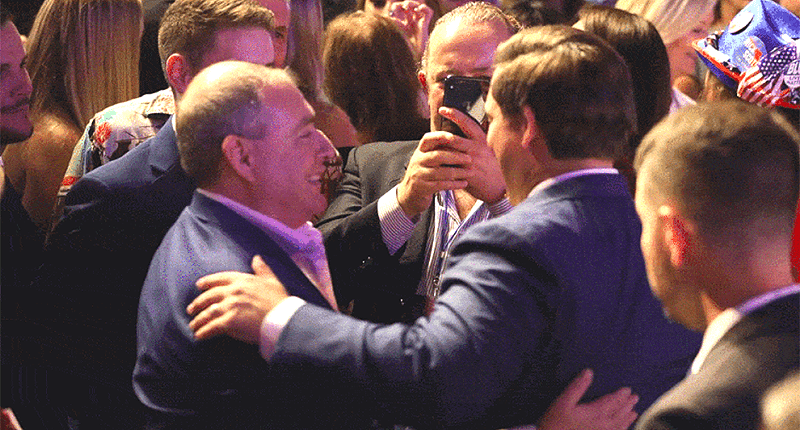 The Ukrainian national is tied to a scandal threatening the Trump presidency.
Florida Democrats want Gov. Ron DeSantis to return all money raised at campaign events hosted by an indicted associate of Rudy Giuliani.
The push came after revelations that Lev Parnas, along with Igor Fruman, attended at least two events for DeSantis in the same day. Parnas served on host committees for other events benefitting DeSantis, who has said he already has returned $50,000 given to the campaign that was tied to the men.
"For now, only DeSantis and Parnas know how much money was raised into the DeSantis campaign by Parnas and his foreign investors. And for now, only DeSantis and Parnas know what influence was exchanged for the donations," said Florida Democratic Party chair Terrie Rizzo.
"As more is uncovered about Parnas' scheme to influence U.S. elections, Floridians deserve more answers about how deep DeSantis' relationship goes with him. All money associated with fundraisers hosted by Parnas should be returned immediately."
Parnas hosted two fundraisers for DeSantis, according to the Miami Herald. A review of campaign coverage by Politico found Parnas attended Nov. 4 events in Boca Raton and South Daytona, locations about 200 miles apart.
With the events 90 minutes apart, the men must have traveled either with DeSantis' team or with Giuliani, President Donald Trump's personal attorney, stumping for the Republican in the final weekend of the gubernatorial campaign. Parnas also sought a spot on DeSantis' transition team.
"I'm not going to add anything else except to say that this individual had no involvement in any policy or anything involving the administration," DeSantis told reporters after Tuesday's Cabinet meeting in Tallahassee.
"In fact, one of the fundraisers in South Florida that worked on these fundraising events for us received a request from him to be on one of our transition committees for public safety. That request was denied. And so he was not on that committee."
"… As soon as this stuff came out, I told the (Friends of Ron DeSantis) PAC, you've got to send the money to the (federal) Treasury and let's just move on with it. And that's what we're doing. And so I don't really have anything else to add."
Also, last week – after initially downplaying any relationship – DeSantis first acknowledged he knew Parnas. Photos show both men were near DeSantis at key moments during his victory party in Orlando on Nov. 6.
"I didn't know the other guy as much," DeSantis said last week. "But this was a guy who was at RNC (Republican National Committee) functions, Trump Victory functions, he was at a lot of these things, was viewed as one of the top supporters of the President in Florida. And so, it was just like any other donor. Nothing more than that."
Interest in the relationship has grown since Parnas and Fruman were indicted in campaign finance charges. An indictment accuses the men of funneling hundreds of thousands of foreign dollars into U.S. campaigns and political committees.