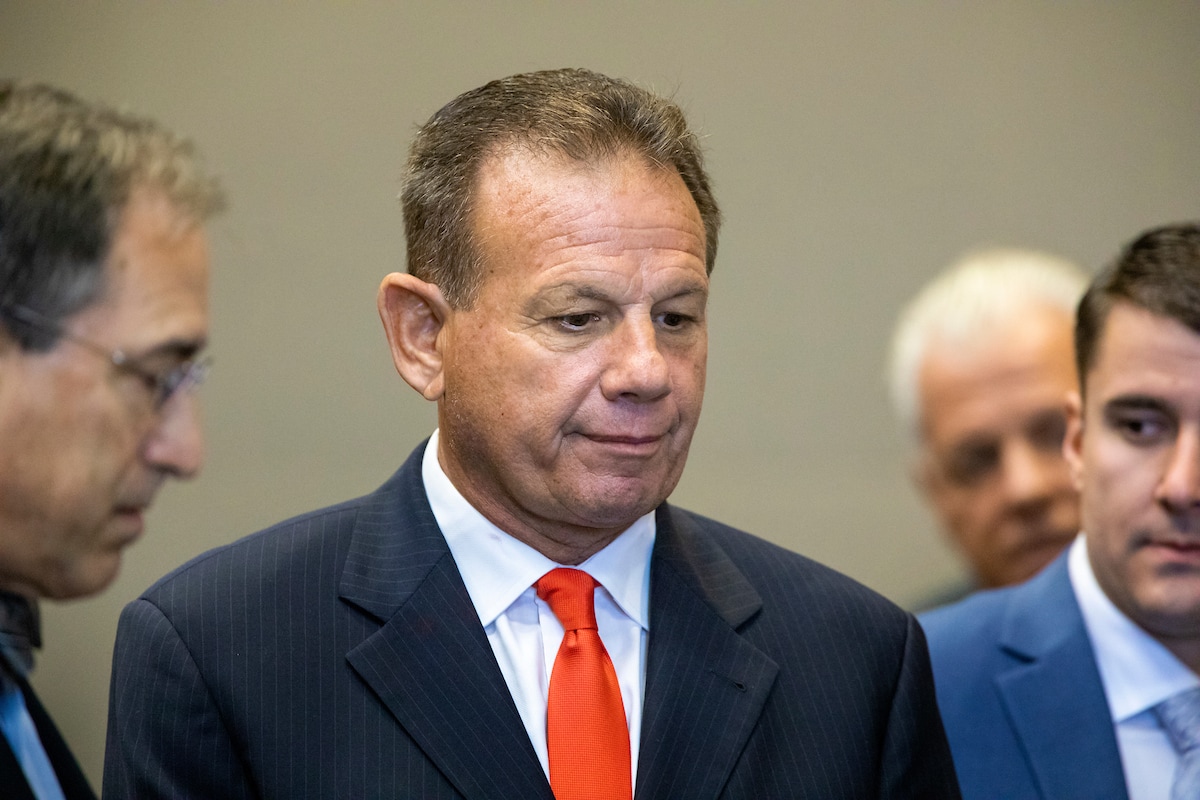 Israel has already filed to run in the 2020 election to gain back that job.
Suspended Broward Sheriff Scott Israel has been permanently removed from office after a full vote by the state Senate Wednesday.
That decision was largely by Republicans, with Democrats mostly voting to reinstate Israel, also a Democrat. But neither party voted unanimously, leaving the final tally at 25-15 in support of Israel's removal.
Democratic Sens. Randolph Bracy, Darryl Rousson and Annette Taddeo joined Republicans in ousting Israel. Sen. Tom Lee was the only Republican to vote to reinstate the beleaguered Sheriff.
Israel has already filed to run in the 2020 election to return to the post. He released a statement after the vote that began by apologizing for comments he made after last February's mass shooting at Marjory Stoneman Douglas High School.
"First, my thoughts today are with those families and friends who lost loved ones on that horrific day … especially those who spoke in the Senate hearing Monday. I heard them, every single one," Israel wrote.
"My poor choice of words and inartful tone in the days following the Parkland murders caused them pain. I am deeply deeply sorry for that … and I will be for the rest of my life."
But the remainder of the letter was combative: "To the voters in Broward County, I am sad to report that politics won the day. Your vote has been stolen and the results of our 2016 election have been overturned.
"The process they used to steal your vote was a sham and by the Governor's own admission simply 'political.' These politicians in Tallahassee ignored or dismissed the advice of the previous Governor, the commission charged with investigating the Parkland murders, the chair of that commission and even their own judge in the matter. Law Enforcement in Florida fundamentally changed tonight."
The Senate had convened a Special Session to decide Israel's fate this week. It began Monday with a meeting of the Rules Committee. That body forwarded a recommendation that Israel be removed by a party-line 9-7 vote.
DeSantis suspended Israel in January, signing an Executive Order citing the Broward Sheriff's Office's (BSO) handling of the shootings at Parkland's Marjory Stoneman Douglas High School and the Fort Lauderdale-Hollywood International Airport in January 2017.
DeSantis issued a statement of his own following the Senate vote.
"I thank the Florida Senate for tending to this matter," DeSantis said. "I hope the outcome provides some measure of relief to the Parkland families that have been doggedly pursuing accountability."
The high school shooting loomed largest throughout the week's proceedings.
Israel came under fire after Deputy Scot Peterson, who was serving as the school resource officer on the day of the shooting, failed to confront the shooter. Investigations found several other BSO deputies also did not urgently enter the building.
That led DeSantis and most Senate Republicans to the conclusion Israel should be removed.
"Taken in total, this is not an individual failure," GOP Sen. Rob Bradley of Fleming Island argued Wednesday. "This is an institutional failure."
But those were not the findings of Special Master Dudley Goodlette, the hearing officer appointed by Senate President Bill Galvano to review the case and offer a recommendation to the Senate.
Goodlette, a Republican former House member, reviewed evidence and oversaw the questioning of witnesses, including Israel himself.
Goodlette, a lawyer, issued a final report recommending Israel be reinstated. He argued that while BSO deputies failed, the Governor did not prove a showing that Israel acted with "incompetence" or "neglect of duty."
"To be sure, Sheriff Israel bears ultimate responsibility for the neglect of his deputies," Goodlette found. "But it is impractical to suggest that he can face removal from office based on the conduct of a subordinate that was never authorized, sanctioned, or ratified."
Goodlette was among those who answered questions from the Rules Committee Monday. He also spent 40 minutes Wednesday answering additional questions from Senators not on that committee.
Senate Republicans, in backing the Governor's decision, argued Goodlette's report was not binding. Indeed, Goodlette stated Wednesday that he knew the report would be advisory in nature.
They also pointed to additional evidence presented by the Governor's team after the submission of Goodlette's report. That process, which was permitted by Senate Rules, caused Lee some consternation.
"You can't have confidence that justice was conducted here when things are being added on the fly," said Lee, a former Senate President.
He raised several procedural objections throughout the Senate procedure, which caused him to walk out on Monday's vote of the Rules Committee and subsequently vote for Israel's reinstatement Wednesday.
Among those issues was the Governor's decision to cite an 1868 statute to support Israel's suspension.
That statute reads, "Sheriffs may appoint deputies to act under them who shall have the same power as the sheriff appointing them, and for the neglect and default of whom in the execution of their office the sheriff shall be responsible (emphasis added)."
Lee raised concerns that by including that statute in the basis for removing Israel, it sets a precedent allowing future Governors to suspend a sheriff for the actions of a deputy that, as Goodlette explained in his report, "was never authorized, sanctioned, or ratified."
"No one has ever been able to provide us with a case where a sheriff, duly elected by the people of his or her county, has been removed from office for the single act of a single deputy on a single day," Lee said.
"So when we go home and jump into our next selfie with our sheriff — because I know how good that looks on our campaign pieces — make sure he knows what we did today."
But Republican Senators, such as Bradley, argued there were wider failures than just Peterson's refusal to enter the building.
And Sen. Aaron Bean of Fernandina Beach argued the gravity of the attack warranted a unique reaction: "Never before have we seen such horror and sadness. And that's why we're here."
Senate Democrats largely agreed, referencing Goodlette's findings to justify their support for Israel's reinstatement, dissenters notwithstanding.
Five of those Senate Democrats cover portions of Broward County, which includes Parkland.
But Broward Democrats, and others, pushed back on DeSantis' suspension. They argued, as Goodlette did, he did not meet his burden and therefore those who voted to put Israel into office in 2016 should not have those votes negated.
Democratic state Sen. Kevin Rader, who represents the Senate District containing Parkland, echoed Lee's concerns regarding precedent as he defended his vote to reinstate Israel.
"The families deserve justice for what occurred on that tragic day," Rader said. "But the decisions we make in this chamber may have grave consequences in coming similar circumstances."
That stood in stark contrast to parents of Parkland victims, who consistently called for Israel to be removed. Several of those parents were among members of the public who testified at Monday's Rules Committee meeting.
Taddeo, in opposing reinstatement, said those parents drove her decision: "I am taking the call of the parents. I understand, and I will vote to recommend the suspension of Mr. Israel."
If Israel maintains his plan to run in the 2020 election, DeSantis has conceded he would accept the results, should voters put him back in office.