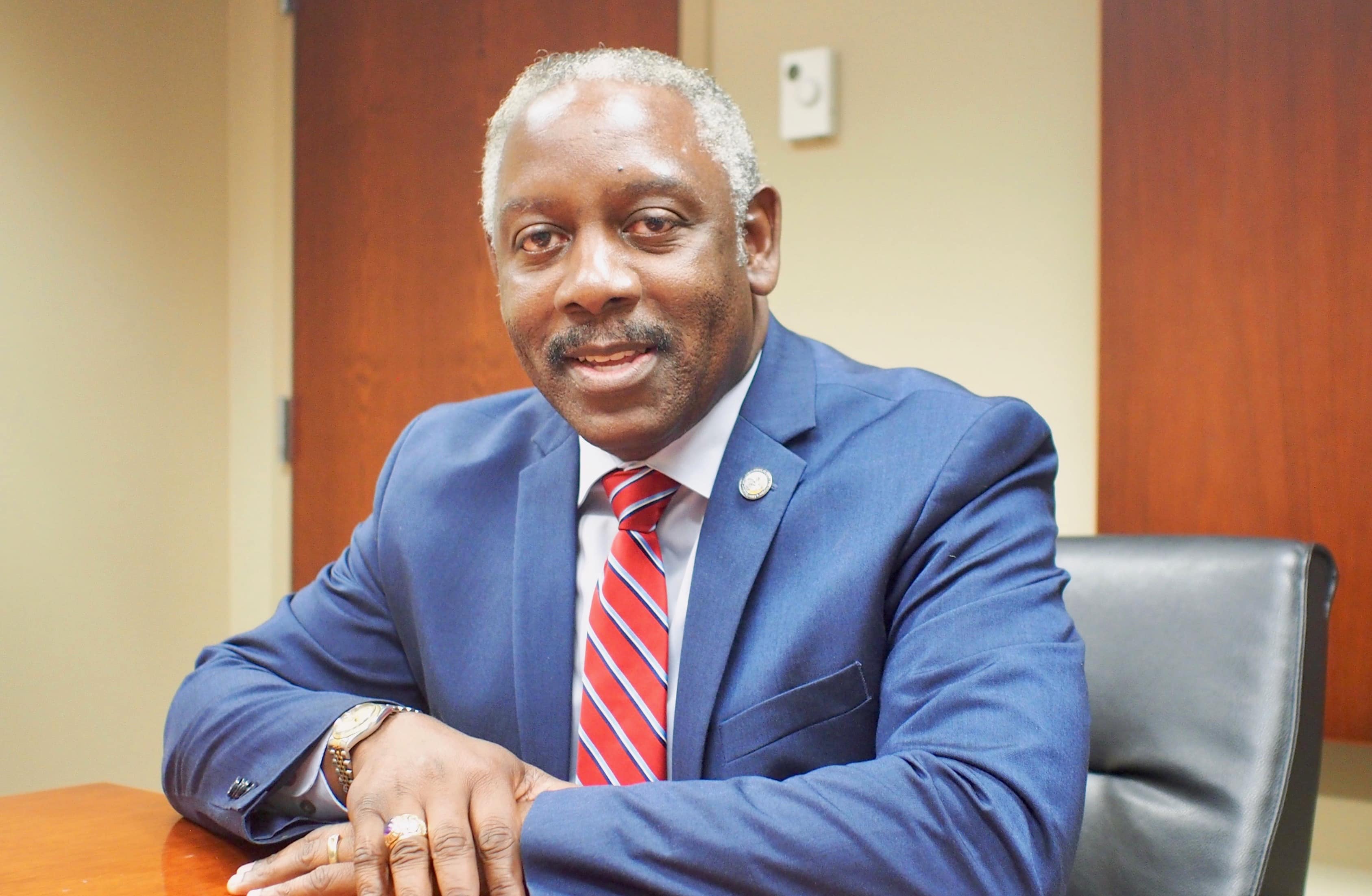 Demings is committed to sales tax increase proposal
Through more than 90 different community meetings including four big, regional town halls in the past few months Orange County Mayor Jerry Demings is getting a singular message from Orange County residents that's no secret to anyone: Traffic congestion is a big and worsening problem just about everywhere.
But Demings also is cognizant of the math as he continues to push forward on his intention to put a transportation-funding sales tax increase on the county's ballot in November 2020:
Orange County has 2,700 miles of roadway and one out of every four roads is failing.
The regional bus system LYNX has 71 routes in the 2,500-square-mile, three-county area it serves, maybe a quarter of the penetration seen in other metropolitan areas.
The region's commuter rail system, SunRail, is slated to be turned over to local governments in 2021, meaning they might have to replace the $26 million the state spends each year to subsidize its operation and maintenance.
Since the county's last — failed — ballot attempt to raise taxes to pay for transportation improvements in 2003, the Central Florida population has been growing by about 1,000 people a week.
Over the next 20 years that population growth is expected to be closer to 1,500 new residents a week.
"What I hear is people are unified around the idea that we have a traffic congestion problem," Demings said. "And they want the leaders in this community to do something about it. Where they may not be unified is: how to pay for it."
What's to be done? That's Demings' challenge. In his first state of the county address he pledged to push a sales tax increase, provided a long round of public meetings convinces him and others it's viable and that a consensus list of transportation projects can be developed to put before voters as a package.
Of all the revenue options, the sales tax promises the most: projections of about $600 million in new revenue from a one-penny tax, and slighly more than half of that is expected to come from Orlando's 75 million visitors a year. In fact, he contends no other funding methodogy could come close to meeting what he says is a multi-billion dollar effort needed for a transformational answer to the city's transportation.
"I see myself committed at this point," to a sales tax increase proposal, Demings said. "How long? How much, whether that's a half penny or a penny? I remain flexible on this point. Because the project list will determine that. What's the best length of time, and wether it's a half penny or a full penny.
"With this tax I am not talking about supplanting. The existing revenue sources are inadequate to just maintaining what we currently have," Demings continued. "So what I am trying to do is anticipate the future needs of our community and to establish short term goals and long term goals to address those needs. So I am not just looking at here and now. I am looking at what does this community need for the next 50 years."
There is the projected population growth to consider. There also is the understanding that about 300,000 acres in eastern Orange and Osceola counties are owned by one entity, Deseret Ranches of Florida, a body of the Church of Jesus Christ of Latter-day Saints, and that Deseret Ranches intends to develop all of that in the 21st Century.
"And so when we talk to them, they want to know, as good stewards of God's green Earth, what are your plans?" Demings said.
"This sales tax would be fuel for the economic engine to continue churning here in our region," he said.
Demings knows that the 2003 transportation tax plan, plan, pushed by then-Orange County Mayor Rich Crotty and Orlando Mayor Buddy Dyer with an enormous campaign, went down by a 54-46 percent rejection vote, and pretty much no one has wanted to talk about raising taxes for transportation in Orange County ever since — until he got elected last year.
"That's why we are where we are," Demings said. "Fifteen years ago people had no idea we'd have 75 million visitors. Fifteen years ago people had no idea we'd be growing at the pace that we are. Fifteen years ago we were not the third most populated state in the nation. A lot of things have changed. So I believe the timing is right."
Every tax increase proposal is a heavy, uphill struggle for anyone, Crotty, Dyer, Demings, wanting to try to carry it. Already opposition is beginning to coalesce against Demings proposal, even though a firm proposal won't be made until next summer. The Orange County Republican Party, behind Chair Charles Hart, blasted the idea.
Orange County's sales tax is 6.5 percent. Osceola's is 7.5 percent, Seminole County's 7 percent. County officials also were quick to suggest Hillsborough County as a comparable match, where the sales tax is 8.5 percent.
Demings first made his proposal a few weeks before transportation sales tax issues went down hard in both neighboring Osceola and Volusia counties. He tries hard not to be overtly critical of how those campaigns, and Mobility 20/20, were run, but he is anyway, by implication.
"Approach matters. We are using a grassroots approach, as opposed to a top-down approach. The previous initiatives failed because the electorate could not see themselves in the story," Demings said. "I want every person who votes for this to understand what it means for them. I believe previously people believed the business community was driving the train, and they would be lost."
"I don't think we can wait another 15 years," he concluded. "If the growth continues. we will have gridlock. And someone will be saying, 'how did this happen?'"