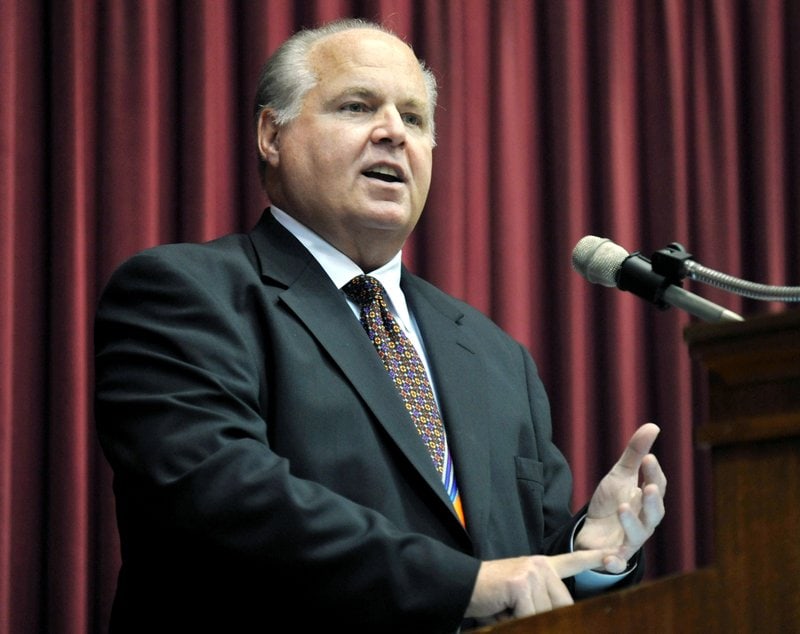 The National Review Institute (NRI) will hold its annual Buckley Prize Dinner Wednesday.
The National Review Institute (NRI) is set to honor conservative radio host Rush Limbaugh and Republican fundraiser and activist Gay Hart Gaines at its annual Buckley Prize Dinner.
That dinner is named after conservative thought leader William F. Buckley, who launched the institute as well as the National Review magazine.
The event takes place at a different place throughout the country each year. This year, the group will hold the dinner at The Breakers in Palm Beach.
The Buckley Prize Dinner will kick off Wednesday evening with a 6 p.m. reception. That will be followed by the dinner and award presentations at 7 p.m. That's scheduled to wrap up at 9 p.m. when guests can then enjoy dancing and drinks.
According to the group's organizers, about 450 people are expected to attend the dinner.
Limbaugh, the longtime flame-throwing conservative host, will receive the prize for "Leadership in Political Thought."
According to the group's explanation for handing that award to Limbaugh, "Rush Limbaugh has captured the attention of millions of Americans, discussing the important issues of the day and disseminating the core principles that make this nation exceptional."
Rich Lowry, who is editor-in-chief for National Review, will introduce Limbaugh at the dinner.
While the two have been near the front of conservative thought for some time, the pairing does serve an interesting contrast.
There has been some fracturing within the conservative movement since the election of Donald Trump as President. While many have supported the President consistently, others have questioned his adherence to traditional conservative principles. Those skeptics have often earned the moniker, "Never Trumpers."
National Review has not been afraid to criticize Trump during his presidency. Trump labeled the outlet a "failing publication" during the 2016 campaign.
Limbaugh, meanwhile, has remained staunchly in the President's corner.
He praised Trump's plan to send detained migrants to Democratically controlled cities and has golfed with the President as recently as April. Limbaugh has also repeatedly echoed the President's characterization that America is being invaded by immigrants.
He has also seconded Trump's accusation that Democrats are racist. Limbaugh called the Democratic Party "a bigger hate group than the KKK."
Gaines, meanwhile has been active in Republican circles for decades. In granting her an award Wednesday, the NRI explains "we recognize her longstanding and consequential contributions to patriotic causes, from GOPAC and the Mount Vernon Ladies Association to the Society of the Four Arts, among many other conservative groups."
Gaines also served in leadership early in NRI's creation. She'll be introduced by NRI fellow Richard Brookhiser. Previous honorees at the dinner include the late Charles Krauthammer and the DeVos family.