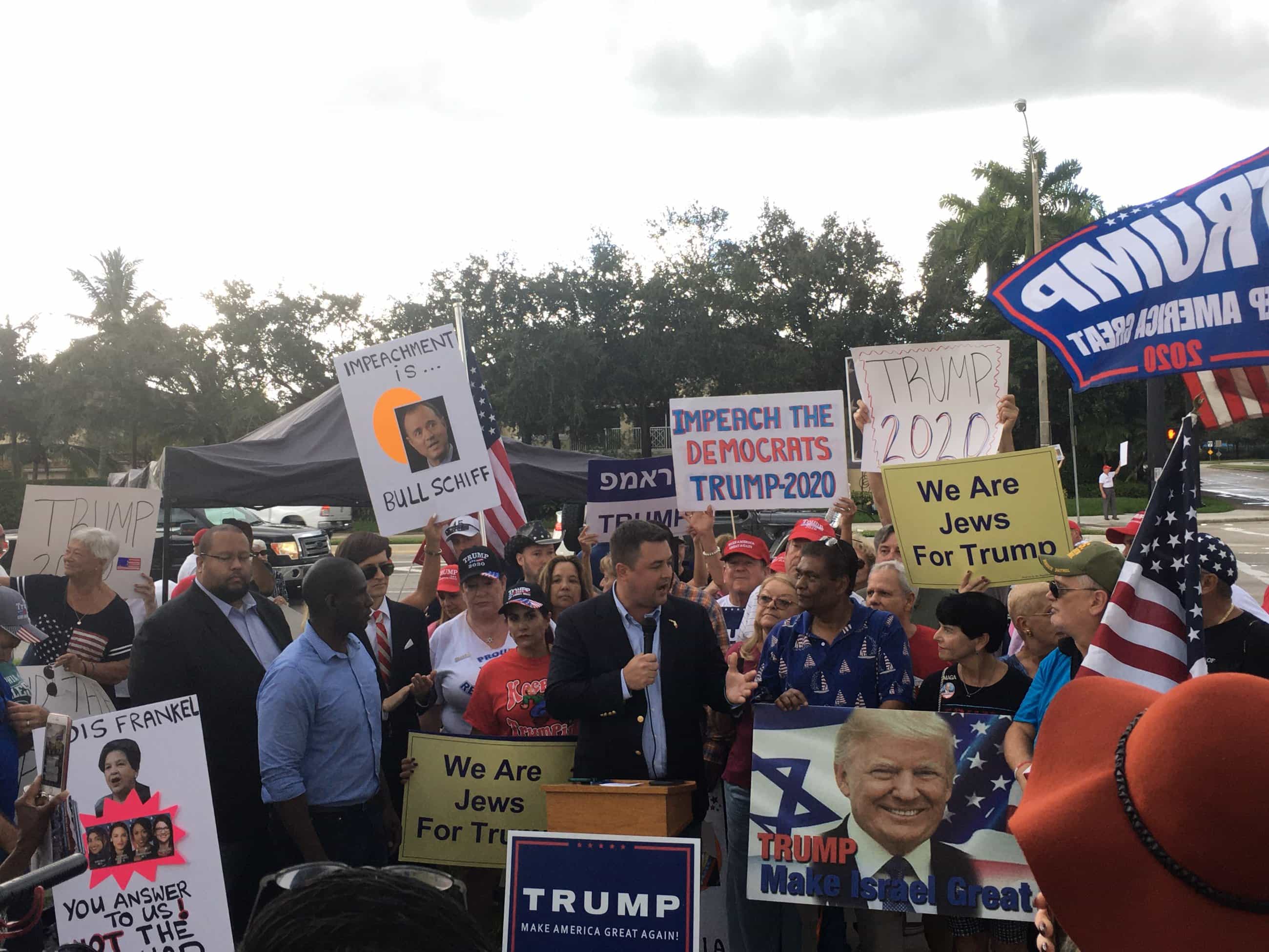 Trump supporters are set to meet at the Marriott Hotel in Coral Springs Saturday.
Backers of President Donald Trump will continue their campaign to push back against impeachment efforts with an event Saturday afternoon in Coral Springs.
That event is also slated to double as a protest against U.S. Rep. Ilhan Omar of Minnesota, who is expected to to give a speech in Coral Springs that same day.
In September, the Republican National Committee began the national "Stop the Madness" campaign, which is designed to pressure Democrats in swing House districts to drop their calls for impeachment. The Coral Springs event is being hosted in part by Trump Victory.
Saturday, Trump supporters are set to meet at the Marriott Hotel in Coral Springs at 3 p.m. for a rally in support of Trump. That follows an event this past weekend, where Stop the Madness protesters gathered in Palm Beach.
But a show of support of Trump isn't the only thing on the menu Saturday. That Omar speech is also scheduled to occur at the Marriott. The Florida Chapter of the Council on American–Islamic Relations (CAIR) is holding its annual banquet at that hotel. It runs from 5 p.m. until 10:30 p.m.
"Florida voters have had enough of Democrats' impeachment witch hunt. Instead of focusing on what they were elected to do, House Democrats refuse to address the real issues that are important to Floridians," Trump Victory Spokesperson Danielle Alvarez said.
"Democrats like Reps. Charlie Crist, Stephanie Murphy, Donna Shalala and Debbie Mucarsel-Powell have broken their promise to Florida and sided with llhan Omar and the socialist squad. They will be held accountable by Florida voters in 2020."
Trump has repeatedly sparred with Omar, including spreading provable lies about her, such as claims she was partying on the 9/11 anniversary. Omar has argued those lies could put her life at risk.
But Omar has served as a lightning rod for conservatives since taking office in early 2019.  She earned bipartisan condemnation for comments labeled "anti-Semitic" by both parties before later apologizing. She also placed partial blame on U.S. policies for the recent crisis in Venezuela and accused the U.S. of "bullying" Nicolás Maduro out of power.
On the impeachment front, Democrats have continued to raise legal and ethical questions surrounding Trump's push for the Ukrainian government to investigate former Vice President Joe Biden and his son, Hunter.
Supporters of the President, unsurprisingly, have continued to frame impeachment as a waste of time and a distraction.
Support for impeachment has increased since late September. As of this posting, an aggregate of available polling by FiveThirtyEight shows 49% in support and 43% against.
Biden is currently running to challenge Trump for the presidency in 2020. Trump argues Hunter Biden's business dealings in Ukraine are the source of potential corruption and that former Vice President Biden interfered with a Ukrainian investigation into Hunter.
Thus far, those allegations by Trump have been repeatedly debunked.
Hunter Biden did recently give an interview in which promised he would not work for foreign companies should his father defeat Trump and win the presidency.
He rejected the implication of doing anything unethical in Ukraine but said his decision to join the board of a Ukrainian gas company may have been a mistake because of how it looked.