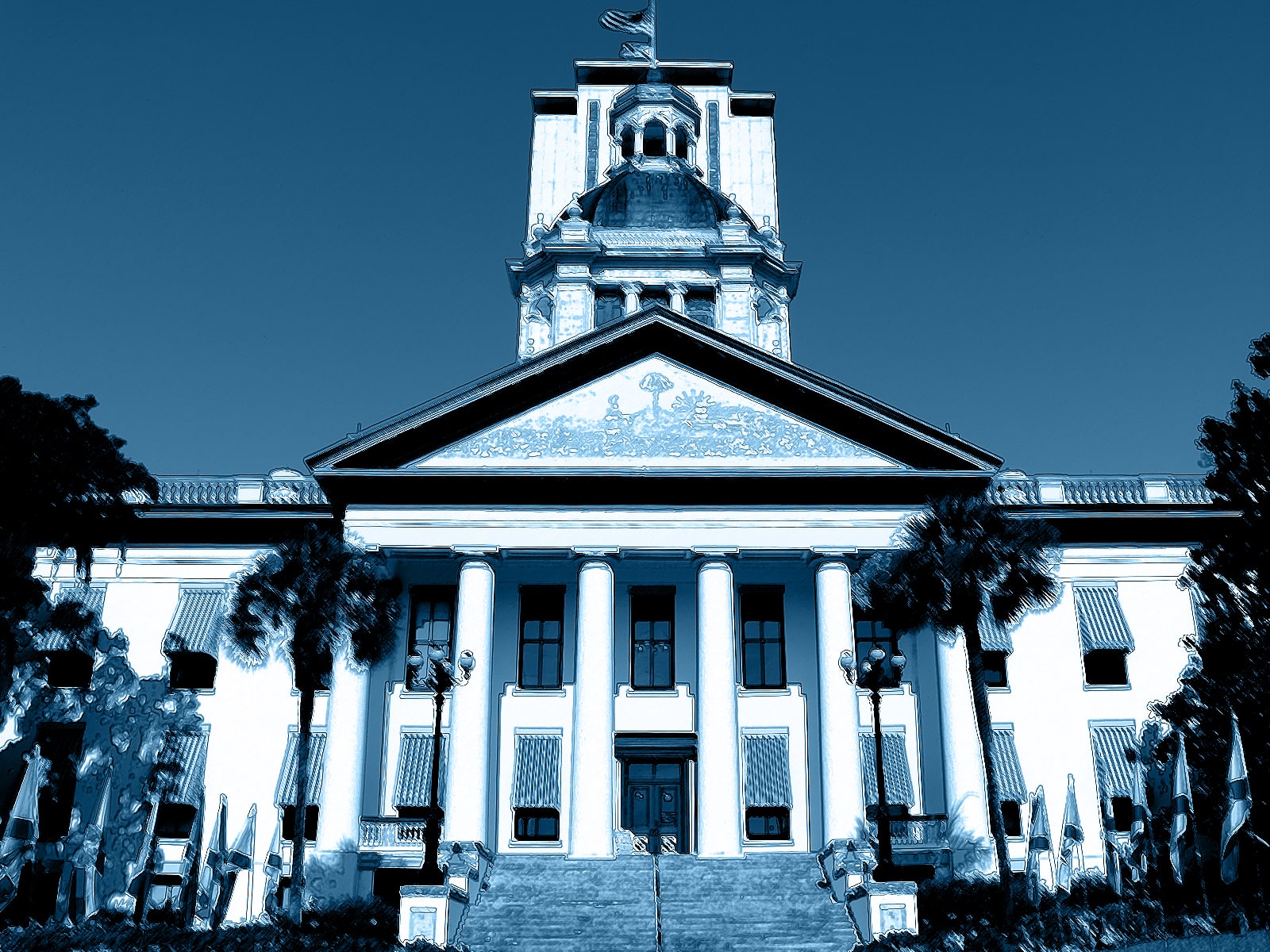 It would be reasonable to wonder whether Keefe is laying the groundwork for a run for office.
… He's not running
In his short time in the office, U.S. Attorney Lawrence Keefe has hired a media consultant, held news conferences and generally been in the news more than any of his predecessors in recent memory.
It would be reasonable to wonder, then, whether the veteran lawyer is laying the groundwork for a run for office after his federal prosecutor days come to an end.
So we asked. Nope, he said: "I'm not running for anything."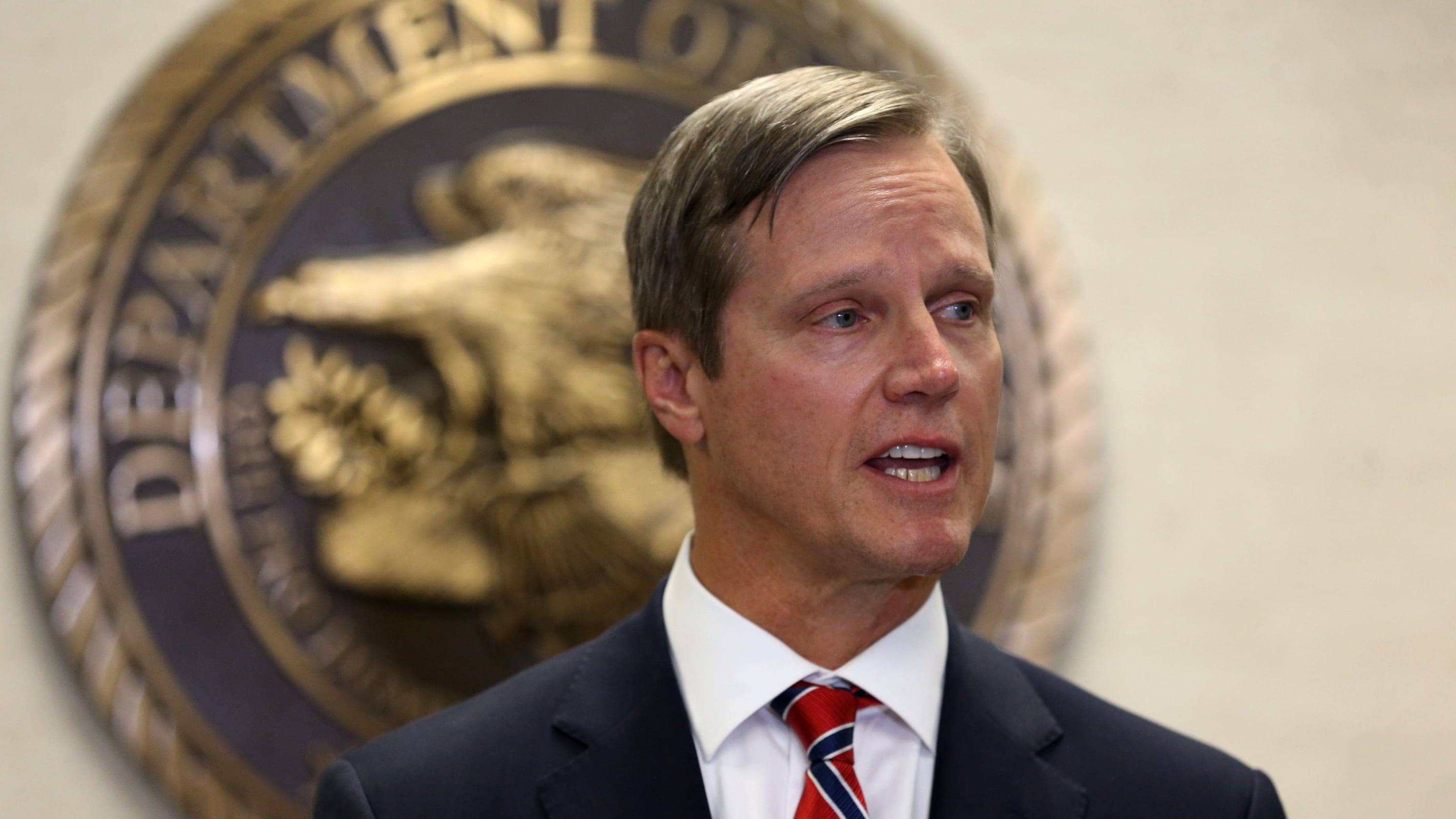 "I have absolutely no intention (of) doing so," added Keefe, who spoke at a news conference this week on collaborating with state prosecutors in north Florida. "I am honored to be in this job. This is my moment of public service. I have no secondary agenda to this."
President Donald Trump nominated the 57-year-old, and U.S. attorneys usually rotate out when a presidential administration ends. Keefe is the top federal prosecutor for the Northern District of Florida, which stretches from Pensacola through Tallahassee and down to Gainesville.
He also has a connection to a high-profile official: Firebrand GOP U.S. Rep Matt Gaetz, who represents the 1st Congressional District in the Panhandle. Gaetz previously worked for what was then Keefe's law firm — Keefe, Anchors & Gordon in Fort Walton Beach, now called AnchorsGordon.
So why the move toward openness in what has traditionally been a publicity-averse job?
He said he wants to explain "what federal law enforcement is doing, why it's doing it, what its mission is, and how it's accomplishing it. I want us to be accountable, and I want to share with people, and it's through you all that I'm able to share with people.
"So whether it be news conferences or news releases, I want you to know what we're doing, why we're doing it … Historically, there's been this … 'federal mystique,' and federal law enforcement is this hidden-away, cloistered place. I want to change that, at least while I'm in this office, while respecting the institutional customs and norms of classified information and grand jury information, I want the public to know what's going on.
" … I want to bring you all, the media, into the loop … so people — whether it's in public corruption, whether it has to do with economic espionage on university campuses — know that we are out here. That federal law enforcement has extraordinary capabilities and tools, and maybe that will deter people from committing some of the crimes that they otherwise would have committed that we would have then prosecuted them for and indicted them for.
"And that is why I'm having the news conferences because I want the people on the other side of you all and those cameras to know a little bit more about what federal law enforcement and federal prosecutors do. And I continue to plan to do it.'
After an awkward pause, he said, "I didn't mean to be so harsh in my response," which engendered a round of laughs from the reporters in the room. " … I didn't mean it to be that way, but I feel strongly about the things that we do."
___
Coming up, the usual assortment of tidbits, leftovers and not-ready-for-prime-time moments by Peter Schorsch, Drew Wilson and the staff of Florida Politics.
But first, the "Takeaway 5" — the Top 5 stories from the week that was:
Take 5
So long, Scott Israel — The former Broward County Sheriff was permanently removed from office after a full vote by the state Senate. The final tally came in 25-15 in support of Israel's removal. Democratic Sens. Randolph Bracy, Darryl Rousson and Annette Taddeo joined Republicans in ousting Israel. Sen. Tom Lee was the only Republican to vote to reinstate the beleaguered Sheriff. "I am sad to report that politics won the day," a defiant Israel said. Gov. Ron DeSantis removed Israel over poor response to shootings at Marjory Stoneman Douglas High School and the Fort Lauderdale — Hollywood International Airport.
And now, E-Verify — State Sen. Lee introduced legislation to require businesses to use the "E-Verify" system to check the immigration status of new employees. If passed, employers must be able to turn over records proving employees are authorized to work in the United States. Failure to do so includes penalties, including losing a business license. The Florida Department of Economic Opportunity would also ping the U.S. Immigration and Customs Enforcement Agency to let them know the identities of any unauthorized aliens employed by the business.
Workers' Comp cuts coming — Florida Insurance Commissioner David Altmaier issued an order that will result in a 7.5% cut in workers' compensation insurance rates in 2020. In August, the National Council on Compensation Insurance proposed to reduce workers' compensation rates by 5.4%. Florida law requires insurance companies "to give at least 45 days' notice of renewal premium." The rate reduction follows a similar trend in recent years. Ahead of 2019, rates were cut by 13.9%. For 2018, rates were reduced by 9.5%.
Superintendents weigh in on pay — The House PreK-12 Appropriations Committee took testimony from county superintendents on DeSantis' proposed $603 million bump in spending to raise teacher pay. Osceola County Superintendent Debra Pace was tasked with finding cuts in operational costs to up teacher salaries. She argued the increase would help break that cycle of cutting costs elsewhere. Others like St. Johns County Superintendent reported recently upping starting pay to $39,000, well short of the $47,500 DeSantis wants. But Sarasota County Superintendent Todd Bowden noted raising minimum teacher pay with DeSantis' proposal raises other issues with salaries to veteran teachers.
House embraces climate change talk — State House Agriculture and Natural Resources Appropriations members embraced efforts to combat climate change — a challenge seen as politically radioactive for conservatives until recently. Chair Holly Raschein, a Key Largo Republican, wanted to make clear House members both acknowledge and plan to address environmental threats. Alex Reed, director of Water Resource Management, showcased the communication and coordination taking place between state officials and local governments. That includes talking with the Department of Transportation about when roads may need to be raised to get ahead of rising sea levels and more frequent flooding.
DOJ delivers safety cash
The U.S. Department of Justice is sending $291 million in grant funding to bolster public safety programs in Florida.
The cash will head to several state and local agencies. About $6.4 million will be used for STOP grants in school districts across Florida, and $27 million is being awarded to protect children and support at-risk youth in Florida. Hillsborough County will get $1.2 million of the STOP money.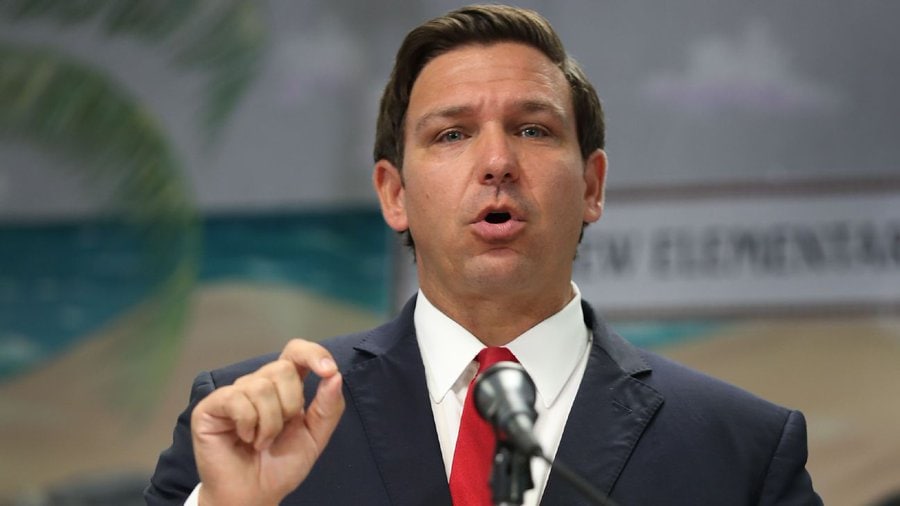 Some private organizations will get a piece of the pie, including Big Brothers Big Sisters, which is set to receive about $10.8 million to support a youth mentoring program directed at youth affected by the opioid epidemic.
The DOJ backing earned applause from DeSantis, who said, "The safety and well-being of our children is paramount, and I appreciate the Department of Justice for recognizing that with these grant awards."
"This funding of more than $291 million for agencies and organizations across our state will aid in our efforts to ensure that all youth in Florida, no matter their background, are afforded the opportunity to be successful in a safe environment."
Firms join GI LAW
More law firms have signed up for the "Governor's Initiative on Lawyers Assisting Warriors."
The program, spearheaded by DeSantis, connects active duty military with lawyers willing to represent them in civil matters — something military lawyers are prohibited from doing.
DeSantis, a former U.S. Navy JAG, recognized the gap in legal representation, and he directed the Florida Department of Veterans' Affairs to administer the program and partner with Enterprise Florida to ensure its success.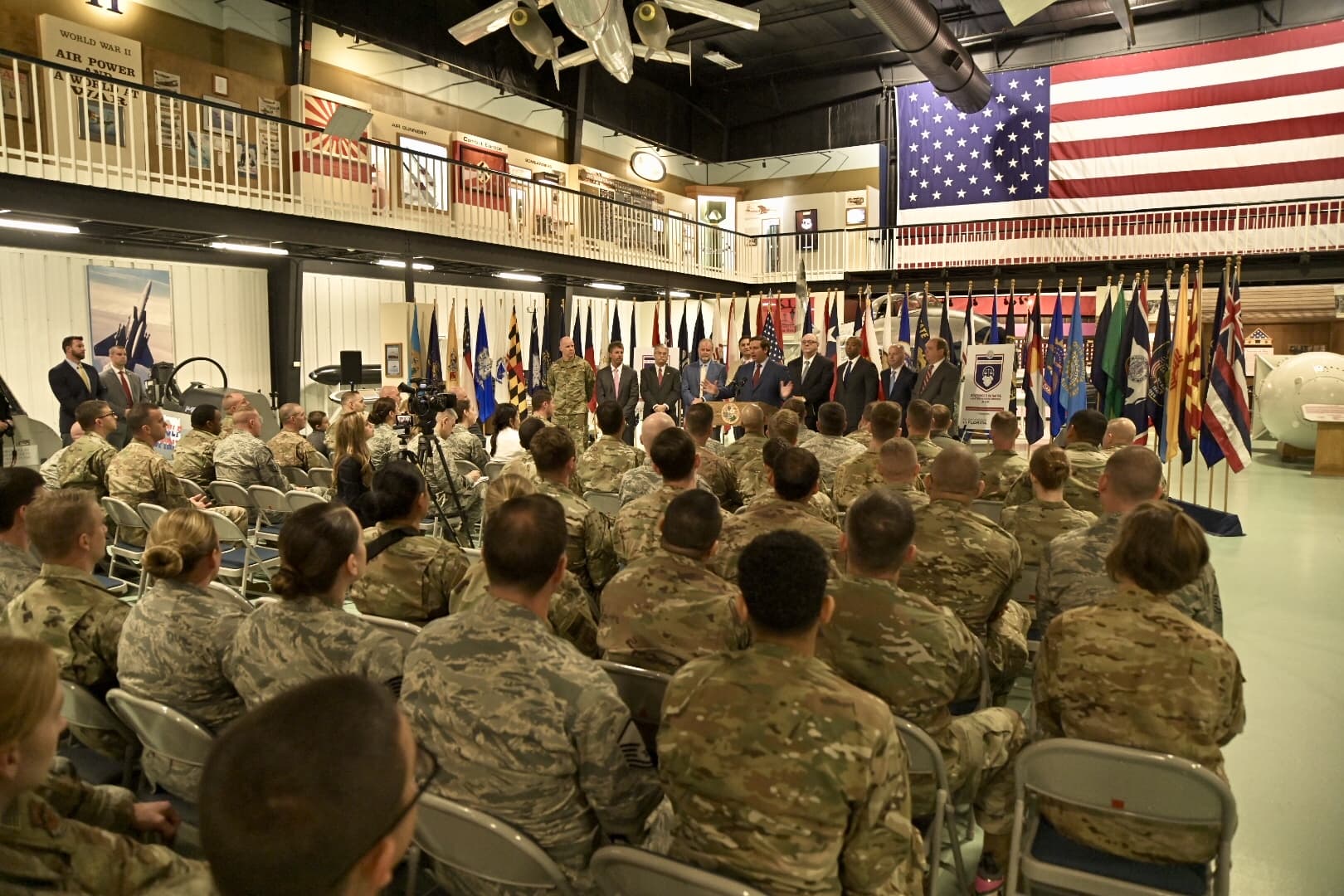 Greenberg Traurig, Holland & Knight, Shutts & Bowen, Akerman LLP and Gunster made up the initial cohort of firms in April. This week, Shook Hardy & Bacon, Nelson Mullins and Cole Scott & Kissane were added to the list.
"Through GI LAW, some of our state's top law firms continue to provide free legal representation to our active duty service members," DeSantis said.
"Having provided pro bono legal service to over 60 military members, my administration remains committed to supporting our brave men and women in uniform. I thank the law firms currently participating and encourage other interested firms to take part in this unique opportunity to help our military personnel."
Online booze crackdown
Attorney General Ashley Moody says some websites make it too easy for alcohol sellers to skirt the law, putting Floridians in danger.
She's not talking about Drizly, Saucey or Instacart — those platforms have store runners pull bottles off the shelf and bring them to a customer's door. Moody is talking about websites that allow people to put their own stuff up for sale.
"When websites like Craigslist, eBay and Facebook allow alcohol sales on their platforms — state licensing laws and consumer protection efforts are often violated. This creates risk for consumers who could obtain fake or even tainted products, sometimes with deadly effects," she said.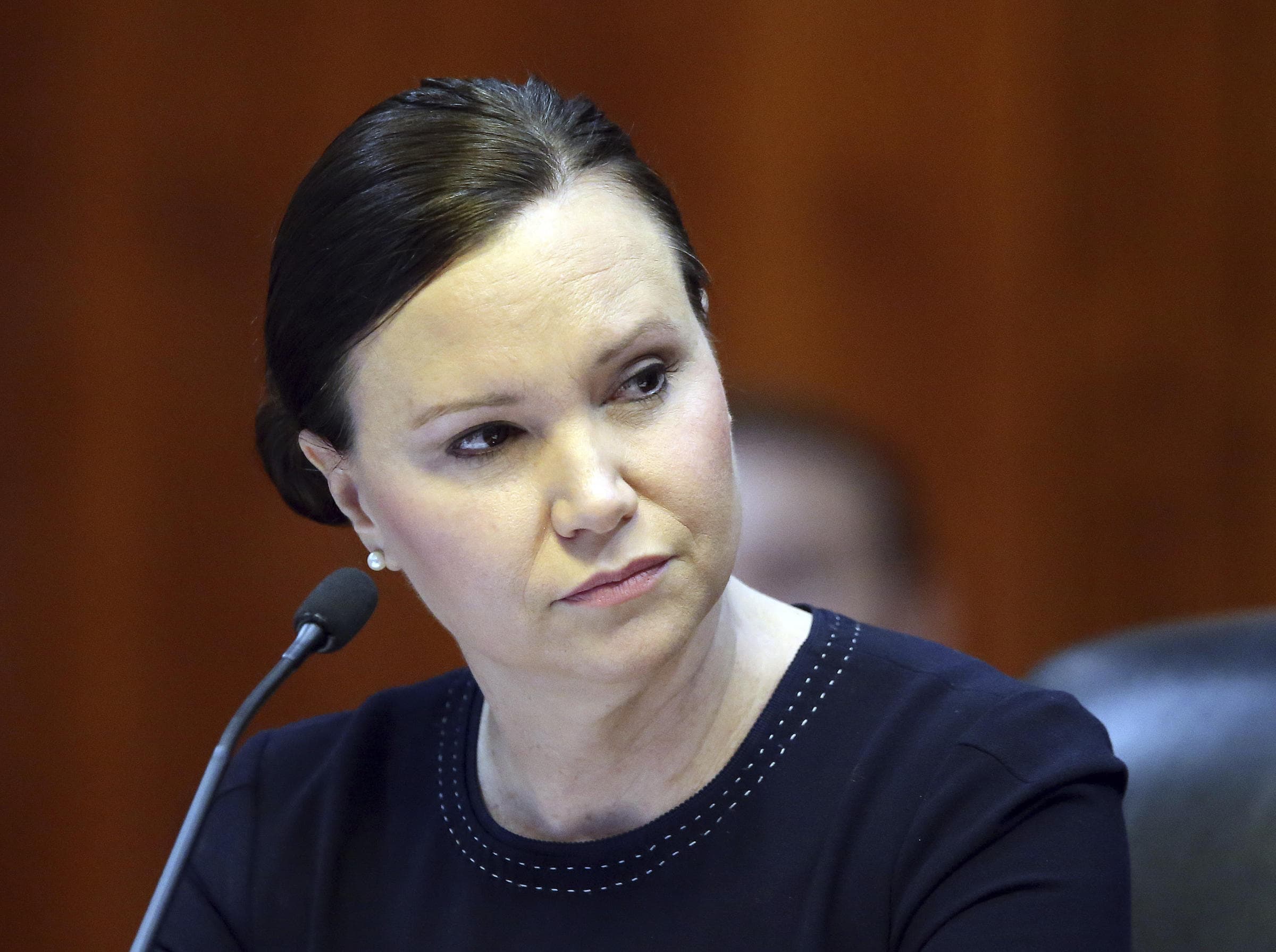 "As we've seen with the teen vaping epidemic, teenagers are finding new ways to purchase contraband online. That is why I am joining other attorneys general across the country to urge these online platforms to take responsibility and implement meaningful systems and programs to protect Floridians."
In the letter co-signed by Moody, state attorneys general asked the websites to review the content on their sites, remove illegal postings and develop a system to stop users from creating new alcohol sales listings.
Ag Literacy Day
Tuesday was Agriculture Literacy Day, and Agricultural Commissioner Nikki Fried celebrated the annual event with a group of second-graders visiting the Florida Historic Capitol.
Each year, the Florida Department of Agriculture and Consumer Services produces a children's book highlighting agriculture that teachers and volunteers are encouraged to read in elementary school classrooms.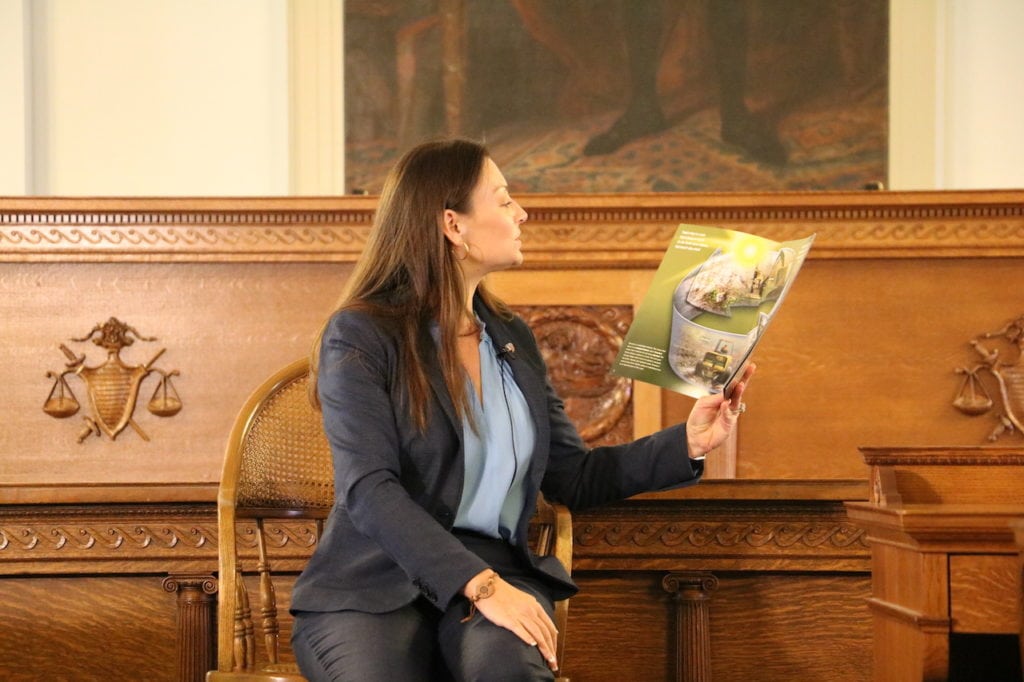 This year's tome: "Forever There's a Forest!" Fried read the story aloud to students from Pineview Elementary School. Afterward, they got a visit from Smokey Bear.
"Today's students are the future of Florida agriculture and ag education — they are tomorrow's leaders on farms, ranches and in classrooms. On National Agriculture Literacy Day, I was thrilled to spend time with students discussing the important role of our state's farmers and ranchers," Fried said.
"By continuing to educate on where our food comes from, we can support our agriculture community, and increase access to Fresh From Florida products."
"Forever There's a Forest!" was a collaboration between DACS and the Florida Forest Service. State Forester and Florida Forest Service Director Jim Karels said his office was "proud to partner with Florida Agriculture in the Classroom to celebrate National Agriculture Literacy Day and reach students across the state."
He added, "There's no better way to celebrate Working Forests Week than to introduce the next generation to Florida's top agricultural commodity, and the countless future opportunities are available to them."
Instagram of the Week
View this post on Instagram
The Week in Appointments
Jacksonville Port Authority — DeSantis appointed Daniel Bean and reappointed Ed Fleming. Bean, of Jacksonville, is an attorney and partner at Abel Bean Law, previously was a partner with Holland & Knight, and served in the Navy 1987-2012. He is appointed to a four-year term. Fleming, of Jacksonville, retired in 2010 as CEO and President of Atlantic Marine, after a 32-year career in the maritime industry. He was a founding board member of the Jacksonville Marine Transportation Exchange and served on the Jacksonville Waterways Commission for eight years. He is reappointed to a four-year term. These appointments are subject to confirmation by the state Senate.
Snapper fishing extended
Tropical Storm Nestor ruined quite a few fishing trips, but the state has scheduled some makeup days for those looking to catch some Gulf red snapper.
The Florida Fish and Wildlife Conservation Commission and Gov. DeSantis announced two more recreational red snapper fishing days — Nov. 2 and Nov. 3. The initial list of fishing weekends included Oct. 12-13, Oct. 19-20 and Oct. 26-27.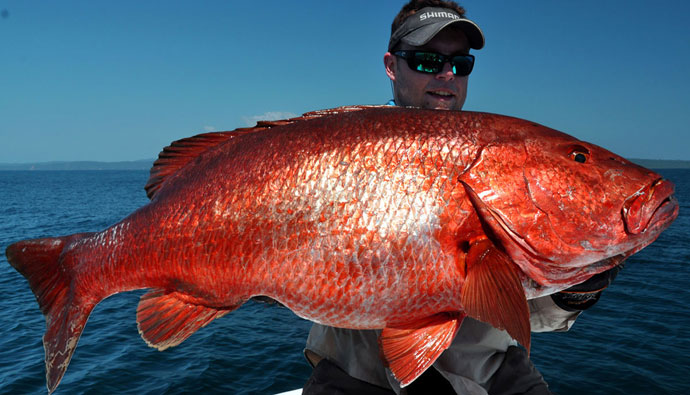 "We are pleased to be able to extend the fall Gulf red snapper season for one more weekend," DeSantis said. "We want people to have a chance to enjoy the pristine resources we have here in Florida and understand that Tropical Storm Nestor prevented anglers from being able to fish for Gulf red snapper last weekend.
"Many anglers were focused on storm preparation and response, so we want to make sure they have another opportunity to get out on the water."
The announcement was praised by Keep Florida Fishing, an advocacy arm of the American Sportfishing Association.
"We thank Gov. DeSantis and the Florida Fish and Wildlife Conservation Commission for their announcement of an additional weekend for anglers to get on the water in the Gulf and fish for red snapper," said Kellie Ralston, KFF's Southeast Fisheries Policy Director of the American Sportfishing Association.
"The state's leadership in developing accurate recreational harvest estimates through the Gulf Reef Fish Survey has been instrumental in expanding responsible, science-based access to this important species for private anglers."
Urban gun violence targeted
Sen. Jason Pizzo is joining Rep. Shevrin Jones' call to set up a group that would study gun violence in urban communities.
Jones introduced his version of the bill back in September after pushing Gov. Ron DeSantis for support earlier in the year.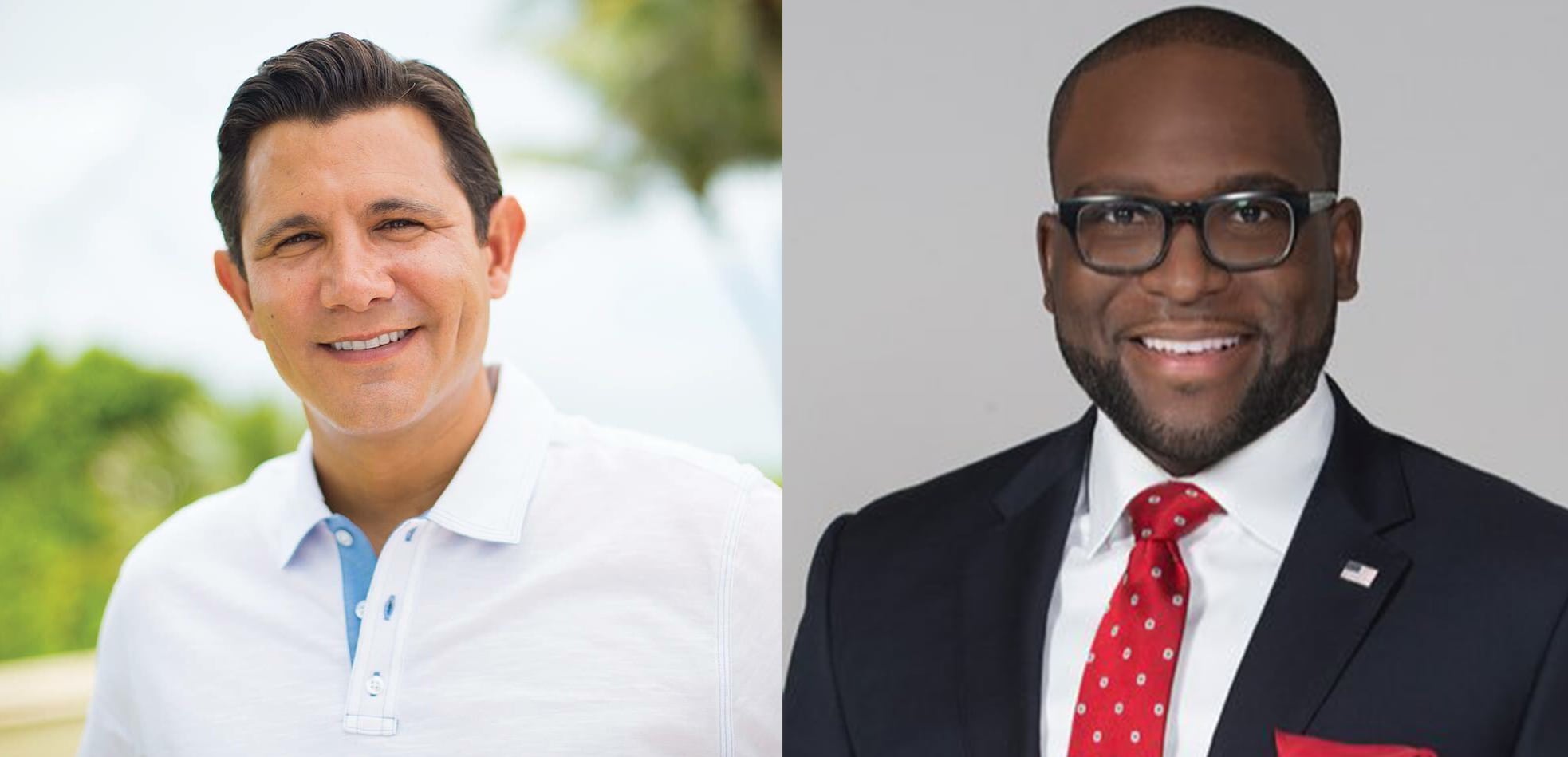 Pizzo put forward his companion bill (SB 652) Thursday. The "Urban Core Gun Violence Task Force" would be made up of 10 members. Two members each would be appointed by the Governor, majority leaders in both legislative chambers, and minority leaders in both legislative chambers.
Jones has compared the task force to the commission created following the 2018 shooting in Parkland.
That body aimed to offer recommendations to improve school safety throughout the state. Pizzo's bill would look to do the same for urban communities.
"The task force shall develop recommendations for solutions, programs, services, and strategies for improved interagency communications between local and state government agencies which will help facilitate the reduction of crime and gun violence in urban core neighborhoods and communities," the bill reads.
Still, Jones and Pizzo may have an uphill battle in a GOP-controlled Legislature that is wary of curtailing the Second Amendment.
Snuffing public smoking
Certain jurisdictions have long wanted to stomp out cigarettes in beaches and other public parks. But the courts have held counties and municipalities can't fine people for smoking in such public settings.
But a bill filed by state Sen. Debbie Mayfield could change that. The legislation (SB 630) would put the decision in local government's hands whether to ban smoking within the boundaries of certain public parks.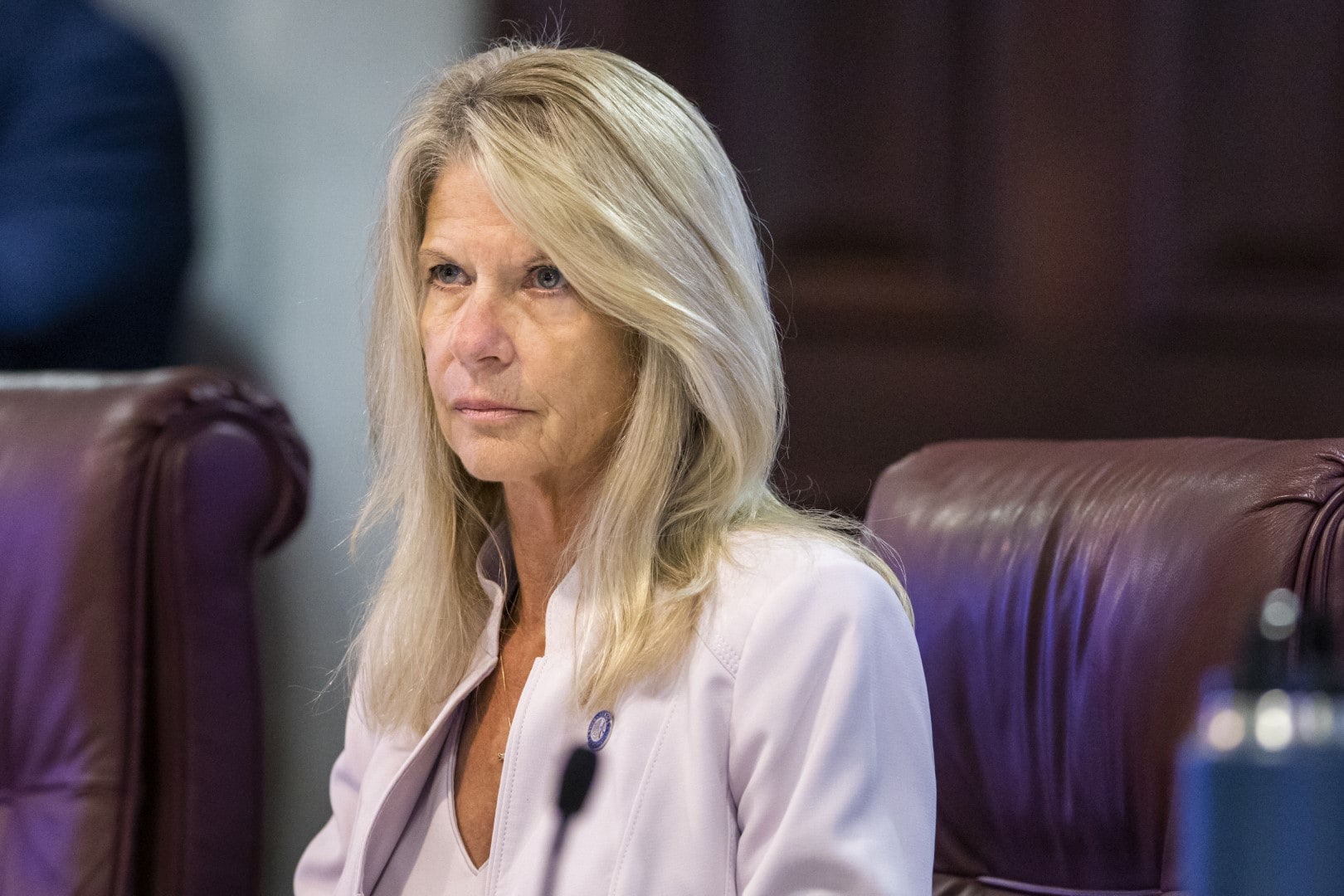 Current Florida statute expressly puts the responsibility of regulating smoking in the hands of state officials. That's whether it's a state facility or not.
The Rockledge Republican would leave decisions on who lights what up in a park to whoever owns the land. Florida officials still control smoking rules at state parks, wherever the facilities happen to be located. But if a municipality or county owns property that's designated as a park, Mayfield's proposed change in statute would put the decision in the hands of local elected officials. That's the same as allowing school boards the choice on whether to prohibit smoking at district-owned facilities.
Even though the tobacco industry lacks the influence it held in the 1980s and '90s, state decisions on smoking have not gone over easy in Tallahassee. A proposed ban on smoking at beaches, introduced by state Sen. Joe Gruters, died before its first Senate committee vote last year.
But the bill could give a rare win on local control and home rule to governments frequently fearful of unfunded mandates handed down from Tallahassee.
Credit for offering internships
Companies themselves could soon get credit in Florida for providing internships. Legislation (SB 642) filed by state Sen. Bobby Powell would give tax incentives to employees that give opportunities to students.
The West Palm Beach Democrat's proposed "Florida Internship Tax Credit Program" would cut businesses a break for bringing in student interns, so long as companies can prove some history of turning interns into employees.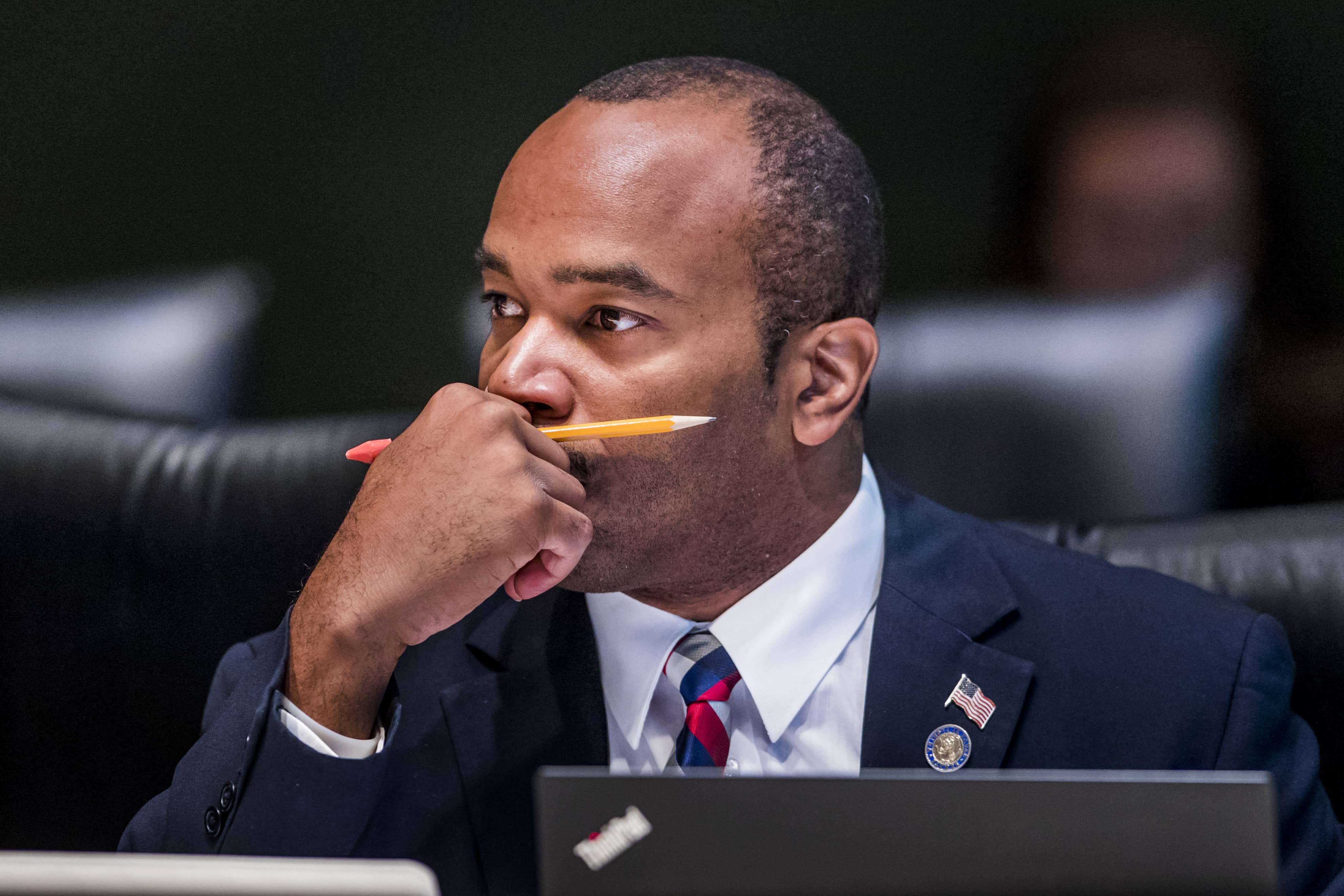 The legislation sets up specific criteria for what qualifies as an intern and what criteria a company must meet within the program. Only interns who are seeking degrees from Florida colleges, universities or technical centers would count. Powell's program would be explicitly aimed at seniors and graduate students at these institutions. Academic requirements also get laid out in Powell's bill.
For businesses to be eligible, they must be in operation at least three years. Such a business that had 10 or fewer employees can obtain a tax credit if it has hired at least one intern in the last three years and has at least one former intern on the payroll for the current tax year.
The company could claim no more than $10,000 in previously paid corporate income tax for any given year. The legislation also provides rule-making to the Department of Revenue for setting and enforcing criteria.
Reigniting Space Command bid
The U.S. Air Force in May already said it wants to put a new Space Command headquarters in Colorado, California or Alabama. But Florida won't so easily abort its own mission to lure the base here.
State Rep. Tyler Sirois, a native of Cape Canaveral, filed a House memorial bill (HM 443) that would urge President Donald Trump to establish the U.S. Space Force and U.S. Space Command in Florida. Why? The Merritt Island Republican offers pages of reasons the Sunshine State holds a strong relationship with the existing space program.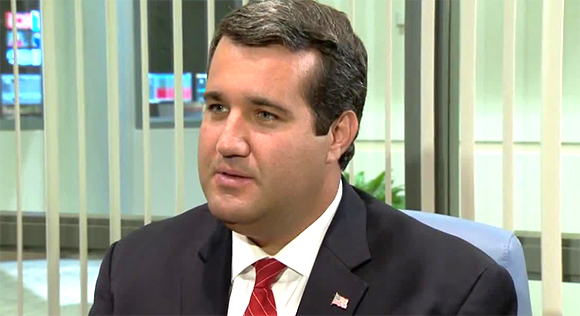 "As the most military-friendly state in the country 22 with a fast-growing commercial aerospace industry, Florida is 23 the ideal location for the Space Force and USSPACECOM," reads his legislation.
That Kennedy Space Center and Cape Canaveral Air Force Base operate in Florida merit a mention in the legislation. The memorial notes the first rocket launches by NASA went up in 1950 from a pad on the Space Coast. Sirois also notes MacDill, Tyndall, Eglin and Patrick Air Force bases count Florida as home. The strong Air Force presence already existing may better connect Space Command to U.S. Central Command in Tampa and U.S. Southern Command in Doral, along with U.S. Special Operations Command in Tampa.
So does the state better known for rocket launches than anywhere on earth still have a shot at landing Space Command? Expect the Legislature to weigh in.
Bias training
Rep. Jones filed a bill this week that would require criminal justice officers, K-12 educators, and judges across the state to take implicit-bias training.
The new training would require the State Board of Education to develop a curriculum to instruct those groups on dealing with diverse populations and recognizing and overcoming their own bias. The Florida Supreme Court would be tasked with developing training requirements for judges.
"From an early age, people are exposed to direct and indirect messages that subconsciously shape our attitudes about others based on characteristics such as race, ethnicity, age and appearance," Jones said. "These implicit associations affect our understanding, actions, and decisions in an unconscious manner — whether they originated from life experiences or media exposure — and we have seen this play out across our society in the context of less safe communities and schools.
"This must be a priority so that we can build a stronger, more equitable Florida that's a safe place to live, work and learn for all, not just some."
He continued, "Research has found that implicit bias is at the center of why people tend to view black boys as less innocent by the time they reach the age of 10.
"It's why black students are three times more likely to face out-of-school suspension or expulsion than their white counterparts for the same types of behaviors. The truth is that black students are far more likely to face harsher punishment in school than their white counterparts.
"From suspensions to arrests, schools provide a firsthand look at the racial disparities that affect the way students are disciplined."
If HB 463 is approved, it will go into effect on July 1, 2020.
Colleges back workforce education
Gov. DeSantis and Education Commissioner Richard Corcoran want Florida to be the No. 1 state for workforce education by 2030.
Accomplishing that goal will take some buy-in from colleges, and college presidents say they're institutions stand ready to do their part.
The Florida College System Council of Presidents announced a new initiative this week to back up that commitment. The newly created Council of Workforce Education will be structured within the Association of Florida Colleges and led by professionals within higher education that are workforce subject matter experts.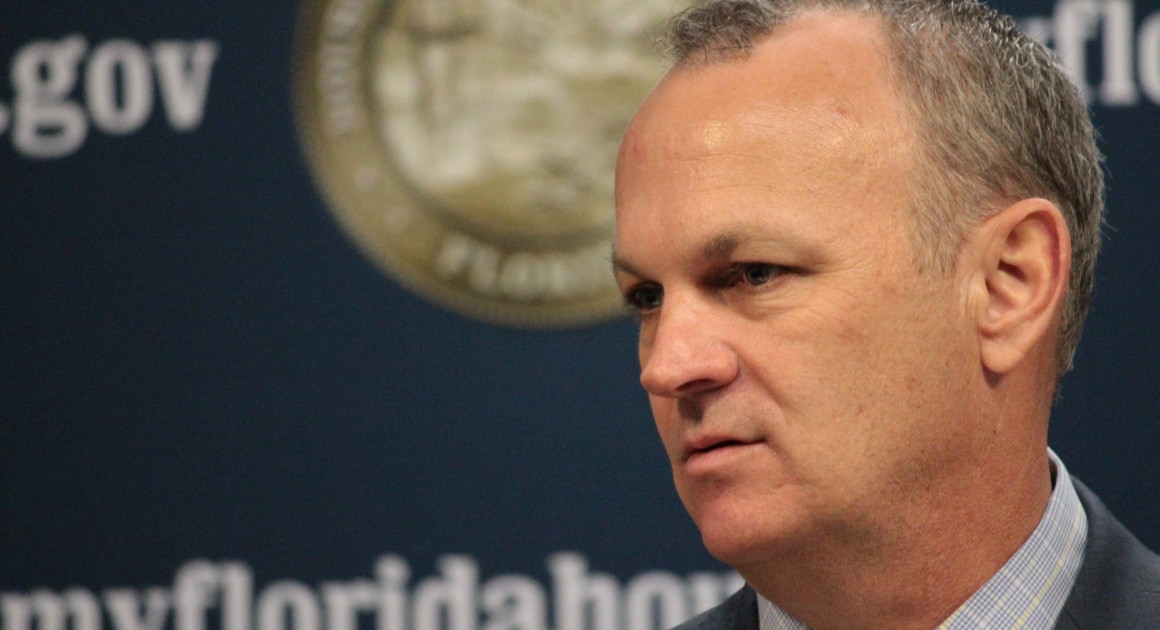 "The Council of Workforce Education is just another reminder why the Florida College System is recognized as Florida's Workforce Engine," Tallahassee Community College President and COP Chair Jim Murdaugh said.
"We understand the relevancy and timeliness of programs and innovation to meet workforce demands, and now we have an added layer of reliability to support our students and business partners."
The council aims to support students while tailoring some of their education offerings to the needs of Florida's employers. Additionally, it will serve as a resource to the Council of Presidents, Gov., Florida Department of Education Commissioner, and the Florida College System Chancellor.
"We see the Council of Workforce Education as a ladder to take us from present-day to the Governor's 2030 goal of being No. 1 in workforce education," Valencia College AVP of Career and Workforce Education Dr. Nasser Hedayat said. "The council is built to help ensure that no steps are missed as we climb to success."
FRF picks LEO of the Year
The Florida Retail Federation selected Detective Andrew Goodlet of the Polk County Sheriff's Office as its 2019 Law Enforcement Officer of the Year.
The selection was made Wednesday during the FRF's annual awards dinner.
The trade group selected Goodlet after his investigations into theft at a national retailer revealed an organized retail crime ring responsible for stealing $2.2 million in merchandise.
"Florida's retailers are proud to honor Detective Goodlet for his selfless service and commitment to keep Florida families and Florida businesses safe," said Casey Cesnovar, Chairman of the Board at the Florida Retail Federation, and Vice President, State and Local Government Affairs at Walgreens.
"Thanks to Detective Goodlet, Florida families can feel safe when shopping, and Florida's favorite stores can focus on continuing to provide great products, quality service and good prices."
Detective Goodlet is a member of the Organized Retail Crime Unit in the Polk County Sheriff's Office. Described as the "go-to" member of his unit, Detective Goodlet was nominated by Lieutenant Billy Strickland of the Polk County Sheriff's Office.
FSU snags grants
Florida State University's College of Education has received three multimillion-dollar training grants for projects aimed at addressing the shortage of qualified special education teachers.
All three of the five-year grants are funded by the U.S. Department of Education's Office of Special Education Programs and will help educators improve outcomes for students with disabilities.
"The College of Education is committed to addressing the needs of all students," College of Education Dean Damon Andrew said. "We're confident that these new projects will help equip the next generation of teachers and researchers with the skills to ensure student success."
Two of the grants will prepare doctoral students for university faculty positions.
Research-based Academic Interventions for Students with Extensive Support Needs (RAISE) will provide training on how to better educate students with autism or intellectual disabilities. Preparing the Next Generation of Reading Disabilities and Dyslexia Researchers (R2D2) will provide expertise on reading disabilities and dyslexia.
The third grant, the K-12 Individuals with Developmental Disabilities (KiDDs) project, will focus on training current teachers. Beginning in fall 2020, 45 KiDDs scholars will complete graduate training to become special education teachers, speech-language pathologists, physical therapists and occupational therapists.
Capitol Directions