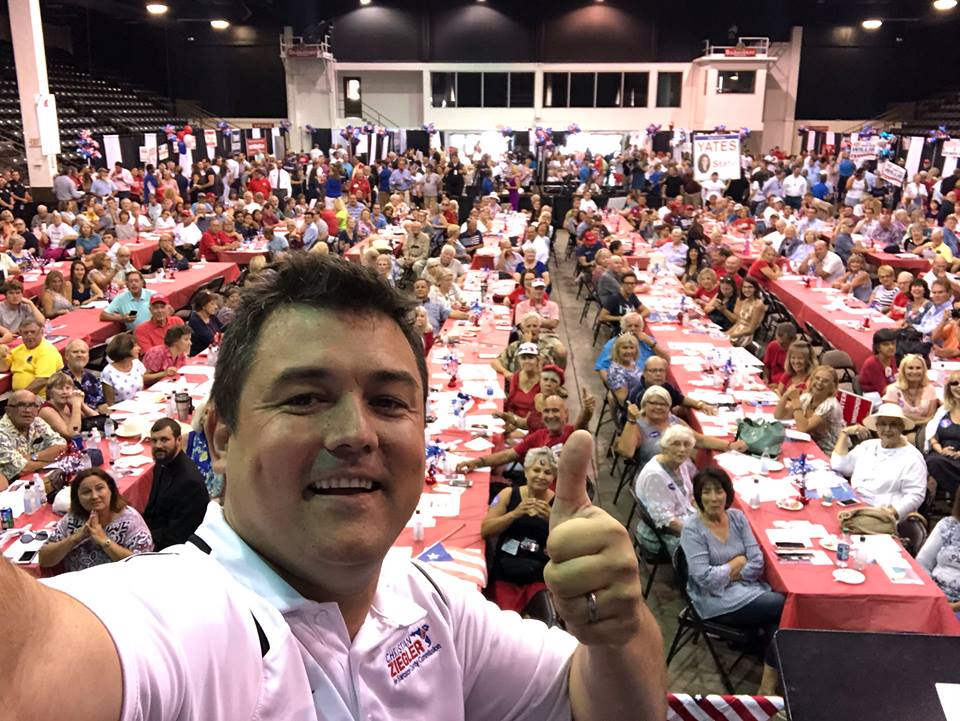 Sarasota County Commissioner rallies local pushback on federal issue.
Whether any Republican Congressmen from Florida support impeaching President Donald Trump remains very much an open question. But at least 32 elected Republicans in Florida have made clear they don't want that to happen.
Sarasota County Commissioner Christian Ziegler, also vice chair of the Republican Party of Florida, circulated a latter condemning the current inquiry. He said the process needs to stop and the entire House should vote on whether to legally authorize a formal process or stop the gamesmanship.
"Throughout this inquiry, we have watched Democrats in Congress do whatever it takes to achieve their political goal of removing our elected President," he wrote.
Ziegler circulated the document among state and local Republicans and got 31 addition co-signatories just through word of mouth. Some are well known Trump supporters, like state Sen. Joe Gruters, who co-chaired Trump's Florida campaign in 2016. But other names reach down to county and city posts, even a Soil and Water Conservation District supervisor.
When he's done gathering signatures, Ziegler intends to send the letter to all members of Florida's House and Senate delegations.
The full text and list of signatories so far appear below:
Honorable Members of Florida's Congressional Delegation:
As elected officials in Florida – a state in which 4,618,886 voters allocated their 29 Electoral Votes to Donald J. Trump in 2016 – we are deeply concerned with the United States House of Representatives moving forward with their "Presidential Impeachment Inquiry". 
We believe that it is time to demand an end to this political effort to bypass the ballot box, nullify the results of the 2016 election, unseat a duly elected President and eliminate a choice for voters in 2020, until a vote of the entire House is taken to legally authorize the inquiry.
This ridiculous "Presidential Impeachment Inquiry", which centers on a phone conversation in July between President Trump and a foreign leader, was prematurely launched before the transcript of the call was released. Today, even after the full release of the phone call transcripts showing no quid-pro-quo, the witch hunt continues in secret without providing every Member of Congress equal access to information, without allowing the Trump Administration to be represented, and most importantly – without allowing the American people to keep their watchful eye on the process.
Throughout this inquiry, we have watched Democrats in Congress do whatever it takes to achieve their political goal of removing our elected President. For example, House Intelligence Committee Chairman Adam Schiff lied to the American people – later claiming his comments to be a "parody" – in his opening statement before the House Intelligence Committee, Democrats have selectively leaked information in an effort to drive a desired narrative, and both testimony and evidence has been purposely withheld from Members of Congress, The Trump Administration and the American People.
This Congressional impeachment charade isn't just flawed, it's a disgrace and it's hurting our country.
Under the leadership of President Trump, America has achieved historically low unemployment,  placed two conservative Justices on the Supreme Court, unleashed American energy dominance, increased our security at the border, revived manufacturing, reinforced a respect for law & order, reestablished our relationship with Israel, and imposed a focus on America first on the world stage, yet we still have many challenges facing our country that must be addressed. For example – jobs, water quality, infrastructure, and the opioid epidemic are just some issues important to Florida. Tackling these issues that affect our families and quality of life, rather than engaging in political games in Washington, should be the focus of our elected leaders.
Taking a step back – Can you imagine what additional successes at the federal, state and local level we could achieve if Democrats in Congress simply accepted the results of the 2016 election, stopped working against our President and begin working alongside the President for the people?
FOR THESE REASONS we respectfully call on you to protect Florida voters from becoming disenfranchised, defend & support our elected President and get Congress focused on delivering for our country, state and local communities by opposing this Congressional impeachment charade.
Thank you for your time and willingness to serve our state – 

Christian Ziegler
County Commissioner, Sarasota County
Dennis Baxley
Florida State Senator, District 12
Joe Gruters
Florida State Senator, District 23
Jason Shoaf
Florida State Representative, District 7
Cord Byrd
Florida State Representative, District 11
Anthony Sabatini
Florida State Representative, District 32
Will Robinson
Florida State Representative, District 71
James Buchanan
Florida State Representative, District 74
Toby Overdorf
Florida State Representative, District 83
John Tobia
County Commissioner, Brevard County
Bill Truex
County Commissioner, Charlotte County
Gavin Rollins
County Commissioner, Clay County
Doug Underhill
County Commissioner, Escambia County
David Sullivan
County Commissioner, Flagler County
William Massey
County Commissioner, Franklin County
Clint Pate
County Commissioner, Jackson County
Josh Blake
County Commissioner, Lake County
John Meeks
County Commissioner (Chairman), Levy County
Alston Kelly
County Commissioner, Madison County
Donnie Waldrep
County Commissioner, Madison County
Vanessa Baugh
County Commissioner, Manatee County
David Moore
County Commissioner, Marion County
Terry Burroughs
County Commissioner, Okeechobee County
Larry Harvey
County Commissioner, Putnam County
Sean Murphy
County Commissioner, Taylor County
Ralph Thomas
County Commissioner, Wakulla County
Joel Greenberg
Tax Collector, Seminole County
Joe Arnold
School Board Member, Okeechobee County
Val Zudans
Mayor, Vero Beach
Becton Roddenberry
City Commissioner, Sopchoppy
Tracey Zudans
Hospital District Trustee, Indian River County 
Richard DeNapoli
Broward Soil & Water Conservation District Supervisor, Seat 2