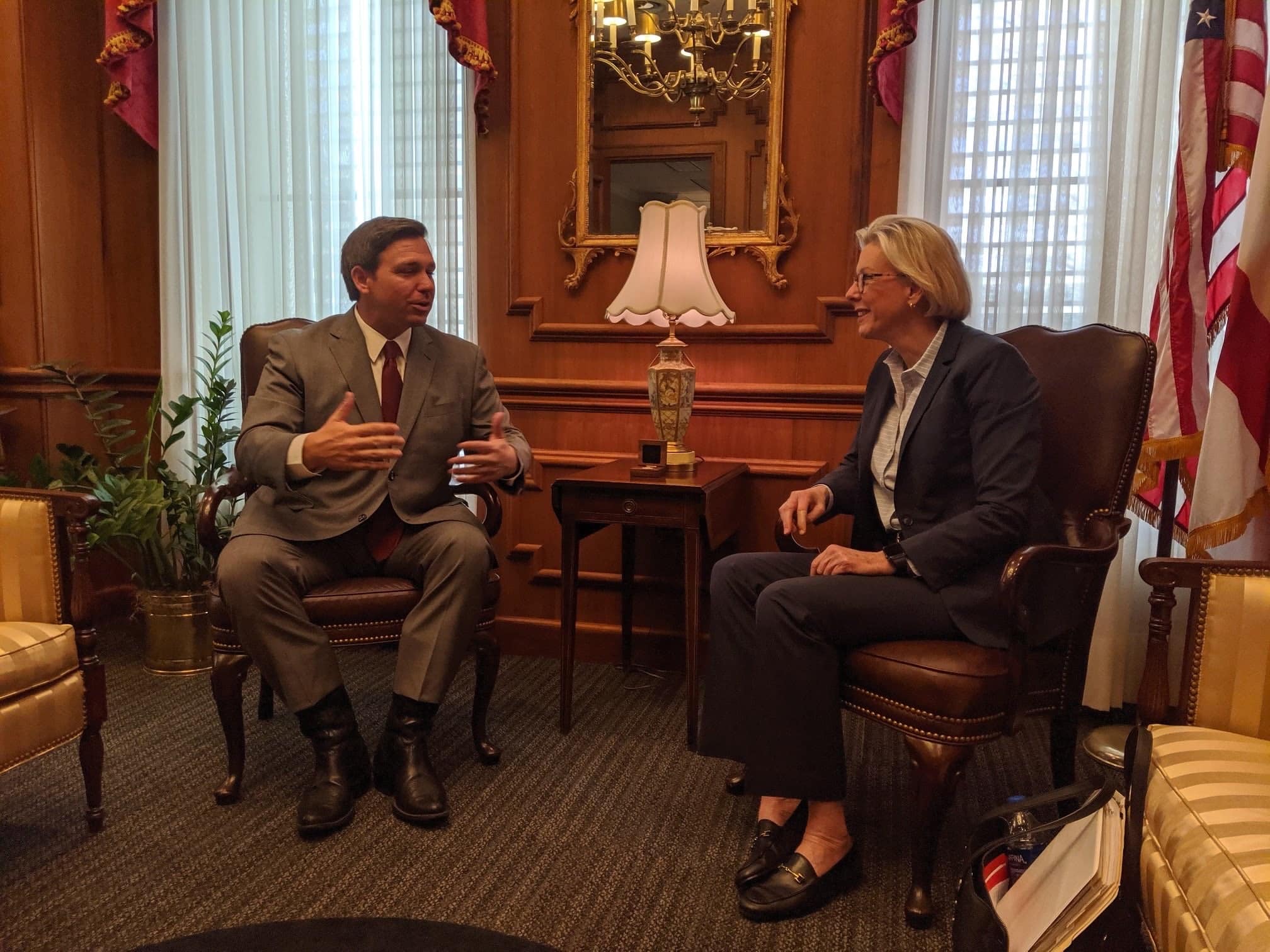 Castor said the funding had been in the works for a while.
Tampa Mayor Jane Castor met with Gov. Ron Desantis Wednesday afternoon. By Thursday, DeSantis announced he was awarding $1.4 billion for the reconstruction of the I-275 and State Road 60.
Castor said the state investment was not a direct result of her visit, but that it was discussed.
"It's been in the works for a while now," Castor said.
The project will add both general purpose lanes and express lanes connecting the Howard Frankland Bridge, the Courtney Campbell Causeway, the Veterans Expressway and Tampa International Airport. It's long been a top priority for local transportation officials and groups like the Metropolitan Planning Organizations in Hillsborough, Pinellas and Pasco counties.
The lane additions and improvements are expected to help alleviate traffic in the busy corridor that shoots commuters out into a variety of different directions including across the Howard Frankland Bridge to Pinellas County, into Tampa from the bridge along I-275, toward the airport and into the busy Westshore business district that includes more than 4,000 businesses.
The project is also expected to reduce traffic related to bottlenecks where commuters move from several lanes into just one or two in order to get to their final destination.
"This investment in our transportation infrastructure comes at an incredibly pivotal time for Tampa," Castor said. "From the campaign, to my first 200 days in office with the rollout of my advisory teams, I have stressed that one of my top priorities is to alleviate congestion while expanding alternative mobility options and this investment to rework of the interchange will do just that. Thank you to Governor DeSantis for acknowledging the ever growing needs of the region by focusing on the arteries needed to keep Tampa Bay moving."
Local to Westshore, the project will provide a significant benefit to walkability network and traffic circulation by reconnecting local streets beneath the interstate to relieve traffic congestion on Westshore Boulevard and improve community access.
"As our population continues to increase, we remain committed to improving our transportation infrastructure through strategic innovation," DeSantis said. "By significantly relieving traffic congestion, this reconstruction project will provide motorists a more effective way to travel through the region. Additionally, it will add capacity for future growth and improve connectivity for Tampa's residents, businesses and visitors."