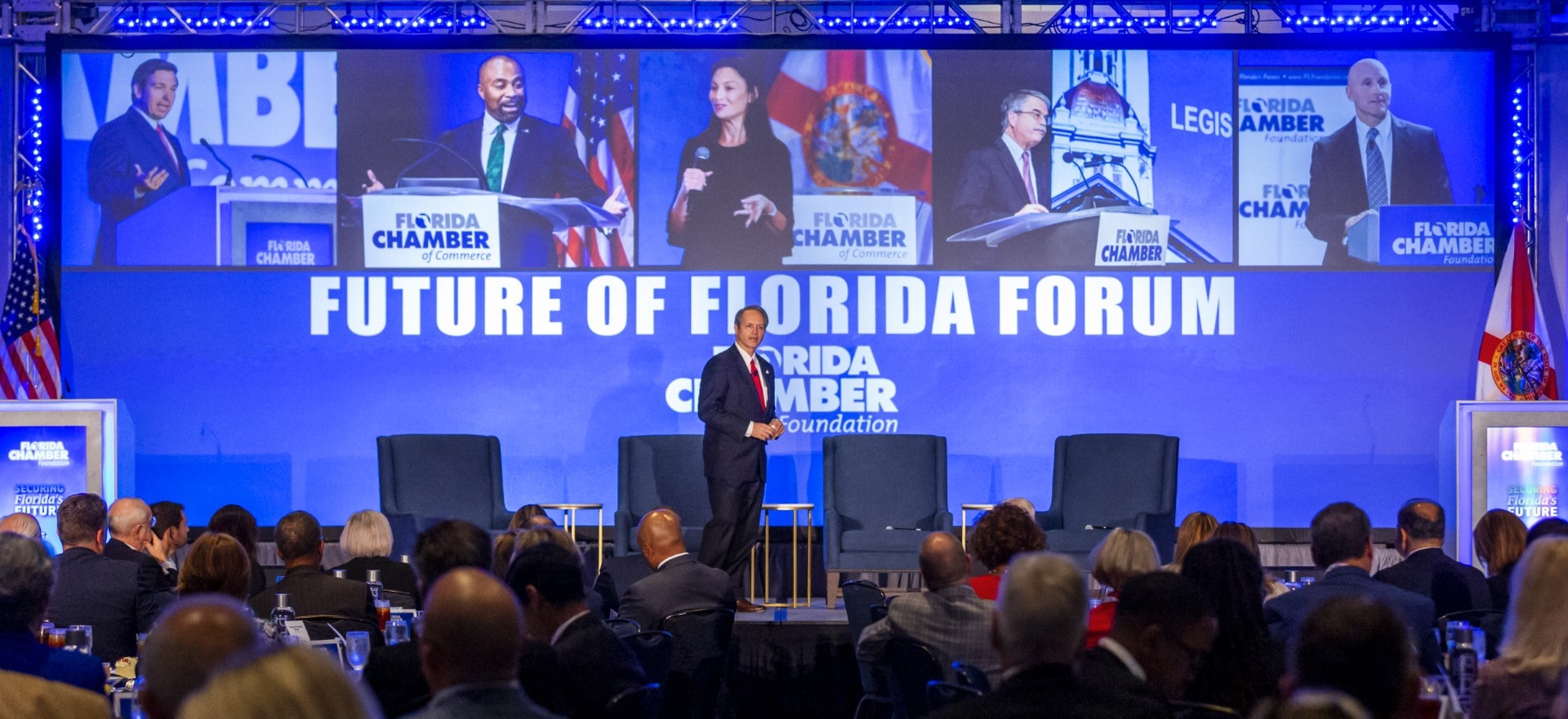 Florida is 50th in volunteerism among all states.
Florida is 50th in volunteerism among all states.
According to Sabeen Perwaiz, who leads the Florida Nonprofit Alliance, Florida slips to 51st when Washington, D.C., is included.
But come 2030, the hope is for the Sunshine State to make it into the top quartile.
That will take some creativity from stakeholders in government, nonprofit work and the business sector.
During a panel at the Florida Chamber of Commerce's Future of Florida Forum, Perwaiz and other stakeholders discussed how they plan to achieve that goal.
Clay Ingram, a former state Representative who now leads Volunteer Florida, gave a high-level overview of the agency he leads before outlining his strategy for growing volunteerism in the state.
One avenue: a new platform called "Volunteer Connect."
The initiative connects groups looking for volunteers with people who sign up through the platform, from people who want to swing a hammer for Habitat for Humanity to those "who want to cuddle puppies after work," Ingram said.
Perwaiz said her organization is already pitching in on boosting volunteerism.
Florida ranks seventh in nonprofit employment, providing more than 500,000 jobs in the state. They also provide the bulk of volunteer opportunities.
But they face challenges — fewer and fewer people are donating money.
Kay Rawlins, the founder and Senior VP of Community Relations for the Orlando City Foundation, said fans of the Orlando City soccer team "raise their hands" to volunteer whenever the organization makes the call.
Rawlins added that all pro players have a community service requirement added into their contracts, which is a practice businesses across the state can emulate.
Perwaiz said the 20 hours required of Orlando City players is "amazing" and goes above and beyond the commitments made by most organizations.
Another takeaway from Rawlins: Many specialized types of volunteerism are in short supply. After hurricanes and other natural disasters, nonprofits are quick to get water and supplies to affected areas. But that isn't as big of a challenge as making sure survivors have access to proper mental health care or even Spanish translators.
Ingram said volunteerism also plays a major role in the state economy — one hour of volunteering is worth "$20 to $24 an hour," he said.
"We're talking about an $8 billion economic impact," he continued.
Panel moderator David Odahowski, President of the Edyth Bush Charitable Foundation, also touched on benefits volunteerism can have within for-profit businesses, including team building and higher morale among the workforce.
Ingram said any businesses that want to make the transition from "reactive" volunteerism to "proactive" volunteerism have a variety of options, top of the list being coordination with Volunteer Florida.