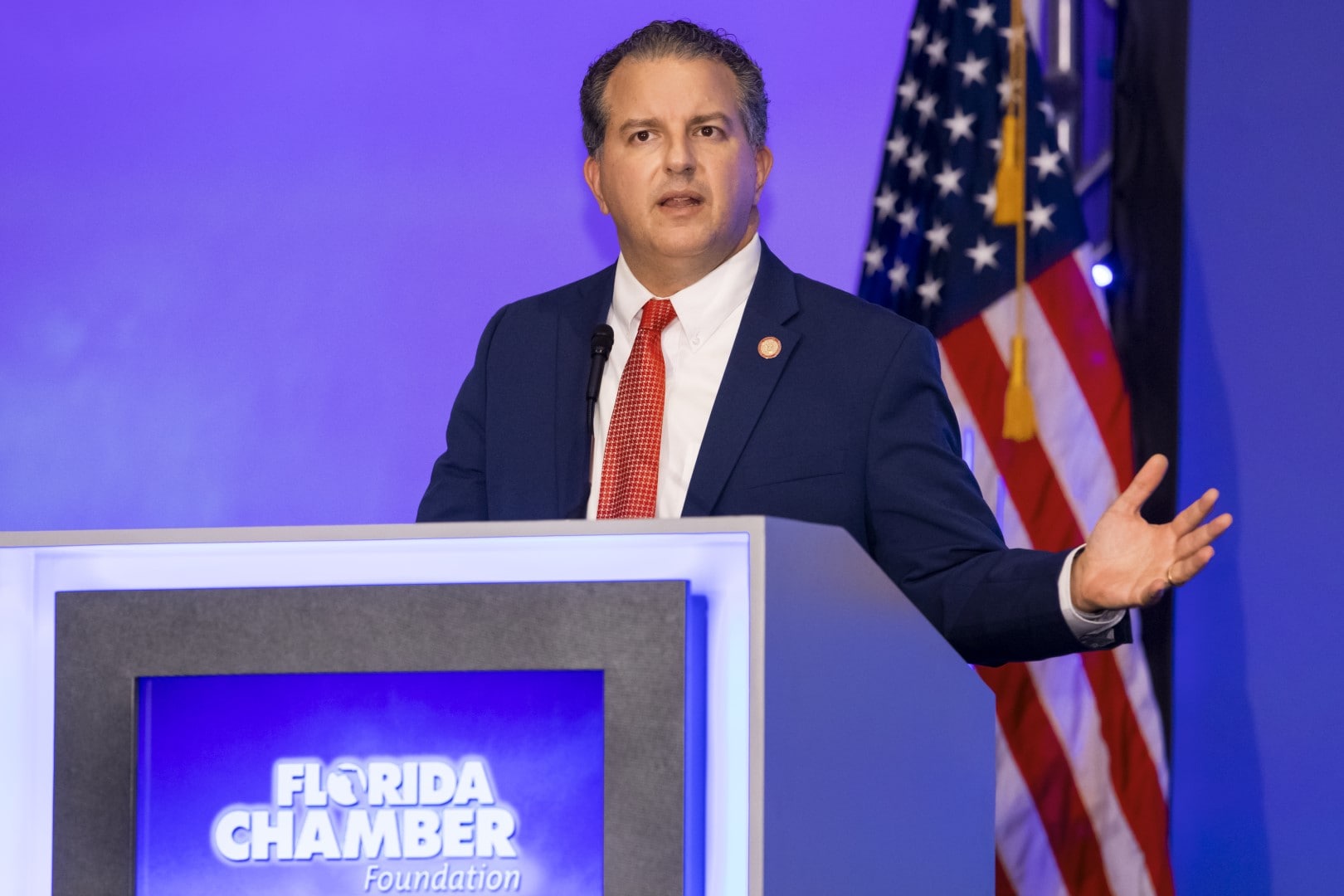 Technology could be a powerful tool in combating fraud.
Florida CFO Jimmy Patronis says there's no shortage of scammers looking to dupe Floridians, but technology could be a powerful tool in combating fraud.
Patronis delivered the remarks during the Florida Chamber of Commerce's 2019 Future of Florida Forum in Orlando.
Patronis, who doubles as the state's Fire Marshal, started off by recognizing National First Responders Day.
"We have businesses that relocate to Florida every single day. And I love seeing people make money, I really do. They make money, they hire employees, they expand," Patronis said. "That doesn't happen unless people step up and commit to being first responders."
He also celebrated one of his — and the Florida Chamber's — top successes of the 2019 Legislative Session.
"This year was the first year that we successfully moved the needle on AOB reform," Patronis said, adding that the Florida Chamber team was instrumental in the effort.
Patronis, who was appointed CFO in 2017 and elected to a full term last year, then delved into the cyber threats the Sunshine State faces.
"Florida has the fourth-highest fraud rate in the United States and our veterans are more than twice as likely to be the victims of fraud," Patronis said, calling the statistics "shocking."
Patronis said seniors, even his own mother, can easily fall victim to scams, too.
"She'll email me and say 'do I need to donate to this' or 'do I need to get involved in this cause,'" Patronis said.
There are a couple of ways the Department of Financial Services is combating fraud. First, the department has launched Fraud Free Florida, an online platform that serves as a repository for information; helps law enforcement agencies coordinate investigative efforts; and allows Floridians to report scams ranging from insurance fraud to identity theft.
Patronis invited attendees and the public at-large to visit and critique the site so DFS can continue making improvements.
Another promising development is blockchain, the technology behind cryptocurrencies such as bitcoin and ethereum.
Blockchain technology, Patronis said, could end up being as transformational as the internet was in the 1990s.
Patronis has been at the forefront of identifying ways to put blockchain to work in government. He was the first state CFO to call for a state "cryptocurrency czar" to put the tech to use while also keeping an eye on Initial Coin Offerings, or ICOs.
If done right, Patronis says harnessing blockchain could not only prevent fraud but save the state a lot of money.