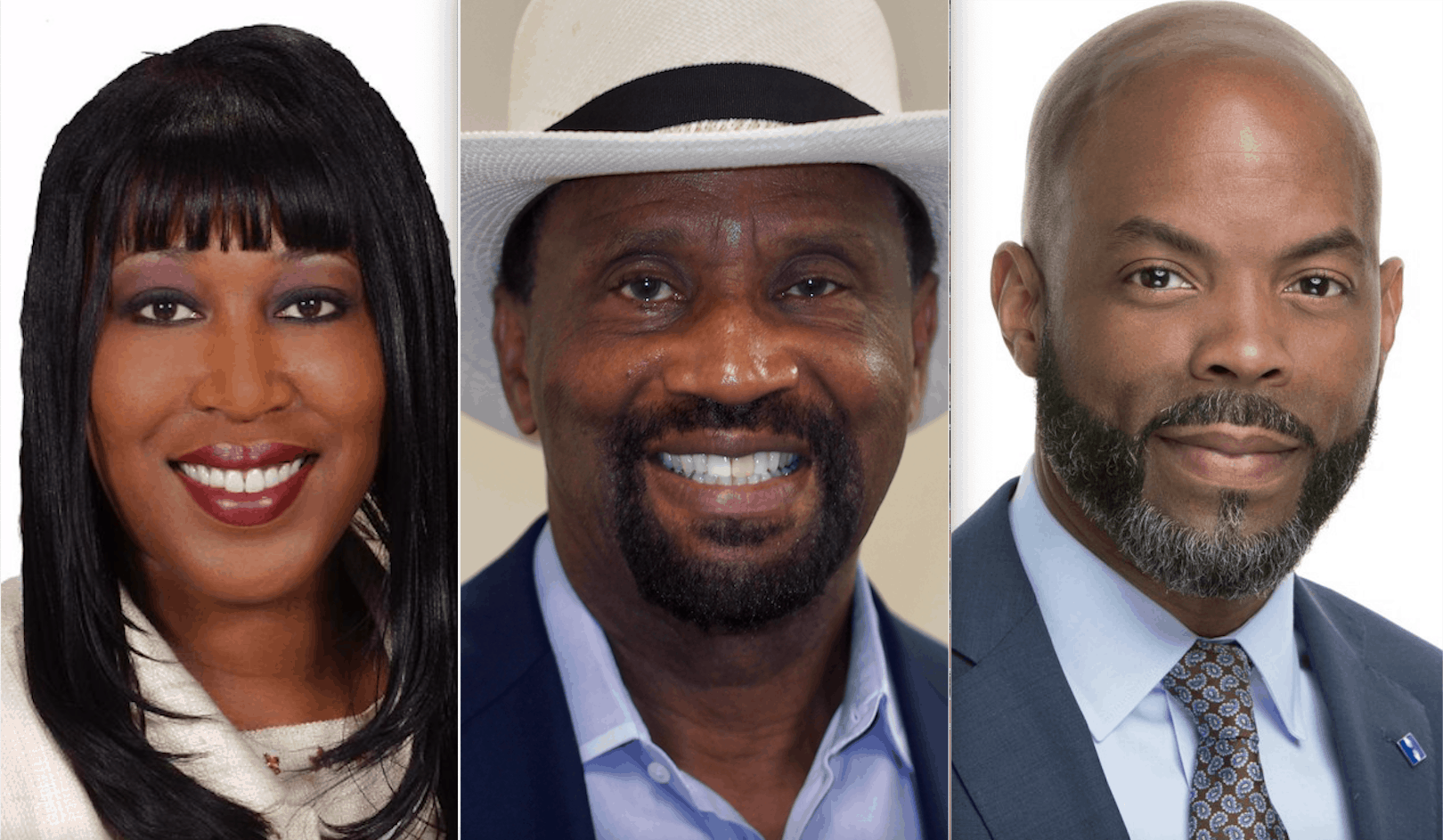 In perhaps the only Orlando municipal election with any suspense, longtime former Florida lawmaker Gary Siplin is making his latest attempt to return to politics in an election for Orlando City Council's District 6 Tuesday.
Siplin, who spent 12 years in the Legislature (including ten in the Florida Senate), faces a veteran City Council candidate and almost full-time community activist in Lawanna Gelzer, and a newcomer to Orlando politics with a lengthy background in public health, businessman Bakari Burns.
The trio are seeking to succeed incumbent Orlando Commissioner Sam Ings, who is giving up his seat to run for Mayor in Tuesday's election.
The district includes the north end of International Drive, Universal Orlando Resort, a handful of suburban neighborhoods around that attraction, and then a large spread of mostly low-income, predominantly African American neighborhoods on Orlando's near northeast side.
It's a community that does not draw a lot of attention or campaign money. The trio have flooded it with yard signs, and Siplin and Burns both have put up radio ads and sent out several mailers. Gelzer has posted numerous campaign videos on social media.
Otherwise, this is a campaign about knocking on doors, meeting with small groups, and no polling.
With the only other race on the ballot being a mayoral election in which Orlando Mayor Buddy Dyer is expected to win a fifth full term in a landslide, voter turnout is expected to be quite low.
Two other City Council races were decided by default when no one filed to take on District 2 Commissioner Tony Ortiz, and then District 4 Commissioner Patty Sheehan's only opponent dropped out in September.
Through Friday, the vote-by-mail and early voting returns were just over 5 percent of the electorate in District 6, about the same as the citywide turnout for the marginally-competitive mayoral race.
Which means a small portion of the electorate could go with the candidate with the well-known name, Siplin; or the community activist who's been on a half-dozen ballots and has gotten as much TV time as anyone by being the constant thorn in City Hall's side, Gelzer; or the fresh face with a big endorsement from the Orlando Sentinel, Burns.
The issues are clear in District 6. The candidates agree: many of the neighborhoods feel neglected, left behind by Orlando's bigger prosperity. Except for the tourism district, business development lags. Wages generally are low. Good, affordable housing is in short supply. Streets, stormwater drainage, and other infrastructure seems, to many residents, , to be in chronic need of major upgrades. Even the city's portion of International Drive is visibly behind the county's portion, to the south, in terms of capital investment, appearance, and prosperity. Residents are more reliant than those in most parts of the city on LYNX buses, but service is limited. City code enforcement of abandoned or ill-kept properties seems to lag. Homelessness is big. Crime is high.
The candidates all address those issues primarily. The difference is their view of what they would do about it.
Siplin has lost his lost two elections, attempts to regain his state Senate seat in District 9 in 2014 and 2016. But he has enormous name recognition in Orange County from his 10 years in office and seven previous times on the ballot, and helped in part because of his wife, Victoria Siplin, also is a successful elected figure, now serving a second term now on the Orange County Commission.
He generally is considered the favorite to win Tuesday.
Siplin also has plenty of connections left, evidenced by the $152,000 he raised for his City Council campaign, more than twice Burns' and Gelzer's hauls combined. Siplin attributes that to his record of service to the community.
"We feel very blessed right now because we're getting a lot of good feedback," Siplin said.
Siplin describes his ability to build partnerships with the private sector, government, and nonprofits. He notes, for example, his plans for International Drive and Universal Orlando, the city-based theme park resort which is currently involved in a highly-controversial plan to build a new theme park, Epic Universe, on the county side of the municipal boundary of District 6, with Orange County taxing the tourism district to build a $125 million new road extension to serve the new park.
Unite Here, the labor unions representing many Walt Disney World workers and other hospitality workers in the International Drive and Universal Orlando region has been campaigning against the Universal/Orange County deal in District 6, and believes it will be a factor in Tuesday's election.
"By election day, we will have knocked on over 5,000 doors in District 6 and had over 1,500 conversations. We've been giving rides, asking lower-propensity voters to make vote plans, and providing information about the candidates' positions on tourism subsidies and the $125 million Universal Studios may get from Orange County taxpayers," said Unite Here Political Director Susan Valentine. "The overwhelming response from voters is that they do not want their elected officials to give money to Universal Studios."
Kirkman Road is entirely a county decision, but Siplin supports it for the prospect of getting Universal to commit to city improvements. Siplin's wife will have a vote on that. He is the only District 6 candidate to come out strongly in favor of the deal. He said that is because of the benefits that can be won for District 6.
"I did meet with the powers-that-be at Universal, some contractors and neighbors, and they've agreed," Siplin said. "They're going to be paying millions of dollars in taxes to the city of Orlando. I've already got them to agree to sit down with the neighborhoods to help out some schools, to do some other community services in my district, to hold job fairs in my district, and to hire a minority contractor for construction of Epic Universe."
Burns has been leading efforts in Orlando to provide health care and other services in distressed neighborhoods while running a health care nonprofit, and to address to the city's homeless population. He founded and runs the seven-clinic chain of his Orange Blossom Center for Family Health.
Two weeks ago he won the endorsement of the Orlando Sentinel which both praised Burns' record and ideas and trashed Siplin for his sometimes scandal-plagued tenure in the Florida Senate.
"I'm encouraged. We continue to get good feedback as we're out knocking on doors. You won't know until Election Day, but the feedback remains positive," Burns said.
Burns is unconvinced that Epic Universe is a significant issue for the district but remains unconvinced that it is a good deal, saying he needs to see how the plan develops.
The same is true of his position on the proposed 1-cent sales tax increase Orange County Mayor Jerry Demings is proposing for the 2020 county wide ballot to improve transportation in Orange County. Burns believes there needs to be a dedicated source of funding for LYNX, but said he needs to see the package of transportation projects before he could decide. Siplin supports Demings' plan.
"What we constantly hear is that transportation remains a concern. But the quality of life issues such as affordable housing, public safety, and some discussions about code enforcement, just assuring that code enforcement is regulating the homes that are not up to code, overgrown," Burns said.
Gelzer has been a regular at City Council meetings for 20 years, always there to defend interests of low-income, largely African-American residents in the Parramore neighborhood and other neighborhoods near downtown, railing against either city neglect or city programs that lead to gentrification.
She's been promoting herself as the "SHero" for Orlando, and the only candidate who has spent any time at all inside City Hall, and who knows how the political maneuvering is done there.
"I just need the people to wake up and understand it's public policy. This is not a social service or social worker job. It's not my job to only get you a bookbag and a fish fry. It's my job to make sure streets, infrastructure, public safety, are at the top of the list when it comes to the $1.4 billion budget this city has. and that we're getting the fair share of those dollars in our community," Gelzer said.
She is strongly opposed to the Epic Universal deal, and is generally opposed to Demings' sales tax proposal, which she distrusts until she can be convinced that it will not be like previous proposals, where the establishment tells people what they need.