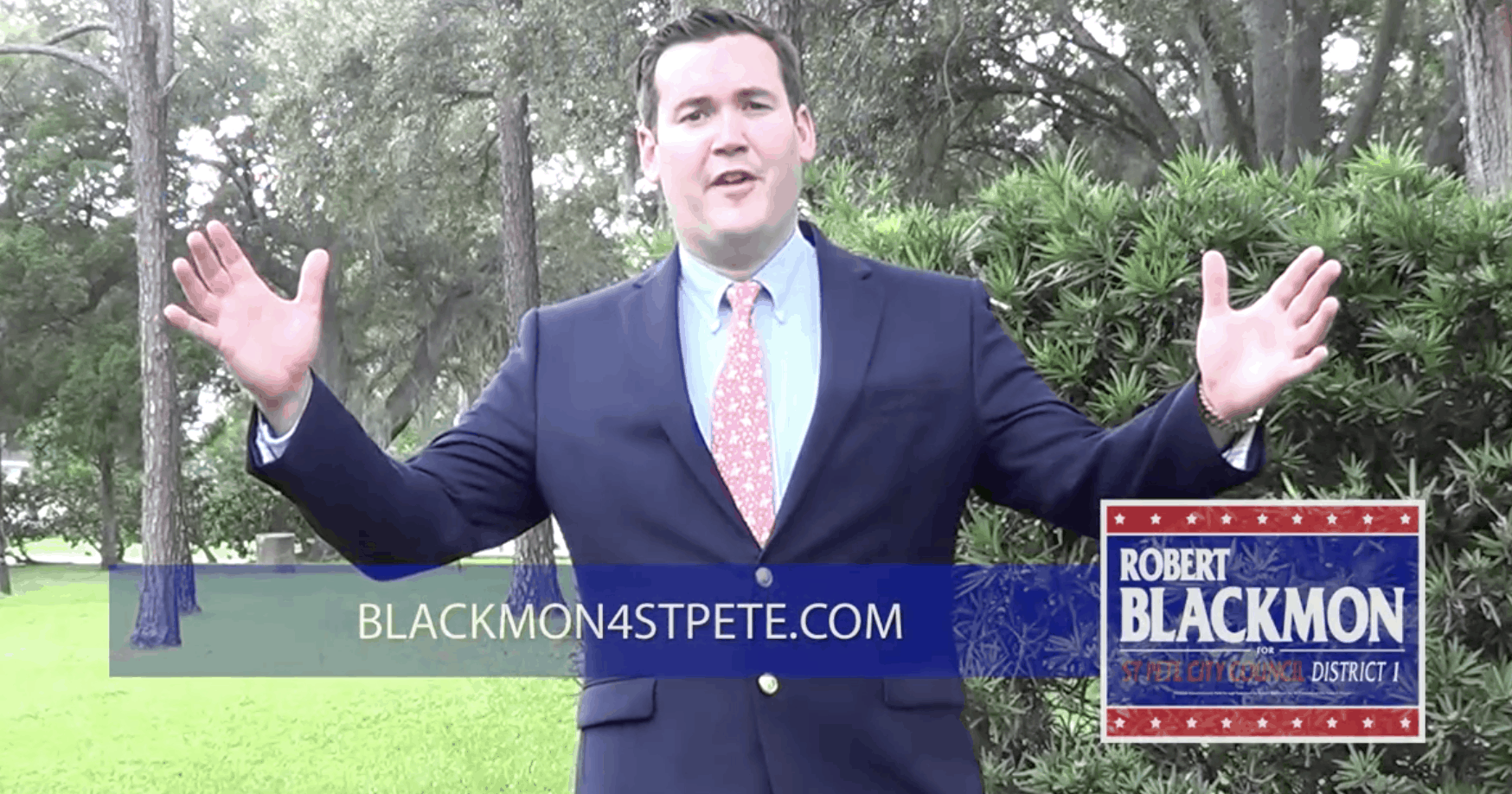 It's Blackmon's final push before Tuesday's election.
St. Petersburg City Council candidate Robert Blackmon is heading into the home stretch with a television media blast directed at St. Pete voters.
Blackmon's campaign began airing this week a 30-second advertisement on local cable television highlighting his positive message for the city.
The ad opens with Blackmon standing on a walkway in a city park. He gives an exaggerated wave and "hello" to voters.
Blackmon first touts his roots as a graduate of St. Petersburg High School.
The ad then pans to an image of Blackmon walking and chatting with a voter and lists his three campaign priorities: the environment, infrastructure and affordable housing.

He then highlights a few of his endorsements including from the Tampa Bay Times, local fire fighter union, the AFL-CIO and the Pinellas Realtor Association.
"But come Nov. 5, the most important endorsement is yours," Blackmon says before ending the video by asking voters for their vote on Tuesday.
Blackmon is running against John Hornbeck in District 1. The winner will replace Charlie Gerdes who is leaving office because of term limits.
Blackmon has the edge in the race. He's raised significantly more than Hornbeck and came in 16 points ahead in the most recent St. Pete Polls survey.
As of Oct. 18, Blackmon raised nearly $61,000, a figure that does not include the final two weeks of fundraising. Hornbeck's final fundraising tally fell just shy of $21,000 and most of that came from his own personal contributions to the campaign.
Blackmon's final ad blitz will run on Bay News 9, CNN, ESPN, Fox News, Hallmark, HGTV, MSNBC, TBS, TNT, and USA.
Hornbeck's campaign has focused less on reaching voters on television and has instead been sending mail to targeted voters and reaching voters through grassroots ground campaigns knocking on doors, which Blackmon has also done.
Hornbeck has been running as a progressive candidate with support from local Democratic groups in an effort to capitalize on St. Pete's Democratic-heavy electorate.