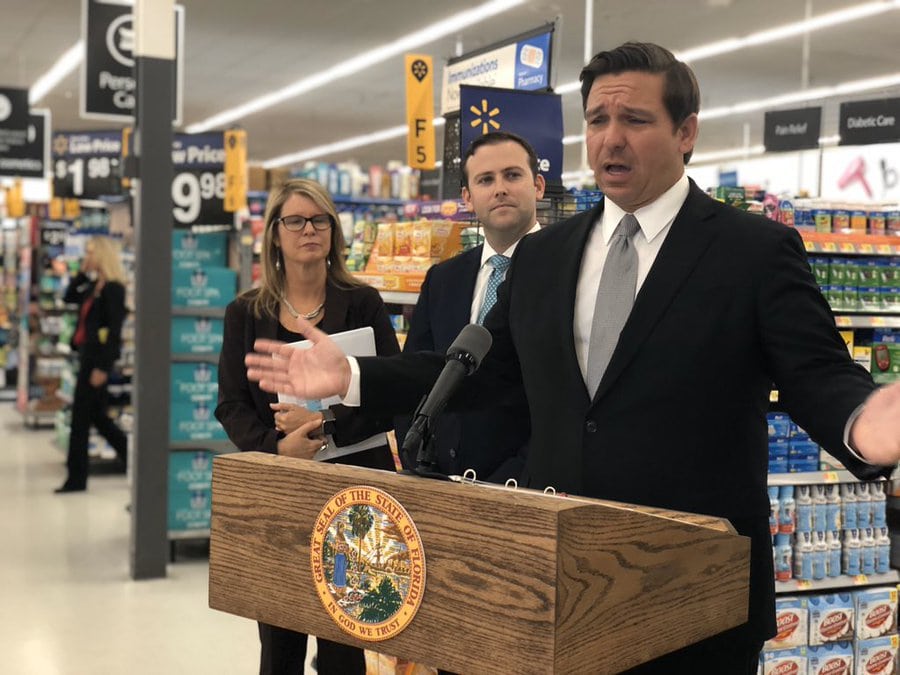 No more 'buying something without knowing the price in advance.'
Gov. Ron DeSantis announced Monday the launch of an updated website that allows Floridians view the average cost of medical services.
FloridaHealthPriceFinder.com breaks down the cost of non-emergency medical services by the average cost in the county, state and nation.
"If you look at how people behave in most aspects of their lives, they kind of have a sense of how much something costs and they make decisions accordingly," DeSantis said. "That's really not been the case with health care."
Specifically, DeSantis used the example of a knee replacement in Tampa. The procedure can range from $33,000 to $54,000.
"We think that this is a powerful tool that can be used as we look to innovate in health care and to save costs," DeSantis said. "I think most people what they want is, they want you know high-quality care, but they want it in the most cost-effective way. So that's what we're trying to do."
Related: Ron DeSantis' health care agenda focused on implementation
During Monday's announcement, House Speaker-designate Chris Sprowls of Clearwater, and Agency for Health Care Administration Secretary Mary Mayhew joined DeSantis.
A news release from Sprowls' office said the updated site offers price and quality information for the most common non-emergency health care services in Florida.
The updated site comes after the passage of HB 1175, which took effect in July 2016. Also known as Transparency in Health Care, the law requires licensed facilities "to provide timely and accurate financial information and quality of service measures to certain individuals."
"When I came into office, it really had not been implemented yet," DeSantis said.
Speaking Monday morning at the Walmart Supercenter in Palm Harbor, DeSantis said Sprowls was "instrumental in getting passed a price transparency portal for the state of Florida."
"Just a few aisles from here, you can go shopping for paper towels and they've got 50 different kinds. They all have a different thickness and different quality level and a different price," Sprowls said.
"The reality is, that's true of paper towels and it's true of most of the products that you can get here or any other retailer. But it's not true about health care, and it hasn't been true about health care for a very long time."
Sprowls said it's one of the only industries that asks consumers to purchase a service without knowing the cost in advance.
"Imagine if we got on Amazon right now and went to purchase something and they said, 'Well, you purchase it first. Give us your credit card number. We'll let you know how much it costs afterwards,'" Sprowls said. "None of us would make that purchase, and yet we do it every day in health care."
The governor also credited Mayhew for uploading the necessary information to launch the updated site.
"For some of the most significant costs that we may incur for health care expenditures, we've been in the dark," Mayhew said. "I am so excited that today we have now made – through, again, the leadership of Speaker-designate Sprowls and Gov. DeSantis – we are making this information available and it's important."
Mayhew said the access to information will allow people to ask questions about price disparities, and it will "help drive accountability."
Lawmakers have also introduced and approved several "transparency" bills designed to help regulate the cost of health care. It includes the Patient Savings Act, which took effect this July.
"We're actually using it [the Patient Savings Act] with some of our state employees where when you use a transparency tool like this, and then choose something that's more cost effective, you as a patient actually save by, for example, getting rebates on your insurance premiums," DeSantis said. "That then gives the patient the incentive to look for what makes the most sense both in terms of health and in terms of cost."
The governor said he thinks it's a model that could be expanded.
DeSantis also announced the Governor's Transparency Award. The state will give one hospital or ambulatory surgical the award for "demonstrating excellence in price and quality transparency."
According to DeSantis, the winner will get to have an event and its logo on the AHCA's website.
"[It] will make sure Floridians know who is going above and beyond to make health care accessible and understandable," DeSantis said.
The four-week application period for the award begins this week, according to DeSantis, who said he planned to work with Mayhew to get employers on board too.
"Patients just need information," DeSantis said. "This has been a very opaque system for so long."
DeSantis said he wanted to see health care in Florida to be "transparent, affordable and high quality."
Later Monday, Florida Hospital Association President Bruce Rueben issued a statement critiquing the AHCA website.
"The Florida Hospital Association (FHA) is committed to price transparency — that's why we supported House Bill 1175 in 2016 and launched MissiontoCare.org that same year. Available every day for the last three years, MissiontoCare.org provides individual hospital price and quality information in an easy-to-use, searchable format. We ensure the reliability of the information by having hospitals verify the data to ensure accuracy. This is a fundamental step to make sure the public can trust the information," he said.
"So, we are surprised that the Agency for Health Care Administration (AHCA) abandoned its longstanding practice of having hospitals review their pricing data before it's publicly shared to ensure accuracy. Since AHCA did not verify the data with hospitals and ambulatory surgical centers, its validity is unknown. Upon initial review, it appears the website does not accurately display all health care services, such as maternity care, cardiac and orthopedic procedures, that are offered in communities across Florida. To ensure consumers have access to reliable information, all inaccurate data must be immediately corrected and publicly shared."
___
Mark Bergin is a freelance journalist. He's worked as a writer for 10News WTSP in St. Petersburg and WBIR 10News in Knoxville, Tennessee. Bergin has covered the Tampa Bay Rays' stadium negotiations, the 2018 midterm elections, Hurricane Irma, Tampa Bay's transportation issues and city/county government. You can follow his work on Facebook, Twitter, YouTube and Instagram. Reach him by email at [email protected].