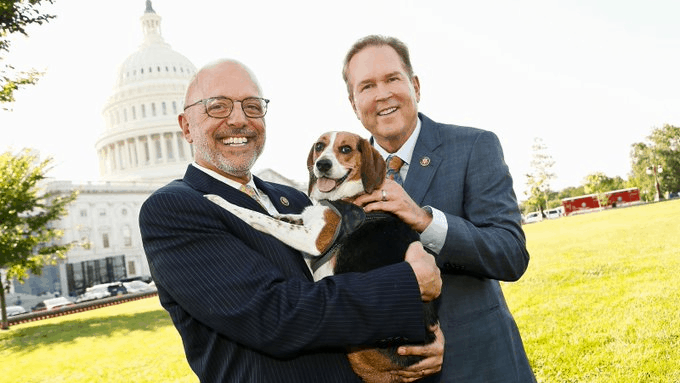 Legislation could make animal crushing a federal offense.
Legislation making animal cruelty a federal offense was unanimous approved by the U.S. Senate.
The bill, introduced by U.S. Reps. Vern Buchanan and Ted Deutch, both of Florida, already was passed in the House.
That means the Preventing Animal Cruelty and Torture (PACT) Act now heads to President Donald Trump to be signed into law.
"This is a milestone for pet owners and animal lovers across the country," said Buchanan, a Sarasota Republican. "For the first time, a national law has been passed by Congress to protect animals from cruelty and abuse."
The legislation responds to the popularity of gruesome "animal crush" videos online. Congress in 2010 passed legislation outlying the video, but federal law actually remained silent the underlying cruelty.
Deutch said a law stopping the practice was overdue.
"This is commonsense, bipartisan legislation to bring some compassion to our animal laws," the Boca Raton Democrat said.
Law enforcement and animal rights groups rallied together around the legislation. The National Sheriffs Association, the Fraternal Order of Police and the Humane Society of the United States all endorsed the PACT Act.
"It is illegal to make videos of animal torture, and it should be illegal to commit those types of inhumane atrocities against defenseless animals in the first place," said Polk County Sheriff Grady Judd, president of the Major County Sheriffs of America, previously said.
Like in the House, the legislation was championed in the Senate by members on both sides of the aisle.  Republican Sen. Pat Toomey of Pennsylvania joined with Democrats Dianne Feinstein of California, Richard Blumenthal of Connecticut and Richard Durbin of Illinois in sponsoring the companion bill.
It was the House version ultimately passed.
"The torture of innocent animals is abhorrent and should be punished to the fullest extent of the law," Buchanan said. "Protecting animals from cruelty is a top priority for me and I'm proud to work with Congressman Deutch on this important issue."