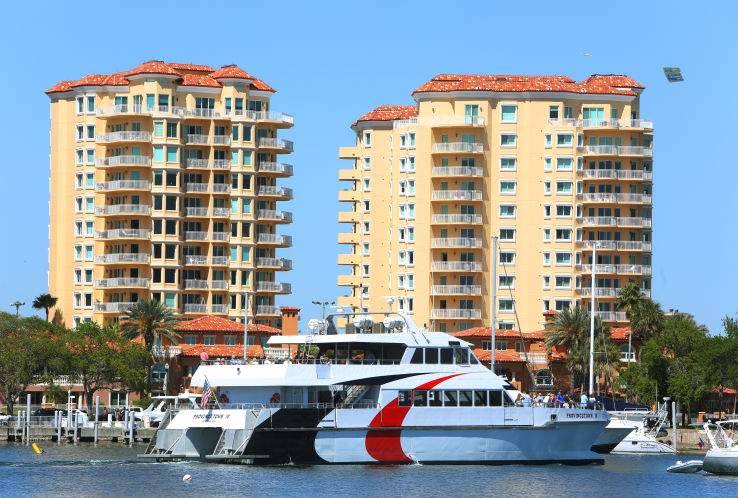 Ridership increased 52 percent.
The third season of the Cross Bay Ferry is again setting record ridership. During its first weekend of service this weekend, ridership blew away 2018 first-week ridership numbers out of the water.
Seasonal service on the ferry began Nov. 1. During its first weekend of operation on Nov. 1-3, 2,119 passengers, making overall ticket sales 52 percent higher than the previous year.
The Cross Bay Ferry routes offered on Saturday and Sunday sold 73 percent and 86 percent of all available tickets, respectively. Last year's Saturday and Sunday ferry routes were only 52 percent to capacity. On Sunday, the popularity was even higher. Five of the six trips offered were 92 percent full.
"Increased awareness and a dock at the Tampa Convention Center made a big difference in ticket sales," said Matt Miller, president of HMS Ferries. "This has allowed us to create a schedule that best serves the residents of Tampa and St. Petersburg. It is a great foundation on which to build permanent, low-cost ferry service for Tampa Bay."
Last year the ferry had to dock in Tampa near the Florida Aquarium, which made the service less convenient for riders.
With construction now complete on upgrades at the Tampa Convention Center, the ferry can return to its original dock location.
Ticket sales might have also been buoyed by a custom schedule that focuses more on leisure travel than commutes.
The ferry upped weekend service when demand is much higher.
There are four departures from each side of the bay on Friday and Saturdays beginning at 10 a.m. and running periodically until 11 p.m. (See the complete departures below.)
Sunday service will start at 11 a.m. with three departures each from St. Pete and Clearwater. The final departure of the day leaves from Tampa at 11 p.m.
Ferry service will operate for all Tampa Bay Lightning home games, including on Mondays and Tuesdays. The ferry will depart 30 minutes after games are over from downtown Tampa.
Unless there is a Tampa Bay Lightning game, the ferry does not run on Monday or Tuesdays.
The pricing is the same this year as the previous with one-way tickets available for $8 per adult, $5 for seniors 65 and up, active or retired military members and college students, $3 for kids aged 5-18 and free for children under 5.
Detailed Schedule:
Wednesday — Thursday
St. Pete — 4:45 p.m.
Tampa — 6 p.m.
St. Pete — 9:30 p.m.
Tampa — 10:45 p.m.
Friday — Saturday
St. Pete — 10 a.m.
Tampa — 11:30 a.m.
St. Pete — 2:30 p.m.
Tampa — 3 p.m.
St. Pete — 4:45 p.m.
Tampa — 6 p.m.
St. Pete — 10 p.m.
Tampa — 11 p.m.
Sunday
St. Pete — 11 a.m.
Tampa — 12:30 p.m.
St. Pete — 2 p.m.
Tampa — 3:30 p.m.
St. Pete — 6 p.m.
Tampa — 11 p.m.