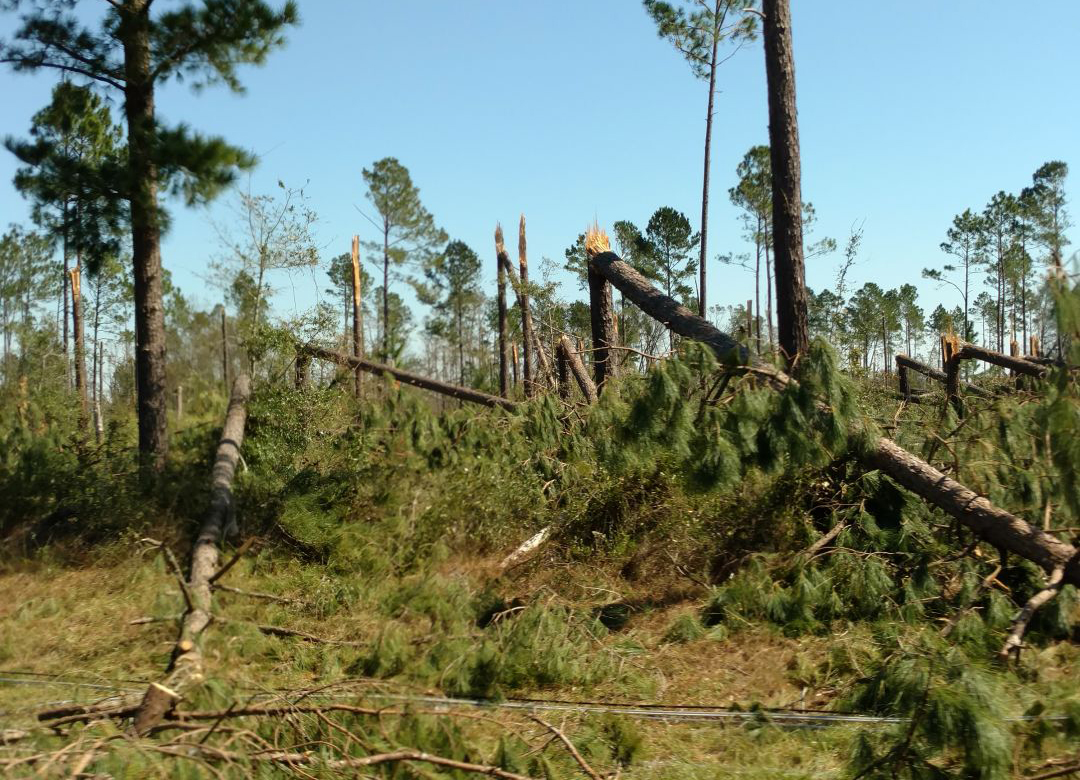 About 550 million trees throughout the Panhandle were damaged or destroyed.
Gov. Ron DeSantis and Agriculture Commissioner Nikki Fried on Friday announced that the U.S. Department of Agriculture (USDA) awarded Florida with a $380.7 million grant to help timber producers recover from the effects of Hurricane Michael.
The funding will be administered by the Division of Emergency Management (DEM), under the Governor, with support from Fried's office. The money will be used by producers whose crops were impacted by the storm to replant new trees and remove remaining downed trees.
"This funding is a huge victory for Florida's timber producers. Since January, we've been working closely with USDA to secure relief for our timber industry, whose resilience in the year following Hurricane Michael has been extraordinary," Fried said.
"In the coming weeks, our priority will be moving this funding forward, so that timber producers can have checks in hand and trees in the ground. That application process for affected timber producers will be finalized "in the next several weeks."
DeSantis and DEM Director Jared Moskowitz also issued statements on the USDA decision Friday afternoon: "This is a great day for our timber farmers who were devastated by Hurricane Michael," DeSantis said.
"Since January, I've worked closely with President [Donald] Trump and Secretary [Sonny] Perdue to ensure that our farmers were receiving as much assistance as possible. Fortunately, we were able to secure nearly half of the entire allocation for three states. Now that this funding has been awarded, we look forward to helping these farmers recover, replant and rebuild."
Added Moskowitz, "As soon as the program is finalized, we look forward to working closely with all stakeholders to provide this important funding. Thanks to the Governor's support, the Division has created a track record of success by changing policies and distributing more than $200 million to Florida's citrus farmers recovering from Hurricane Irma, as well as more than $1 billion for hurricane recovery in record time."
U.S. Sen. Marco Rubio says the money will help an industry that was "decimated" by the storm.
"Timber is a long-term business because trees take years to mature, but it only took a matter of hours for Hurricane Michael to set the industry back decades," Rubio said.
"I remain committed to assisting the entire Northwest Florida community in their recovery from this tragic storm and will continue my work to help the timber industry get back on its feet. I have not forgotten what occurred just one year ago, and I will not allow my colleagues in Congress to forget either."
The block grant money will also be used to address damage to irrigation infrastructure. Jim Karels, State Forester and Director of the Florida Forest Service, also released a statement regarding the influx of money into the state.
"We are truly grateful to Secretary Purdue and the USDA for this historic timber landowner recovery program," Karels said.
"Forests play a vital economic and ecological role in the Florida Panhandle, and this program will help landowners mitigate the devastating loss due to Hurricane Michael, reforest their land, and rebuild their livelihoods."
The industry suffered an estimated $1.3 billion in economic losses due to the Category 5 storm across nearly 3 million acres in the Panhandle. About 550 million trees were damaged or destroyed.
And more than a year since Michael's impact, the logging industry is far from recovered. More than 10,000 jobs in the industry have been lost.
"Timber's inclusion in the block grants provides the help and the hope that the Panhandle sorely needs right now," said Alan Shelby, Executive Vice President of the Florida Forestry Association.
"Although it won't make forest landowners whole, it will make a tremendous difference in their ability to begin recovery and move forward with clean-up and reforestation.