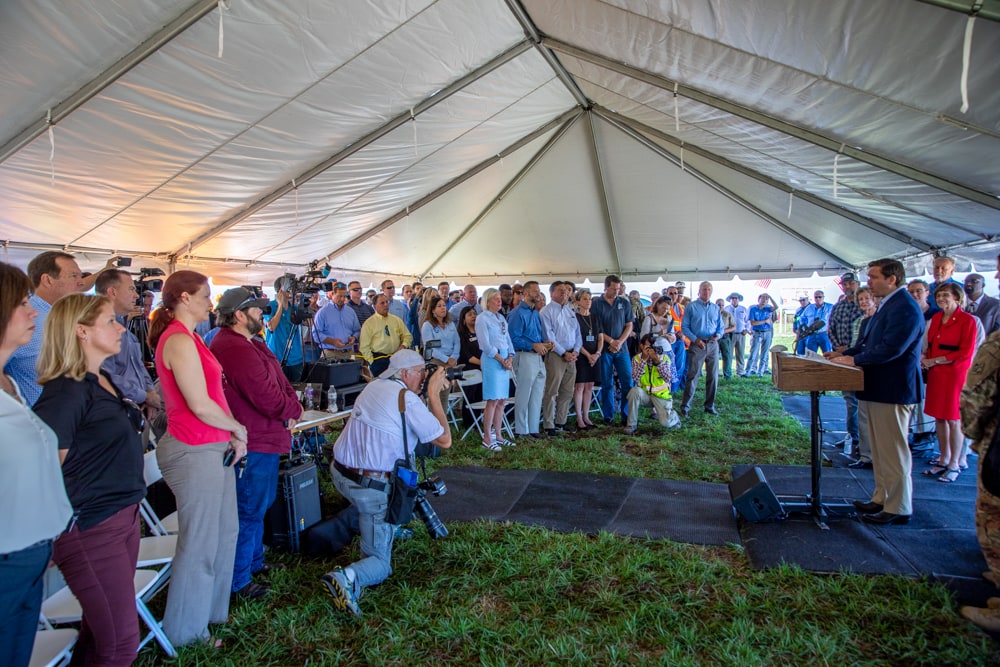 The project is one of several aimed at helping improve water quality in the region.
Gov. Ron DeSantis visited Martin County Friday as the water began flowing into the C-44 Reservoir stormwater treatment area (STA) site.
"These are the first gallons of water pumped into this major environmental restoration project that plays a huge role in giving us a cleaner, healthier St. Lucie Estuary," DeSantis said.
"We must do more now for our environment to reduce harmful discharges to the coastal estuaries and improve water quality, and this treatment area will play a major role in accomplishing both goals. We will continue to expedite critical Everglades reservoir projects like the C-44 Reservoir."
The project is one of several — including the Herbert Hoover rehabilitation project, Kissimmee River Restoration and the C-23, C-24 and C-25 projects — aimed at helping improve water quality in the region.
The C-44 Reservoir will be used to, in part, store releases from Lake Okeechobee which can contain toxic blue-green algae. Those releases into other waterways have helped spread that algae in the past.
"Water flowing into this treatment area marks a momentous day in the history of the Everglades, the Treasure Coast, and the St. Lucie Estuary," said Jacqui Thurlow-Lippisch, a member of the South Florida Water Management District Governing Board.
"This is the start of the road to a healthier estuary and Everglades. Under the leadership of Gov. DeSantis, progress on Everglades restoration is moving at a rapid pace."
Added U.S. Army Corps of Engineers Commander Col. Andrew Kelly, "The C-44 Reservoir and the associated Stormwater Treatment Area are critical in our plans for more flexible and effective water management in Florida. It will play a big role in the Lake Okeechobee System Operating Manual being developed right now by giving us more options on how we move water in the area."
The visit by DeSantis follows a trip he took at the end of October to LaBelle to visit the site of the C-43 West Basin Storage Reservoir near the Caloosahatchee River. That reservoir is expected to store up to 55 billion gallons of water.
"We are making great strides this year in Everglades restoration," DEP Secretary Noah Valenstein said.
"We expedited construction on the EAA Reservoir Project, we broke ground on the construction of the C-43 West Basin Storage Reservoir Project, and today we celebrate the C-44 Reservoir and Stormwater Treatment Area. Many projects are moving forward and will be completed sooner because of the dedicated funding to these projects and we thank the Governor for his unwavering support."
The C-44 STA will cover 6,300 acres and is expected to be completed in 2020. The reservoir itself will cover 3,400 acres and is aimed to be finished in 2021.
___
Image via Governor's Press Office