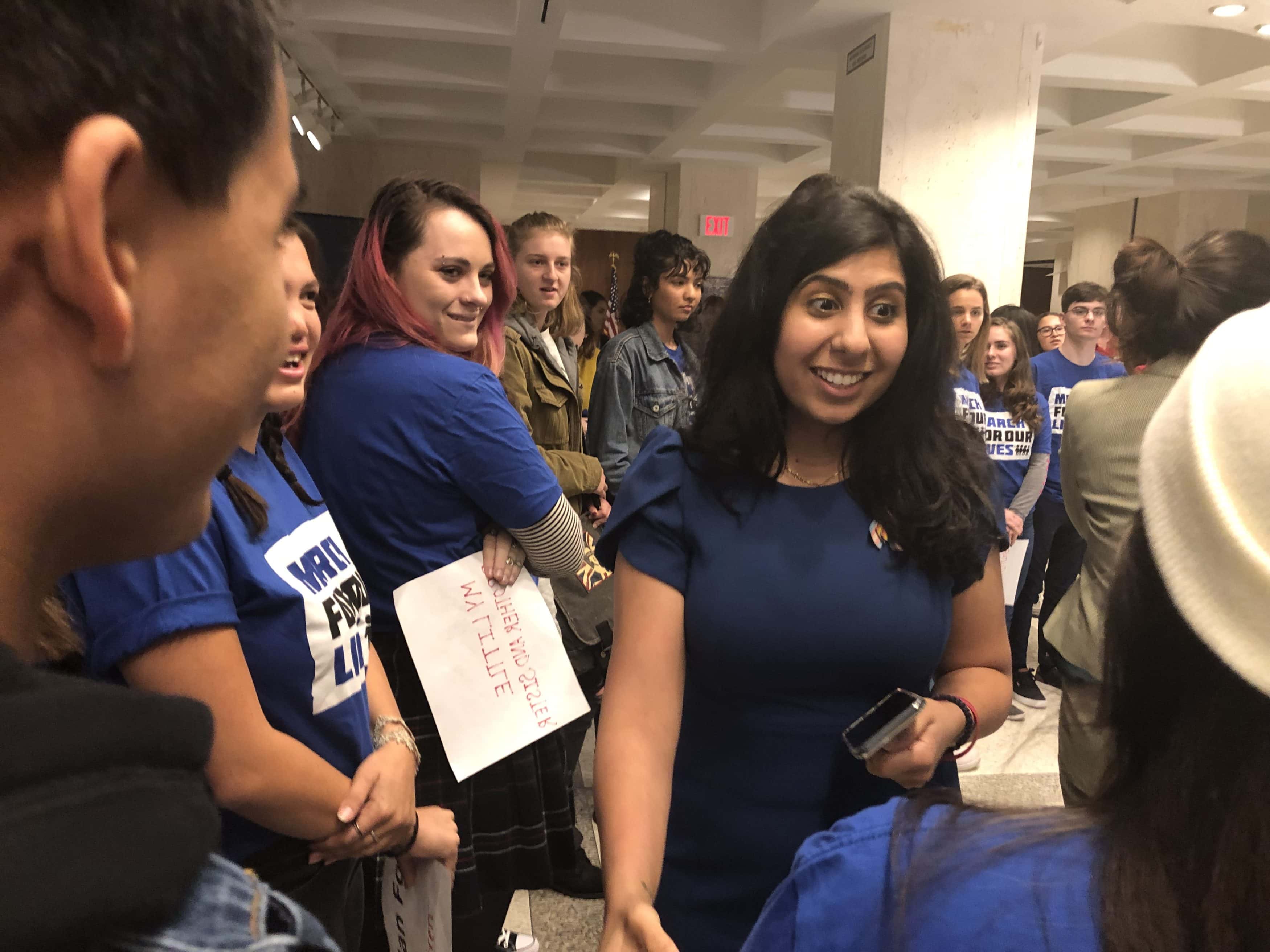 The Peace Plan for a Safer Florida includes and assault weapons ban and domestic violence bills.
March for Our Lives Florida students announced the group's gun control agenda in the Florida Capitol Thursday alongside state Democratic lawmakers.
The Peace Plan for a Safer Florida is a board plan to change the culture of gun ownership and halve gun deaths in the state. The headlining legislation: Rep. Carlos Guillermo Smith's assault weapons ban (HB 627).
MFOL Florida state director Alyssa Ackbar, who is a Tampa-based student at Florida State University, said that while the group may not have yet changed the books in the state, young voters have been empowered to vote in recent elections.
"This vicious cycle will never end if we continue to address it with thoughts and prayers," Ackbar said. "We need a change. We need a bold comprehensive plan to address gun violence in this state: The Peace Plan for a Safer Florida."
The press conference occurs in the wake of a mass shooting in Santa Clarita where two people were killed and at least three were wounded at Saugus High School.
"This is not the first time this has happened, where we have prepared for another announcement of a gun violence prevention platform where another mass shooting is unfolding as we are speaking about our plans to try to curb gun violence. That's a problem," said Smith, an Orlando Democrat.
MFOL Florida's plan pulls from the national group's countrywide. But the legislation supported by the state organization attempts to fix perceived holes in Florida's gun laws.
Other measures backed by MFOL Florida include bills from Democratic lawmakers: Coral Springs Rep. Dan Daley's Jaime's Law (HB 289), Orlando Rep. Anna Eskamani and Lantana Sen. Lori Berman's bill to disarm domestic violence abusers (HB 941/SB 1206) and Orlando Rep. Bruce Antone and North Miami Beach Sen. Jason Pizzo's Urban Core Gun Violence Prevention Task Force bill.
Senate Democratic Leader-designate Gary Farmer, who has already filed a bill to bolster gun storage laws (SB 266), will file legislation backing Smith's assault weapons ban. And while Smith says not much has changed in the past four years that Republicans have not given the bill a hearing, the number of shootings continue to rise, including the Pulse nightclub and Stoneman Douglas High School shootings.
"If they already know what the outcome is of putting this bill on the agenda, then put it on the agenda and let them own their vote," Smith said. "The 49 from Pulse, the 17 from Parkland and many, many others deserve a hearing to ban military-style assault weapons and large-capacity magazines."
However, Eskamani — whose HD 47 includes Pulse — believes there is now energy behind the state's gun control movement, putting pressure on Republicans in bluer districts to break from their party.
Daley says he is willing to compromise with Republicans on aspects of Jaime's Law, which would add background checks to ammunition sales, if it helps move the plan forward.
The bill already carves out people with concealed-carry permits, law enforcement certifications or people going hunting or to shooting ranges.
"I want the bill to be heard," said Daley, who graduated from Marjory Stoneman Douglas High School in 2008. "I think it's a reasonable step in the right direction. I have a concealed-carry permit. I support the Second Amendment. I'm not coming for your guns. I just think this is a gap that should be closed."
Eskamani's bill would prevent people with misdemeanor domestic violence records, such as the Pulse shooter, from purchasing guns. It would also allow law enforcement to temporarily confiscate guns found at a home where domestic violence is reported.
"If we don't address the connection between domestic violence and gun violence, we are allowing more women to die every single day of every single month."
The Urban Core Gun Violence Prevention Task Force would include the Attorney General, the Florida Sheriff's Association, the Florida Department of Law Enforcement, the Florida Department of Corrections and the Department of Juvenile Justice.
"We know there's a mass shooting issue that's a huge issue, but we also have another issue in our urban and inner-city communities," Antone said. "We have to come up with a statewide solution."