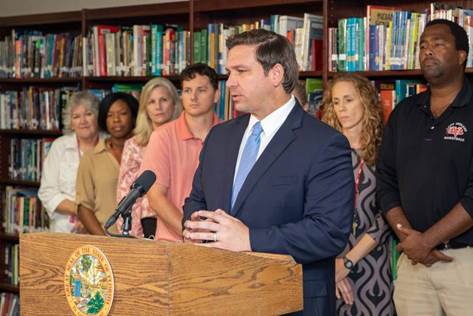 The Florida Classroom Teacher and Florida School Principal Bonus programs would divvy out bonuses by each school's academic assessment and by title status.
Gov. Ron DeSantis announced Thursday a plan to replace the Best and Brightest bonus program to reward teachers and principals with tier-based systems.
DeSantis, joined by Department of Education Commissioner Richard Corcoran in Vero Beach, called for $300 million in teacher and principal bonuses in the Florida Classroom Teacher and Florida School Principal Bonus programs.
"We want to make sure we are doing all that we can to recruit and retain great educators throughout the state of Florida," DeSantis said. "Together, we can advance this and other proposals as we strive to make 2020 the Year of the Teacher."
However, the Florida Education Association responded Thursday, calling the tier system a disappointment and an unsuccessful pattern in Florida and nationwide for decades.
"Teachers and all school employees should be paid fair, competitive salaries," FEA President Fedrick Ingram said. "Our educators do not want another bonus scheme, especially not one built on the back of a flawed school grading system.
The Governor's office says the programs improve the Best and Brightest program by incentivizing teachers and principals to stay in public schools, particularly those facing greater challenges.
"Florida is extremely fortunate to have educators that inspire students every day, and that is why we have made elevating and celebrating teachers our first priority," Corcoran said.
The proposal outlines three tiers for teachers and principals and bonuses based on these tiers and school title status.
Tier 1 would include schools that earn at least 85% of possible points or gain at least six points in the A-F school grading calculation. Tier 2 schools would gain three to five points and Tier 3 schools gain one or two.
Teachers in Title I schools would earn up to $7,500, $3,500 or $1,000 by tier while principals in Title I schools receive up to $10,000, $5,000 or $2,500. Teachers and principals in non-Title I schools would be eligible for up to half of the bonus of their corresponding tier.