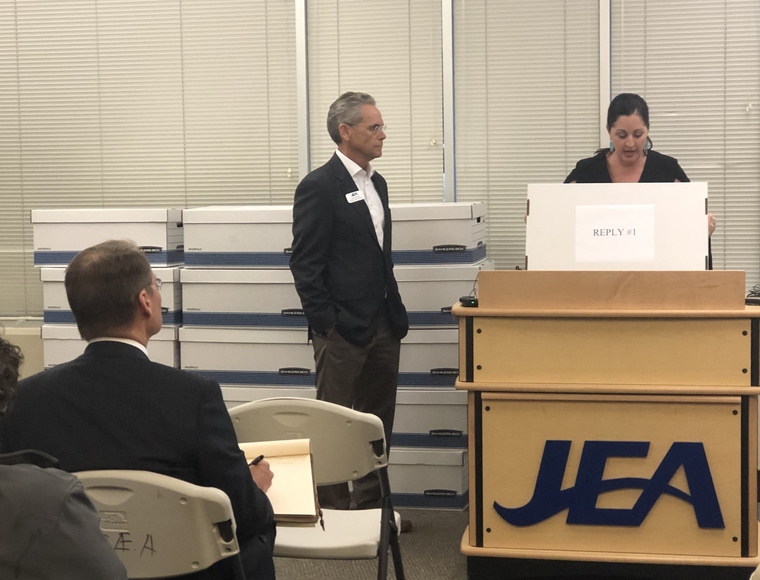 War of words between Jax CEO group, utility
As Jacksonville's public utility explores privatization, rhetoric continues to heat up between it and stakeholders.
This week, JEA responded to a claim made last week from Jeanne Miller, head of the Jacksonville Civic Council, a board of CEOs that has weighed in against the current process.
Miller asserted at a meeting of the Jacksonville City Council that JEA was not responsive to public records requests regarding privatization.
On Thursday, JEA Chief Administrative Officer Herschel Vinyard wrote a letter to Miller, with whom he has been "friends for decades" contesting that claim.
The letter, and supporting documents, were released to the media Friday.
"At the November 6 workshop, Ms. Miller stated that JEA was not responsive to public records requests. As Chief Administrative Officer, JEA's public records division is within my responsibility," Vinyard wrote.
"Ms. Miller's claim was very troubling to me," the CAO added.
Vinyard asserted that all public records requests had been fulfilled, noting "700 pages of correspondence with the Civic Council from September 2017 through October 2019."
Vinyard went on to note that the Civic Council, in a letter to JEA, spotlighted "documents requested but not produced."
JEA has no record of those requests, Vinyard asserted, going on to spotlight seemingly key documents that don't exist.
These include a "financial feasibility report," an "appraisal," and Florida Public Service "advance determination" of what rate base might be.
Miller took issue with Vinyard's comments in a phone call Friday morning.
The Civic Council could have been told previously that those records did not exist, Miller said, and the "larger concern is that these records do not exist because they are a fundamental predicate to any kind of privatization process."
Miller noted missing detail on numbers if the utility continued with a "status quo" approach, one that officials have said would guarantee higher rates and staff cuts.
The Civic Council has sought specific details since June, Miller said.
While "scenarios" as presented by JEA are a "healthy business exercise," there are still too many gray areas for Miller or the Civic Council to be confident.
For starters, Miller said that an "IPO [for a] public utility doesn't exist in the United States."
If JEA does explore privatization, this is new territory.
Miller also noted that JEA has invested "millions of dollars" in one scenario, recapitalization. This could skew the narrative when the City Council is presented with specifics next year.
The confidentiality of the bids and proposals, Miller said, does not comport with procurement law.
Selling a "revenue generating" asset raises questions, such as why the city needs the $3 billion net profit identified by Mayor Lenny Curry as a precondition for sale.
"Are we underfunded? What do we need the money for," Miller asked. "It could be that selling JEA is the answer, but we don't have that information yet."
Civic Council pushback is the latest roadblock for a potential restructuring of the utility.
JEA is exploring what some call "privatization" and what others call "recapitalization," but local policy makers have warned for the last couple of years that the current structure of the public utility is unsustainable.
The utility issued an invitation to negotiate earlier this year, and has gotten bids globally.
Florida Power & Light, Duke Energy, Emera and others are making bids for the electricity service, while French water company Veolia is among those seeking the water side of the utility.
The Civic Council's frustrations surfaced in recent weeks, following intense skepticism from the Jacksonville City Council, which is now hiring attorneys to represent its interests.
Last updated on November 15, 2019