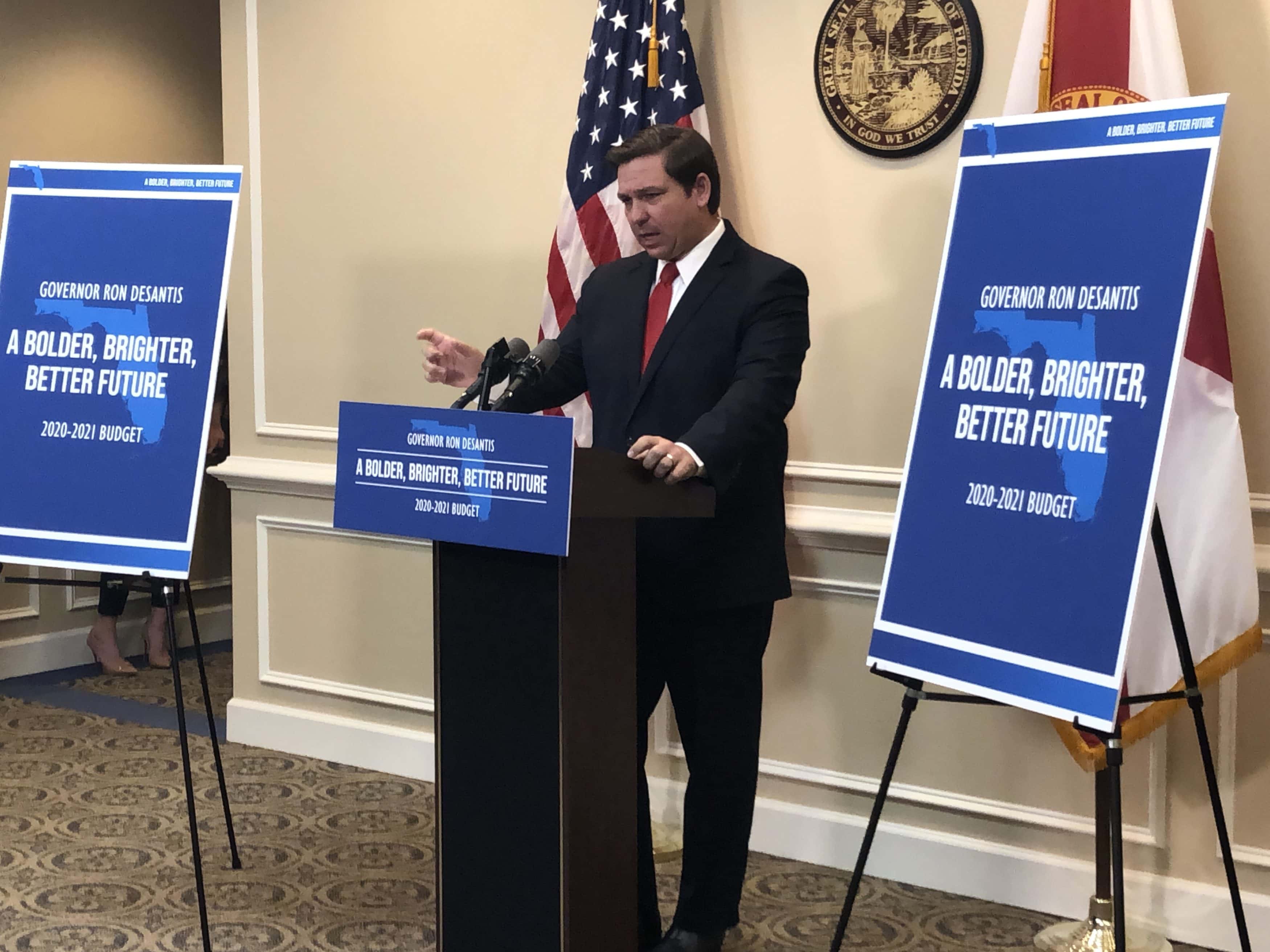 Bolder. Better. Brighter: a look at DeSantis' second budget.
In his first year in office, Gov. Ron DeSantis signed into law the largest budget in Florida history.
For next year, however, the Governor promises it will be "the lowest general revenue increase in nine years."
On Monday, DeSantis advanced a $91.4 billion budget, a mere 0.4% increase year over year that does not keep pace with population growth.
The focus of his budget presentation was key priorities ranging from changes in teacher compensation formulas to more environmental spending.
Branded the "A Bolder, Brighter, Better Future Budget," DeSantis outlined some of the numbers in remarks to reporters in the Governor's Office.
"We think we're even improving on a lot of things we did last year," DeSantis said, spotlighting education and environmental spending that is "fiscally responsible and fiscally sustainable."
The budget actually represents a decrease, per capita, driven by an overall reduction in 141 mostly vacant FTE positions.
But the spending was spotlighted as meaningful.
Environmental spending, to the tune of $682 million (more than the Governor asked for), was a prominent feature of the previous budget.
Candidate DeSantis branded as a Teddy Roosevelt Republican, and Everglades and springs restoration has been key to the fulfillment of that messaging.
"We're trying to not just do that again but make it recurrent over the next three years," DeSantis said of his $625 million proposal that includes $300 million for the Everglades and more money for water quality improvements ($200 million over four years).
"We're doing $100 million [for Florida Forever] and some other stuff for the environment," DeSantis said, expecting legislative support for that and $114 million for land acquisition, as well as $280 million more for water storage around Lake Okeechobee and other areas.
As well, $50 million is proposed for beach restoration.
Expect a billion dollars in proposed spending for climate remediation, DeSantis added, with matches for local projects. And electric car charging stations, as well as "electric mass transit," in partnership with cities and counties.
Meanwhile, some key initiatives from the Scott era stuck around in that first budget, albeit in reduced circumstances.
VISIT FLORIDA took a haircut down to $50 million. The Job Growth Grant Fund likewise stuck around but at a $50 million price tag.
DeSantis was not an enthusiastic exponent of these programs as a candidate; now that he is ensconced in office, the Governor's an advocate.
The JGGF is "very nimble," DeSantis said, allowing spending to avoid the "normal process."
VISIT FLORIDA, meanwhile, will be a "source of some contention," he predicted.
Indeed, some House Republicans and some Senate Democrats have carped at both. Yet DeSantis wants those elements to remain.
As well, the Governor's new budget includes "bold and meaningful" educational reform elements, including radical and controversial changes in teacher compensation that make up $900 million of an extra billion dollars in FEFP education spending.
All told, spending will rise to $300 per student, reaching $7,979 per capita.
The major pitch was a $300 million proposal to replace the Best and Brightest Award Program teacher and principal bonuses, which totaled $285 million this year. The Governor envisions $600 million for new teacher pay, pushing minimum salaries up to $47,500 in every district.
"This takes Florida to Number 2 in the nation," DeSantis said, noting that "everybody in Florida will be at the minimum" or higher.
"This will have a really meaningful impact," the Governor predicted. "It's simpler. The focus on the Title I makes sense."
The system allows "incentive to perform as good as you can in those Title I schools. If you're improving, you're going to see good stuff."
Bonuses would be doled out by a "tier" system strongly opposed by the Florida Education Association. Support for the Governor's educational reforms from the House and Senate, leadership on down, is also tepid, suggesting challenges ahead for the proposal.
Title I schools and teachers will especially benefit, DeSantis predicted.
Transportation funding was also a highlight, with $9.9 billion of new money, including $2.8 billion for 52 new lane miles.
"Safely reducing congestion on our roadways is a critical component of my vision for transportation in Florida. This budget will ensure FDOT can invest in improvements to facilitate increased mobility and keep people and goods moving throughout our state," DeSantis said in a media release Monday morning.
Expect more spending on mental health and workforce education in schools — the $100 million for mental health, which is $25 million more than the current fiscal year.
And expect a hard line on avoiding spending increases in state universities. These are a "good value," DeSantis said.
Health spending includes $54 million for opioid addiction prevention, $17 million for mental health funding, and more than $18 million for a pair of state veterans' nursing homes, the Governor said.
Affordable housing will again be fully funded, DeSantis said.
Meanwhile, the state will spend $6 million on election security.
Don't expect new spending to help implement Amendment 4. Still, there will be money for the Department of Corrections for database improvements intended to address the state clemency backlog.
Nevertheless, even as the Governor spotlighted spending, he also focused on two other numbers: $5.6 billion total reserves, $1.9 billion in unallocated general revenue.
"The amount of reserves is higher," DeSantis said, both in terms of percentage and real dollars.
All told, reserves are roughly 6% of the budget.
"The initiatives we're doing will be bold … meaningful … in the context of a budget that is healthy," Desantis said.
DeSantis noted that Florida has low debt, and money is "pretty cheap," saying that he may borrow money. A billion dollars in bonding, much of it for transportation, is outlined here.
"But that's not a license to do pork-barrel spending," the Governor added.
Cuts include the elimination of the Best and Brightest program, as well as the elimination of 141 vacant positions (via "streamlining processes") and $80 million in earmarks.
The most significant cuts include $856 million from the transportation budget and $400 million from the Department of Economic Opportunity,
Tax cuts, always a favorite, include the familiar back-to-school and disaster-prep sales tax holidays and $247.3 million in property tax relief.
As well, $20 million is budgeted for the Canadian/foreign drug importation program, a big push last Legislative Session that could take a couple of years to get underway. A staffer said that number might come down, a recognition of the slow pace of federal rule-making.
Low-Income Pool Medicaid money holds steady, meanwhile, at $1.5 billion.
No new revenue, meanwhile, is assumed via the Seminole Tribe gambling compact. But that doesn't mean it's a dead issue, the Governor added.
"The circumstances I inherited were not the most advantageous," DeSantis said. "I'm not saying you won't bet it will get done."
But don't count on it, he added.
Senate President Bill Galvano reacted almost immediately:
"Gov. DeSantis' budget recommendations reflect many priorities my Senate colleagues and I share. We very much appreciate the Governor submitting these recommendations nearly a month in advance of the deadline, which provides Senators the opportunity to hear formal presentations of the Governor's Recommended Budget during our December Committee Week."
"In the coming days and weeks, we will evaluate the Governor's budget in more detail as we work to prepare a 2020-2021 General Appropriations Act for consideration in the Senate early next year. We are closely monitoring the next round of consensus estimating conferences, which will provide important updates in terms of anticipated needs in each area of the budget. We are also anticipating a new general revenue estimate, which will indicate if there has been a change in the amount of revenue available to meet those needs.
"Again, I want to thank Gov. DeSantis for the great consideration he has shown to the Legislature and our professional staff by submitting his recommendations in a time frame that accommodates both the final interim committee week and the upcoming Holiday Season."
House Speaker Jose Oliva was more economical with his response.
""The Governor's budget recommendations are most encouraging. He is to be commended for a strict adherence to fiscal restraint. While the details of his ambitious teacher-pay program remain obscure – not a small matter – his commitment to responsible spending is crystal clear. A solid base upon which to begin our budget discussions."