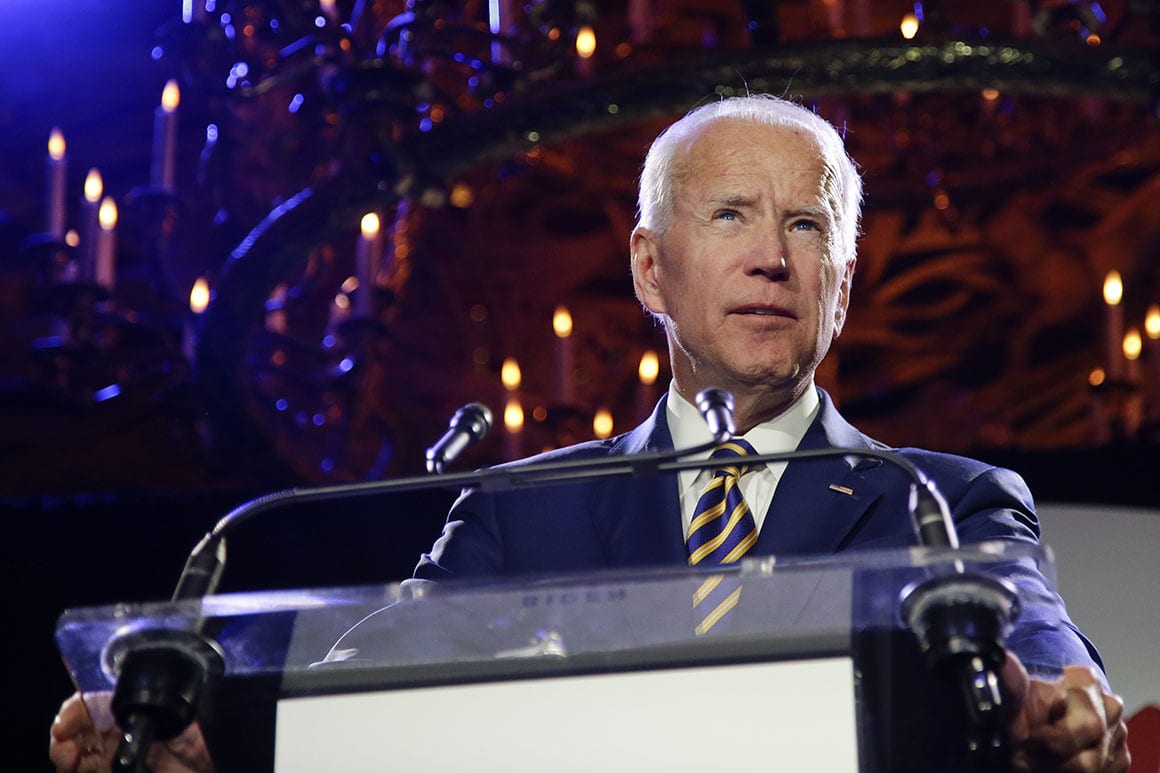 Biden is polling at 36 percent, leading the next-highest vote-getter by 26 points.
Former Vice President Joe Biden is well ahead of his competitors in the South Carolina Democratic presidential primary, pulling in 36 percent of the vote in a recent University of North Florida (UNF) survey.
The poll was conducted by the university's Public Opinion Research Lab (PORL).
The second-largest share of voters, at 23 percent, stated they "don't know" who they'll be voting for. That shows a lot can change between now and the Feb. 29 primary.
Both U.S. Sen. Bernie Sanders of Vermont and U.S. Sen. Elizabeth Warren of Massachusetts received 10 percent support in the survey.
Somewhat surprisingly, the next-highest polling candidate is billionaire hedge fund manager Tom Steyer. Steyer entered the race in late July. He made his first debate appearance at the Democrats' October contest. Steyer will appear at the party's next primary debate on Wednesday.
No other candidate received more than 4 percent of the vote.
South Carolina, which is the fourth state to vote in the Democratic primary calendar, is seen as an important one for Biden. The former Vice President has consistently polled well among black Americans, which make up a large share of the Democratic electorate.
Black voters are heavily influential in South Carolina, especially compared to earlier primary states such as Iowa and New Hampshire.
Sure enough, the UNF survey shows Biden's strength among the black community driving his large lead in the state. Biden earned 27 percent of the vote from white respondents in the UNF poll. But he garnered 44 percent support among black South Carolinians.
About 20 percent of white and black voters were undecided. Warren and Steyer both received 10 percent of the black vote, giving them a tie for second among announced candidates behind Biden.
"Buoyed by his support among African-American voters, Biden has an established lead far above the other contenders in South Carolina," said Dr. Michael Binder, faculty director of the PORL at UNF.
"Tom Steyer, who is also doing relatively well among African-American voters, looks to be making headway in South Carolina. He sits in fourth place trailing Warren and Sanders by a mere two percentage points."
Aside from a surge by Warren a few weeks ago, Biden has held onto his lead in the national polling average, according to RealClearPolitics.
But South Bend Mayor Pete Buttigieg has overtaken Biden in Iowa in recent polls. That state's caucus in Feb. 3, making it the first state to weigh in and allowing it to potentially set a narrative going forward. New Hampshire holds its primary second, on Feb. 11. Recent polling there has shown mixed results for Biden as well.
Should Biden falter in those two states, he'll need to rebound in Nevada (Feb. 22) and South Carolina to show his base of support still stands. By the end of Super Tuesday, which is held on March 3, more than 40 percent of the party's delegates will be assigned. A strong showing in one or more of the early states could affect candidates' showing on Super Tuesday and help decide the frontrunner going forward.
Sanders and Warren have long been considered top-tier candidates. Steyer's mark in South Carolina is a part of a trend of the candidate over-performing in some early state polls thanks to a concerted focus there.
Thanks to his wealth, Steyer has blown other candidates away when it comes to ad buys. Should that translate to votes, Steyer could carve out a place among that top tier despite a late entry into the race.
The UNF survey ran from Nov. 5 to Nov. 13. It sampled 436 likely voters and has a margin of error of 4.7 percentage points.