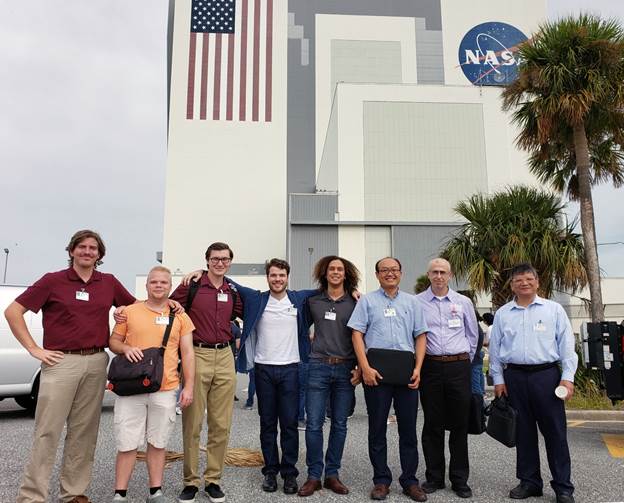 The planetary rover could be used to explore and collect samples.
A team of students at Florida Polytechnic University in Lakeland is working on creating a planetary rover that could explore Mars.
The 14-member student team is developing the rover for the Florida Space Institute as part of Florida Polytechnic's yearlong capstone design program, which partners corporate and research partners with students and faculty to tackle real world problems.
The rover could be used to not only explore Mars, but also collect samples and provide a close-up look at places yet undiscovered.
"You're getting actual work experience and working with someone who is a professional in the field and really wants the project to work," said mechanical engineering major Gabe Gamet. "I personally think this is absolutely amazing."
Gamet leads the mechanical engineering portion of the team. He works on the planetary rover and was among five team members who visited Kennedy Space Center in mid-October to discuss their work with NASA engineers. Electrical engineering and computer science students make up the other two portions of the team.
"Talking to these engineers who work on all these crazy projects on a daily basis changes the way you think about a large-scale project like this," said mechanical engineering senior Purcell Anderson. "They definitely opened our eyes to what we are capable of and how we can approach this challenge."
The students remain in communication with NASA engineers as they continue work on the rugged, multipurpose rover, which will be adaptable for many uses including drilling, collecting samples and observing conditions.
"Creating a rover takes all disciplines," said mechanical engineering professor Younggil Park, one of the project's faculty mentors. "It's not going to be located on this planet, so students have to learn a lot to meet the requirements."
The team of students are using parts from a previous similar project at another university.