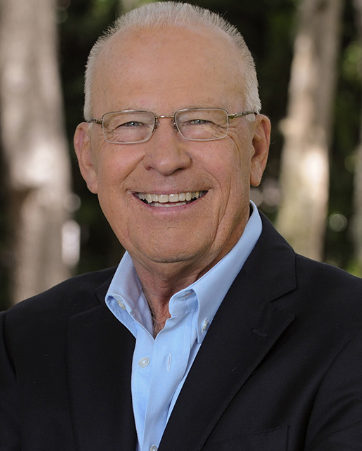 Straz earned his fortune in the banking industry.
Philanthropist and former Tampa mayoral candidate David A. Straz Jr. passed away this week, his charitable family foundation confirmed Monday.
"It is with a heavy heart the Straz family regrets to inform you that while on a recent fishing trip with close friends David A. Straz, Jr. passed away peacefully in his sleep," Straz Family Foundation Executive Director Jarrod Holbrook wrote in a statement.
Straz was with close friends on a fishing trip near Homosassa when he died, Holbrook confirmed.
The family did not provide further details.
Straz was 77.
Straz is most recently known for his 2019 mayoral bid against now Mayor Jane Castor.
Straz is also the namesake for the Straz Center for the Performing Arts in downtown Tampa and is a long-time philanthropist in the area.
"David's commitment to and love of the performing arts and of this community was beyond compare and we cannot thank him enough for the impact he has made on the lives of so many. His philanthropic legacy will continue to live on our stages and inspire the hearts and minds of us all," said Judy Lisi, president and CEO of the Straz Center for the Performing Arts.
Straz is survived by his wife, Catherine Lowry Straz, and daughter, Keebler Straz.
Straz earned his fortune in the banking industry. He started sweeping floors in a bank and working his way up to a bank owner who bought and sold several banks over the years. His work ethic was the pride of his mayoral campaign. Straz frequently aired television ads showing him sweeping "the fluff" out of Tampa government, a reference to his humble beginnings, hard work and commitment to streamlining the city's budget.
Straz owns five homes and a $172 million fine arts collection. His love for the arts was evident through his philanthropic giving. WMNF once reported that Straz donated $25 million to the Tampa Performing Arts Center before the building was named in his honor. 
Straz and his wife, part of the ZooTampa Lowry family, were also generous contributors to the zoo. The family also gave heavily to the Metropolitan Opera in New York City and contributed to education programs in Honduras and Liberia, countries that subsequently bestowed Straz with a consul general and honorary ambassador titles.
Straz's name is also on buildings at the University of Tampa and Berkeley Preparatory School for whom Straz was also a major donor. Straz's daughter attended Berkeley Prep.
Since losing the mayoral election last year, Straz has been mostly quiet. His name briefly resurfaced in the news in August because his charitable family foundation was suing a hotel in Africa over an unpaid loan balance.
Straz ran what many considered to be an odd campaign against Castor, pumping nearly $5 million of his own money into the race. While critics were outraged over Straz's negative campaign tactics, supporters defended him, arguing he was shining a light on corruption in politics.
Castor set aside the contentious campaign after hearing of Straz's passing.
"I'm saddened to hear about the passing of Mr. Straz," Castor said. "David's indelible contributions to this city will be a part of our cultural fabric for decades to come. My heart goes out to the entire family during this very difficult time."
Former City Council member Harry Cohen who also ran in the 2019 mayoral election also expressed his condolences to the Straz family.
"David Straz will be remembered as one of the great philanthropists in the history of the city of Tampa. He lent his name to our performing arts center, which is a world class institution and a wonderful legacy for his family to who I express my heartfelt condolences at this time. He was clearly a very remarkable person," Cohen said.
Before Straz's political emergence, he was a beloved icon in Tampa, a sentiment that endured beyond politics. He served on former Tampa Mayor Bob Buckhorn's transition team when he was first elected in 2011.
Straz was born on Oct. 10, 1942, in Milwaukee. He moved to Tampa in 1980 and has since called it home.
The Straz family is requesting privacy as they grieve their loss and have not announced funeral or memorial plans. The family owns a $1.1 million mausoleum in Tampa where Straz will likely be laid to rest.
As news spread of Straz's passing, other community leaders paid their respects.
"Very sad news about David Straz. His legacy is evident all around us. Beyond being grateful for his philanthropy in our region, I had a personal affinity for him and will miss him," St. Petersburg Mayor Rick Kriseman wrote on Facebook. "My condolences to his family and all those touched by his kindness."
"Saddened by the loss of David Straz. His generosity to the causes he cared about helped to shape the City we know today. His life will not be defined a single campaign but by the totality of his life and his contributions to the greater good." — former Tampa Mayor Bob Buckhorn
"Very sad to hear of the passing of one of Tampa's great philanthropic leaders. From the Straz Center to the University of Tampa to all the anonymous gifts he made to countless community organizations, he cared deeply about our community and tried to make it better. Prayers for his family," said Tampa City Council member Bill Carlson.
"Very sad to hear about the passing of David Straz. Having spent a lot of time with him this past year as opponents in the last Mayor's race, I got to know and respect him even more than before. He was typically cheery when we saw each other and spoke lovingly and often of his daughter Keebler and his wife Catherine," Straz's former Mayoral opponent Mike Suarez wrote on Facebook. "There are very few people who made a larger mark on our City with his philanthropic endeavors and civic involvement. My thoughts are with his family as they deal with their loss."
"I'm saddened to hear of the passing of Tampa's David Straz. I appreciated his business insight, love of Tampa General Hospital and forward thinking on U.S.-Cuba policy. I'm sending love and prayers to Catherine and their daughter," U.S. Rep. Kathy Castor tweeted.
"We are very saddened to hear of the passing of David A. Straz Jr. Tampa has lost a great civic leader and philanthropist. His impact on Tampa's Downtown was immeasurable. Our condolences and thoughts and prayers are with the family during this difficult time." — Tampa Downtown Partnership
"His philanthropic work in the Tampa Bay Area will leave a remarkable legacy, and his giving embodied the compassionate spirit of so many good-hearted members of our communities. Tampa was lucky to have him." — Rep. Fentrice Driskell
"I had the privilege of getting to know David in recent years. We shared a belief in criminal justice reform, community engagement, and a problem-solving approach to public policy. His generous philanthropy left an indelible mark on our community. RIP." — Hillsborough County State Attorney Andrew Warren
"We are deeply saddened by the passing of The Honorable David A. Straz, Jr. David was a generous hero to Berkeley, as he was to all of Tampa Bay. He altered the trajectory of our school through his strong belief in the power of the work we do. He will be sorely missed by all." — Berkeley Preparatory School
"So saddened to hear of the death of David Straz. His philanthropic work left a lasting legacy in our community. David was a kind and thoughtful gentleman who saw in his success, an opportunity to give back. My condolences to his wife and daughter." — former Tampa Mayor Pam Iorio
"Thank you David for a lifetime of service, generosity, and commitment to Tampa Bay." — HD 59 candidate Andrew Learned
"My condolences to the Straz family. David Straz has provided so much to our community and will leave a lasting legacy that will be hard to replicate. Keeping all of the Straz family in my prayers." — Rep. Jackie Toledo