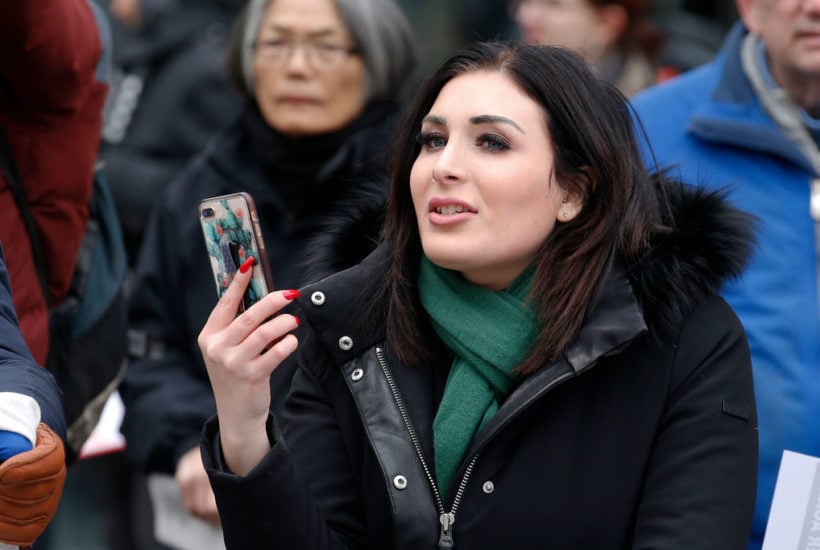 The whistleblower submitted a complaint surrounding Trump's call with the President of Ukraine.
In an email to supporters, Republican congressional candidate Laura Loomer is naming the alleged whistleblower who submitted a complaint surrounding President Donald Trump's July 25 call with the President of Ukraine.
That complaint was submitted to the Intelligence Community inspector general and raised concerns Trump was holding back U.S. military aid to Ukraine — as well as a proposed meeting between Trump and Ukrainian President Volodymyr Zelenskiy — until Ukraine opened an investigation in Joe Biden's son.
At issue is Hunter Biden's involvement with the Burisma gas company, which was being investigated by a Ukrainian prosecutor named Viktor Shokin.
Biden, while he was Vice President, pushed Ukraine to fire Shokin or forfeit an aid package from the U.S. Trump has repeatedly urged the Ukrainian government to investigate Biden's request, as well as Hunter's actions on the Burisma board.
That's despite the fact that Shokin apparently had serious questions regarding corruption himself, and his ouster was supported by several other nations. Moreover, it doesn't appear Shokin's investigation was targeting Hunter Biden specifically.
Several witnesses involved in U.S. policy toward Ukraine have testified that they believed the President was pressuring the Ukrainians to open such an investigation.
But Republicans have continued to use the whistleblower — whose identity remains unconfirmed — as a sort of boogeyman in an attempt to undermine the House impeachment inquiry into the President's behavior.
Despite numerous other witnesses who have backed up the whistleblower report — as well as Trump's decision to release a readout summarizing the call — Republicans are still agitating to know the whistle-blower's identity.
Loomer, who is competing in Florida's 21st Congressional District against U.S. Rep. Lois Frankel, continued those efforts in her campaign email.
"Have you ever seen a witness take the stand with a bag over his or her head?" Loomer asked, though the whistleblower has not testified to the House due to Democrats' fear such testimony could expose his identity.
"Nope, because the Sixth Amendment of our Constitution doesn't allow it in criminal proceedings. We have the RIGHT to face our accusers."
Loomer's analogy is wrongheaded on several levels. First, impeachment is not a purely criminal proceeding. The process of impeachment is outlined in the U.S. Constitution and is wholly separate and apart from a criminal trial in a court.
Still, some legal experts say there is a loose analogy between the two processes. But those experts make clear that Sixth Amendment analogy could only possible hold once the Senate conducts a trial to decide whether or not to remove Trump from office.
The House's impeachment deliberations are akin to deciding whether charges should be filed in a case, while the Senate operates as a sort of courtroom. That's when an analog to a "criminal proceeding" would potentially exist. No Sixth Amendment concerns would be triggered before that point.
While the whistle-blower's identity has not been confirmed, some right-wing publications such as Breitbart and the Washington Examiner have published the name of an individual believed to be the whistleblower.
Some have argued the Whistleblower Protection Act prevents individuals from naming the whistleblower. But analysts say those protections don't extend criminal penalties to individuals, such as Loomer, who attempt to out the whistle-blower's identity.
Rather, that law is aimed at protecting government employees from retaliation in the workplace. It does bind the inspector general to secrecy, but doesn't extend to private citizens even if they are running for Congress.
The whistle-blower's attorneys, however, have threatened a civil suit against those who name their client publicly should any harm come to that individual.
Loomer's email closes with a request for donations to help her "stop the next impeachment."
Her attempt to out the whistle blower fits in with a long line of attention-grabbing stunts.
Loomer is facing an uphill battle in the race, however.
The Republican did outraise Frankel last quarter. But CD 21 is heavily Democratic. Frankel won reelection in 2016 by more than 25 percentage points and ran unopposed in 2018.