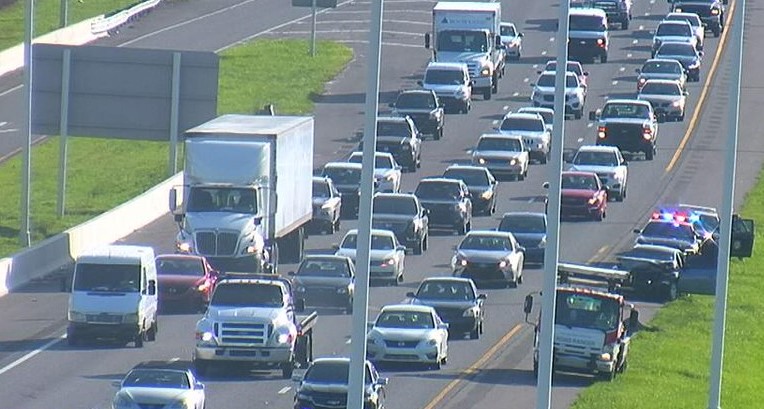 Nearly 2.9 million Floridians plan to travel for Thanksgiving, AAA forecast.
Fill up now before gas prices climb later this week just in time for the annual massive Thanksgiving weekend travel, AAA is advising.
Heading into Monday gasoline prices remained pretty stable over the past week, falling a penny on average to $2.36 per gallon. But a big rise may be coming in the next couple of days, five to 10 cents per gallon this week, based on recent increases in the price of wholesale gasoline, AAA — The Auto Club Group forecast Monday.
"Even if gas prices do rise this week, a five to 10 cent increase is not likely to cause Floridians to cancel their travel plans," AAA spokesman Mark Jenkins stated in a news release issued by the organization. "If the state average returns to $2.45 per gallon, it'd be the same price motorists paid during last year's holiday. Additionally, it's nearly the same price Floridians paid a month ago – when most people were finalizing their travel plans. However, if the state average remains less than $2.45, Thanksgiving travelers in Florida would be paying the lowest gas prices for the holiday in three years."
More than 55 million Americans plan to travel 50 miles or more this Thanksgiving. Nearly 2.9 million of those are Floridians, AAA forecast.
This will be the second-highest Thanksgiving travel volume since AAA began tracking in 2000; second only to 2005. Compared to last year, 1.6 million more Americans [85,258 Floridians] will travel for this year's holiday.
The vast majority of holiday travelers will drive to their destinations. Wednesday afternoon is forecast to be the worst travel period nationally, with trips taking as much at four times longer than normal in major metros, AAA warned.
Last week, wholesale gasoline prices rose alongside crude oil, in response to reports that Russia would cooperate with OPEC's efforts to balance global crude supply and demand, AAA reported. Crude prices ping-ponged last week, but ultimately finished flat. Gasoline futures, on the other hand, finished the week five cents higher than where they started on the previous Monday.
Despite the upward pressure, market fundamentals could easily change course early this week, allowing pump prices to hold steady through the holiday, according to AAA. Florida drivers are currently paying $2.36 per gallon. The state average is a half-cent less than a week ago, six cents less than last month, and seven cents less than this time last year.
Florida drivers are paying 44 cents less than the highest daily average price of the year – set back in April.
Florida's least expensive average gas price per gallon is found inTampa-St. Petersburg-Clearwater, $2.26; Orlando, $2.28; and Jacksonville, $2.31, according to AAA.
The most expensive average gas price per gallon is in the West Palm Beach-Boca Raton and Florida Keys markets, $2.50; Panama City and Miami markets, $2.48; and Tallahassee, $2.47.