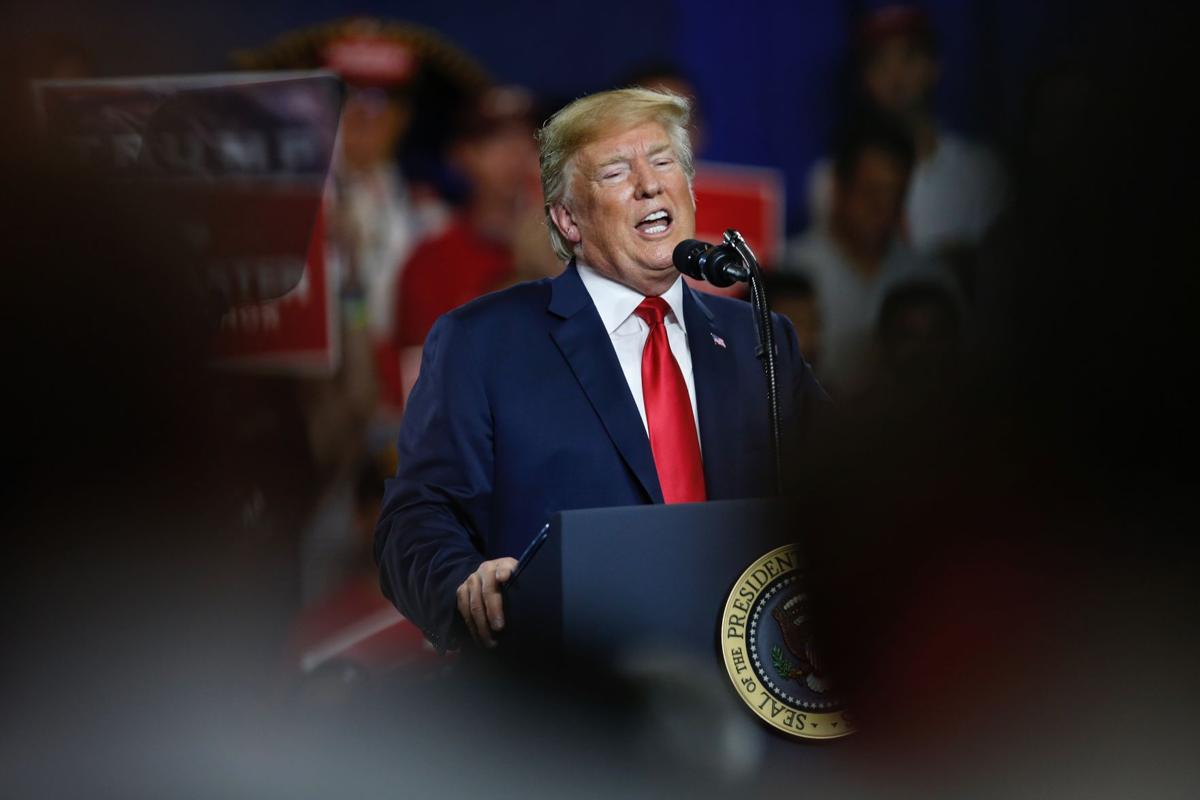 President Donald Trump spoke to a packed house at the BB&T Center in Broward County Tuesday night.
President Donald Trump spoke to a packed house at the BB&T Center in Broward County Tuesday night, framing Florida as key to his bid for reelection in 2020.
Close to 20,000 people were inside the venue in deep-blue Broward County, where Trump lost by more than 25 percentage points in 2016.
Vice President Mike Pence kicked off the nearly two-hour rally, as he gave an introductory speech prior to Trump taking the stage.
"To keep America great, we need you to decide right here and right now that Florida is going to vote for four more years of President Donald Trump in the White House," Pence told the crowd.
The event was billed as a "homecoming" rally, as Trump recently declared the Sunshine State his new permanent residence.
The speech was a standard one for Trump, hitting his now-commonplace grievances against the Democrats and demonizing them and the media as near-existential threats for the country.
He also sounded confident in his party's chances in 2020, despite Democrats sweeping into power in the U.S. House in 2018, allowing them to pursue an impeachment inquiry into the President's foreign policy regarding Ukraine.
"On Election Day, 2020, the crazy Democrats are going down in a landslide," Trump told the adoring crowd.
"And that landslide is going to start right here in the great state of Florida."
At one point in the night, Trump was joined on stage by several Republican lawmakers from the Sunshine State. On hand from state government were Gov. Ron DeSantis, Lt. Gov. Jeanette Núñez, Attorney General Ashley Moody and Chief Financial Officer Jimmy Patronis.
Several congressmen were called up by Trump as well, including U.S. Reps. Gus Bilirakis, Matt Gaetz, Brian Mast, Bill Posey and Michael Waltz. Former AG Pam Bondi — who was recently hired by Trump to help handle messaging on the ongoing impeachment inquiry — was also invited to appear on stage.
But Gov. DeSantis was the only one offered a few minutes to speak. The Governor took that time to run through several of his policy victories, as well as welcome Trump to the Sunshine State.
"Let me just say, Mr. President, given your change of registration: welcome home to Florida."
Trump touched on several Florida-centric issues throughout the night, such as offering federal funding to address the state's water quality issues.
"We have delivered over a half a billion dollars to fix Lake Okeechobee," Trump said. He also recounted efforts to help the state deal with the red tide epidemic.
He also spoke about the 2018 election, referencing undefined "crooked stuff" that went on with Florida's voting machines. It's unclear what the President was getting at in attacking the veracity of the vote last cycle.
Trump also called on Democratic U.S. Reps. Debbie Mucarsel-Powell and Donna Shalala to push House Speaker Nancy Pelosi to pass the United States-Mexico-Canada Agreement (USMCA), who would replace the North American Free Trade Agreement (NAFTA).
Mucarsel-Powell and Shalala are both freshman congresswomen who represent districts just south of the site of Tuesday night's event in Miami-Dade County.
One topic that didn't come up was the 2018 Stoneman Douglas shooting and the issue of reducing mass shootings in the country. Trump spoke about a half an hour south of Parkland Tuesday night.
Jeb Fain, a spokesperson for the progressive group American Bridge, called Trump out for his repeated false promises to take action on gun control.
"Amidst all his ranting and raving, Donald Trump's record of abandoned promises to address gun violence will speak volumes about his cowardice as he campaigns in the shadow of Parkland," Fain said.
"The President's refusal to act on this life or death issue is a shameless betrayal of Parkland and countless communities across the country that have paid, and continue to pay, the immeasurable cost of inaction."
And Terrie Rizzo, who chairs the Florida Democratic Party released a statement going after Trump as well.
"Donald Trump may have called it a homecoming rally, but the truth is it's a retirement party," Rizzo said.
"Trump will lose Florida because Floridians are sick and tired of his lying, of his broken promises, his divisiveness and his pursuit of taking care of himself and the rich while leaving the rest of us behind. Shame on Republican leaders who have decided to defend him at any cost, instead of caring about Floridians."
But Emerson George, a spokesperson for Trump Victory, argued the strong Tuesday showing is a sign of things to come in 2020.
"President Trump's homecoming rally shows the excitement and enthusiasm that is surging throughout the Sunshine State," George said.
"The President has delivered on his promises to Florida. His pro-growth policies have led to a booming economy and record-low unemployment. Abroad, President Trump has fought for human rights and been the most pro-Israel President in history. Come 2020, the Sunshine State will help send him back to the White House."