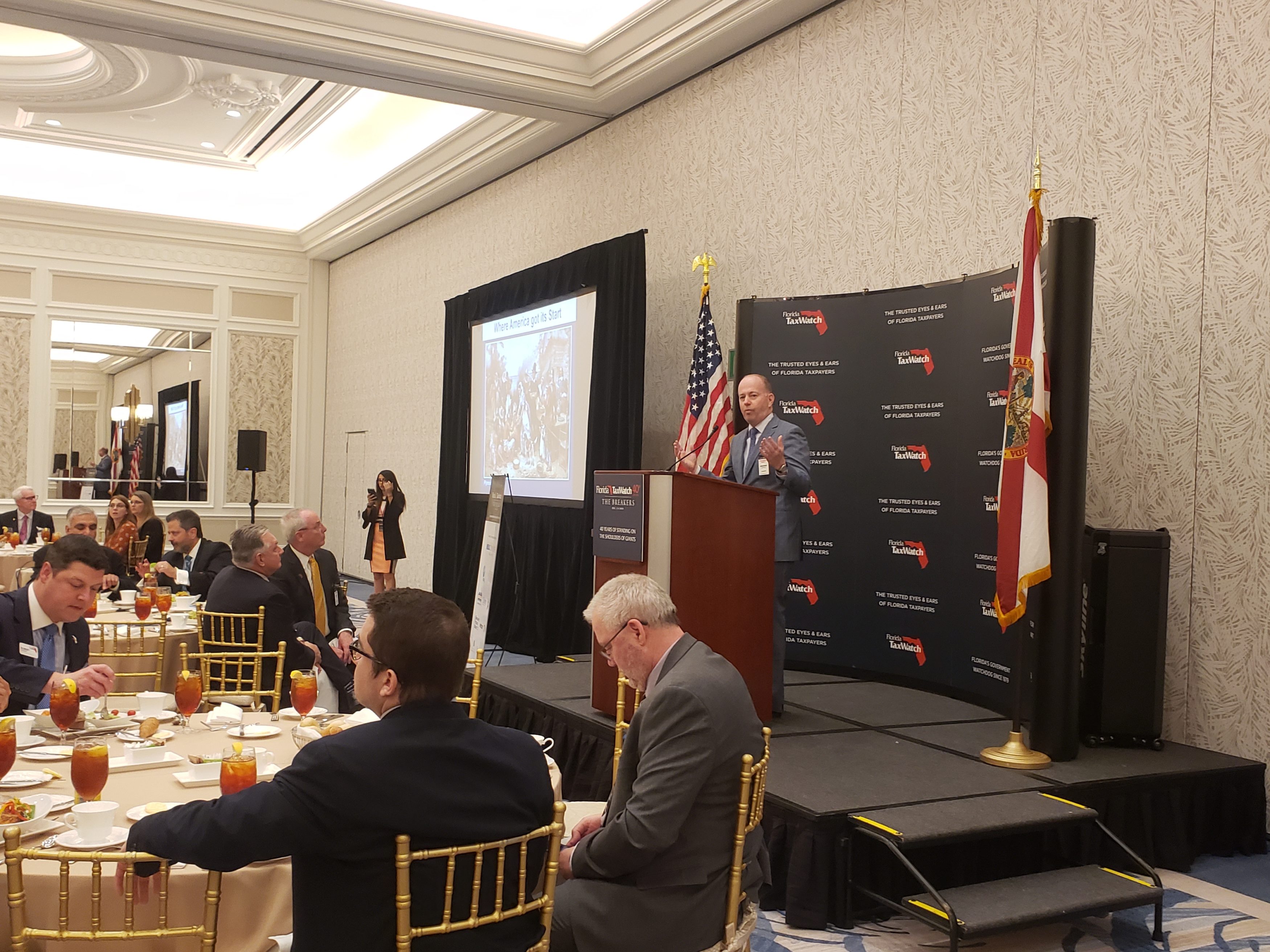 LeMieux gave his remarks at the conference's Monday afternoon welcome lunch.
Former U.S. Sen. George LeMieux led off the Florida TaxWatch 40th annual meeting Monday, as the group gathered at The Breakers in Palm Beach.
LeMieux serves as the group's Chairman-elect and is also Chairman of the Board at the high-powered Gunster Law Firm.
LeMieux was introduced by Florida TaxWatch CEO Dominic Calabro.
"I can tell having watched him, he put a lot of long-serving Senators to shame with his work ethic," Calabro said.
As the organization celebrates its 40-year history, LeMieux's talk largely touched on the history of Florida and its some of its most impactful residents: Henry Flagler, Walt Disney and Marjory Stoneman Douglas, among others.
Of course The Breakers, the site of this week's meeting, was founded by Flagler.
"Hard to think of anybody more impactful in the state than a person who extended a railroad from Jacksonville to Key West and built cities along the way," LeMieux said of Flagler.
Flagler and the other members of the list are covered in Lemieux's recent book, "Florida Made: The 25 Most Important Figures Who Shaped the State."
The group's 40th annual meeting will run from Monday through Wednesday. Florida TaxWatch is a nonpartisan, business-backed taxpayer watchdog.
The organization oversees an annual "Budget Turkey Watch Report," offering budget veto recommendations for the Governor, who has line-item veto power. Florida TaxWatch has also partnered with officials in Hillsborough and Orange counties to help encourage Floridians to participate in the 2020 Census.
That's due in part to research by the group showing Florida ranks near the bottom of the nation in per capita grants and grants as a percentage of federal taxes paid.
Also slated to speak Monday are U.S. Rep. Brian Mast of Florida's 18th Congressional District and Department of Environmental Protection Secretary Noah Valenstein.
U.S. Transportation Secretary Elaine Chao will close out Monday's meeting with a keynote speech this evening.
A series of TaxWatch policy council meetings will run through Tuesday afternoon, follow by the 40th anniversary reception and dinner.