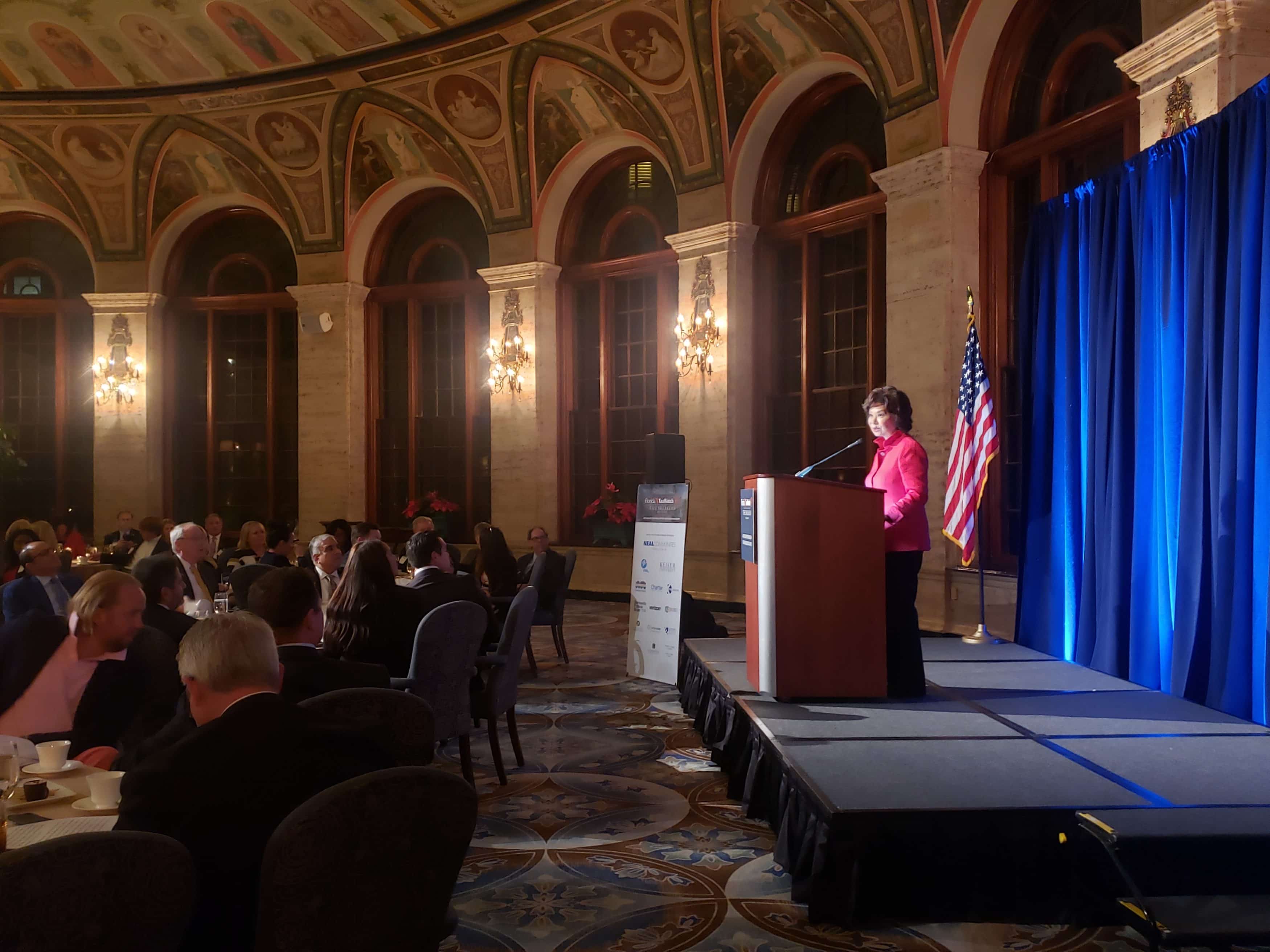 Chao was in Palm Beach Monday to close out day one of the Florida TaxWatch 40th annual meeting.
U.S. Transportation Secretary Elaine Chao praised the work of the Donald Trump administration in a speech to Florida TaxWatch Monday night.
Chao was in Palm Beach to close out day one of the Florida TaxWatch 40th annual meeting. Chao was introduced by former Gov. Bob Martinez, who served the state from 1987 until 1991.
"This is someone that I first had the privilege of meeting back in '91-'92 when we both served President George H.W. Bush," Martinez said of Chao.
"We're here tonight to listen to what I think is one of the finest Transportation Secretaries we've ever had."
Chao, who is married to U.S. Sen. Majority Leader Mitch McConnell, was appointed by President Trump to lead the U.S. Department of Transportation.
She began the speech touting some of the Trump administration's overall work cutting taxes and regulations.
"The results have been spectacular," Chao said, before making a unique argument regarding deregulation.
"When we get rid of unnecessary, burdensome regulations, that helps safety because we're focused on what's really important."
Chao says her department is focused on following Trump's efforts to reduce federal regulations and help cut the budget.
"Under this administration, regulatory costs — just at the Department of Transportation — have been decreased by a net of $3.7 billion," Chao told the TaxWatch audience.
She then moved to the administration's efforts on infrastructure development, highlighting help for Florida in particular.
"Over the past three years, the Department distributed nearly $200 billion dollars to help state and local governments address infrastructure needs — from roads and bridges to aviation, rail and transit," Chao said. "Florida has received more than $8 billion since 2017."
At various times in his tenure, Trump has signaled a willingness to work with Democrats on a large-scale infrastructure package. But his war with the opposition party has caused multiple large projects to grind to a halt as Democrats now pursue an impeachment inquiry into the President.
Chao closed the speech by appealing to Florida TaxWatch's policy of reviewing and reigning in government spending. The organization releases an annual "Budget Turkey Watch Report," offering budget veto recommendations for the Governor, who has line-item veto power.
"I just want to assure you that we are using taxpayers' dollars carefully, prudently and wisely, never forgetting that the American taxpayer is who we report to," Chao said.
"I am so delighted to be here tonight because you are guardians of basic principles of freedom, which is to safeguard our citizens' ability to make decisions for themselves."