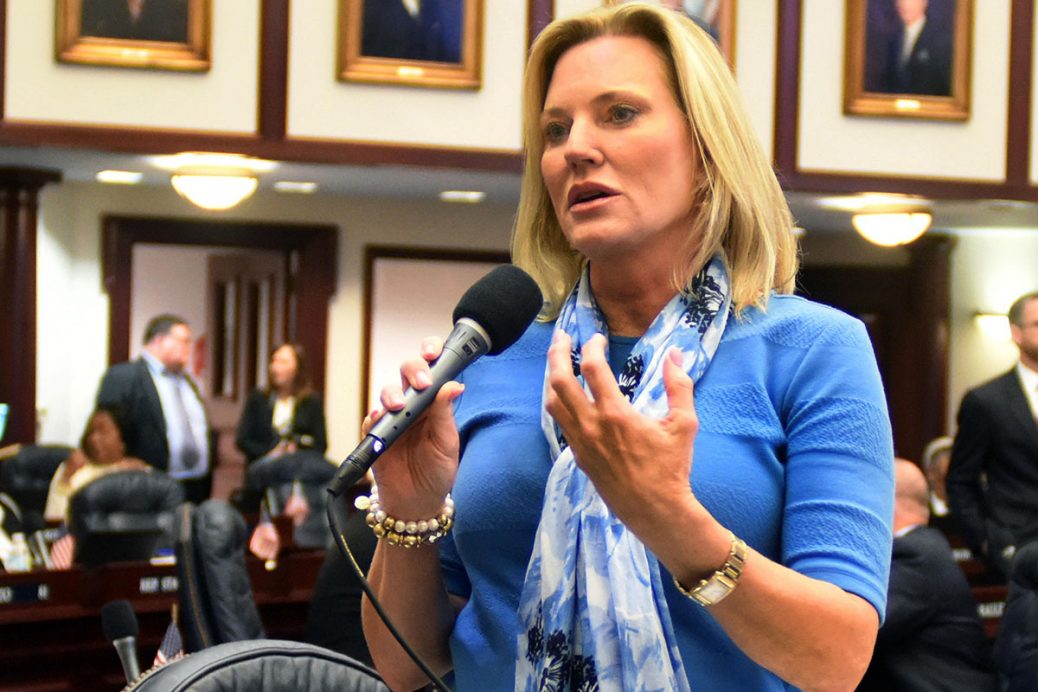 She's the fifth Republican and first GOP women to jump into the race.
State Rep. Heather Fitzenhagen today announced she's running for Congress in Florida's 19th Congressional District.
"It's an exciting opportunity to serve in Washington and build on what I've already accomplished in the Florida Legsialture," Fitzenhagen told Florida Politics. "It's also critically important to give voters a choice of candidates and for them to share their message."
The Fort Myers Republican enters a crowded field as one of the only candidates with a solid record of legislative experience. Fitzenhagen serves as chair of the Florida House Business and Professions Subcommittee.
Fitzenhagen, a 59-year-old attorney, has not filed paperwork to make her candidacy official and has not accumulated endorsements, she told the News Service. She added her run was mostly launched on a hunch.
"It was a gut feeling that this was the right thing for me to do to continue my public service in Florida," Fitzenhagen said in a telephone interview with the News Service of Florida.
A website for her campaign lays out Fitzenhagen's agenda as she runs for Congress.
"For nearly three decades, Heather has served her community, raised a family and worked in Southwest Florida," an official biography reads. "During her service as a Representative in the Florida House of Representatives she championed water quality, mental health, veterans' issues, business deregulation, healthcare transparency, support for our first responders and the fight to end human trafficking."
Fitzenhagen was already leaving the House after eight years thanks to term limits. Earlier this year, she considered running for an open Florida Senate seat but ultimately chose not to run.
A number of Republican candidates already announced they will seek the seat, where U.S. Rep. Francis Rooney is not seeking a third term.
Notably, Florida House Republican Leader Dane Eagle, elected to the Legislature the same year as Fitzenhagen, announced last month he's running. Former Minnesota state Rep. Dan Seversen has also announced. And businessmen Dr. William Figlesthaler and Antonio Dumornay have also opened accounts with the Federal Election Commission.
Other lawmakers Byron Donalds and Bob Rommel have both openly mulled a run, as has South Florida attorney Derek Schwartz.
But Fitzenhagen remains the only woman running on the Republican side. State Sen. Lizbeth Benacquisto announced earlier this year she was not running despite leading early polls.
Aware that the GOP primary race will be competitive, Fitzenhagen said Tuesday a crowded primary is a sign that democracy is working "at its best."
"No matter what the outcome is, all the candidates that are in the race for Congressional District 19 are all very well qualified," she said. "I think it is wonderful for Southwest Florida to have such a large field to choose from."
As the Republican primary shapes up, Democrats have also entered the race. So far, the Democratic primary candidates who have taken steps to run include Cindy Banyai and David Holden, who lost to Rooney in 2018 with 37 percent of the vote.
Raising money in the federal race will be a key issue to watch, as the region is home to some of the wealthiest people in the nation. Rooney and U.S. Sen. Rick Scott, who both live in the region, are among the wealthiest members of Congress.
Certainly, knowing a path to victory was possible played into Fitzenhagen's decision to run, she said.
"It's important for voters to know we have strong Republican women we can send to Washington," she said, "and I'd like them to consider me. That's not a reason to vote for me, but it would be great for the Republican Party and great for our community if I could take this position and work hard for constituents here."
Some have questioned Fitzenhagen's views on abortion. She voted last year against a bill requiring parental consent for minors to obtain abortions. But she's not comfortable with the pro-choice label, and said government should be careful when to regulate women's health.
"As a woman and mother of an 18-year-old daughter, I do not believe it's my place to tell a women who has been raped or had an experience with incest who is carrying a baby conceived in an evil situation she has to carry that to term," Fitzenhagen said.
As the House considers impeachment, Fitzenhagen did not want to discuss the ongoing proceedings, feeling that's the role of serving Representatives.
"I will leave to the people in Washington that are in charge and trying to do the best things they can," she said. "But I am very saddened this President is experiencing that. It's not good for the country."
___
The News Service of Florida contributed to this post.