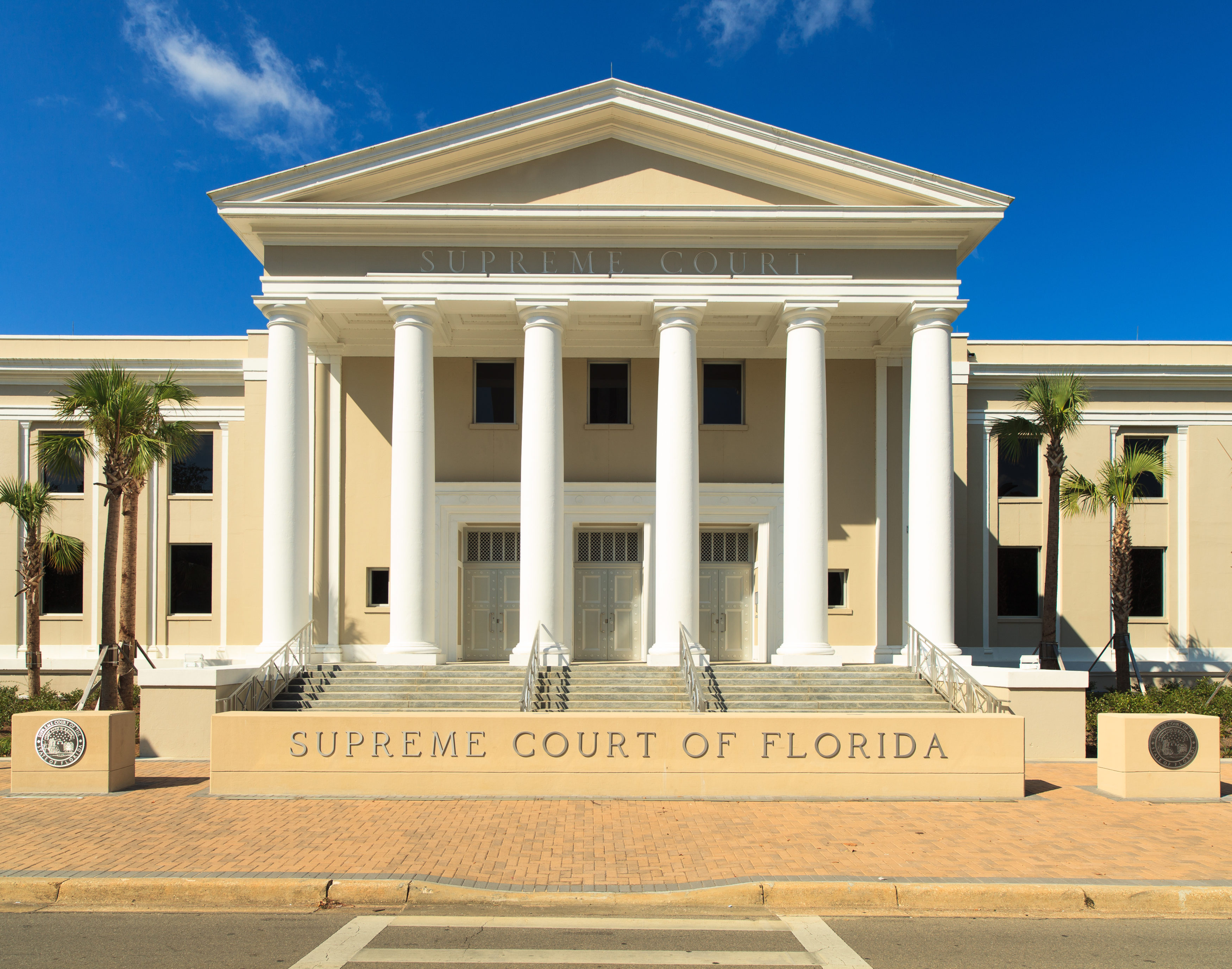 Both major parties and the Attorney General oppose the proposal.
Florida voters may be one step closer to mulling drastic changes to certain statewide elections with the Supreme Court hearing arguments on ballot language for a citizens' initiative Tuesday.
Opposition was fierce, but justices were largely (but not exclusively) unsympathetic to arguments from both major parties and the Attorney General's office.
The topic Tuesday: Attorney General Ashley Moody's advisory opinion, which opposed the proposal is "unclear."
The All Voters Vote (AVV) committee would open up Florida's primary elections for state Legislature, Governor and Cabinet to all voters, including independents, starting in 2024, setting up a "top-two" system.
Lawyers representing the AG's office and both major parties made their case against the proposal.
Jeffrey P. DeSousa, Deputy Solicitor General, contended that phrasing, such as "party-nominated candidates," is misleading, given the end of primaries as they currently exist.
DeSousa contended that the top-two primary would undermine voters and parties alike.
Chief Justice Charles Canady objected to that argument, saying that the party would still have a nomination process.
"Obviously, this is an amendment to the Constitution that would change that structure," Canady said.
Benjamin Gibson, representing the Republican Party of Florida, decried the "jungle primary" proposal as undermining the value of party support.
The GOP lawyer noted "misleading" textual differences between the summary and the amendment that suggest parties will still be able to nominate candidates.
"The term 'party-nominated candidates,'" said Gibson, must result from a primary, per statute.
"The amendment is redefining what a primary has been in this state for over a century," Gibson lamented.
One possibility discussed during the hearing was that parties could choose nominees in "pre-primaries," with those candidates then advancing to the primary ballot.
Justice Alan Lawson rejected this canard, saying the language was clear to anyone who reads the text carefully.
"One of the things I am struggling with is if you have a basic understanding of how we do things in Florida, and if you actually vote, you do. And you read the (ballot) summary and give it a few seconds of thought, you're going to realize the implications of it, it seems to me. And I'm just struggling as to why that's not true," Lawson said.
Robert A. McNeely, representing the Florida Democratic Party, said the "misleading" amendment "engages in logrolling" and "disenfranchises" write-in candidates and NPAs.
Chief Justice Canady rejected McNeely's contention, noting that nonpartisan primaries are commonplace in Florida.
"I cannot follow your reasoning on how that disenfranchises anybody," Canady contended.
Representing All Voters Vote, Glenn Burhans quipped that the amendment united Republicans and Democrats and rejected the contention that the proposal would undermine democracy as we know it.
"A reasonable voter is going to know exactly what they are being asked to decide," Burhans said. "When you read the whole thing together, it tells the full story."
He added, "With the All Voters Vote amendment, they (candidates) have to go to the primary and appeal to a much broader swath of the electorate. They are going to be forced to moderate their bad behavior, and they are going to be forced to take action and speak to the greatest number of voters in order to win elections."
Justice Carlos Muniz was skeptical, saying the summary falls short of giving voters information to make an "informed choice."
Muniz repeatedly delved into part of the proposed ballot language that says, "All candidates for an office, including party nominated candidates, appear on the same primary ballot." An implication of that part of the proposal is that parties would be able to nominate candidates in some way before the primaries — and Muniz focused on whether that would be adequately explained to voters.
Muniz was the fiercest critic of the proposal's clarity, or lack thereof, and he and Burhans spent several minutes in circular argument.
"The summary doesn't tell you how the status quo is going to be changed because we don't know how it's going to be changed, right?" Muniz asked Burhans, an attorney for All Voters Vote Inc., a political committee trying to get the measure on the ballot. "You don't know how the parties are going to nominate people, if at all. You couldn't. And that's a huge, core aspect of the way we do things now."
Canady invoked the principle of the "deferential standard" for ballot position, which allows for some "ambiguities" in the language.
"That is that we don't knock things off the ballot unless they're clearly and conclusively defective. … It's like when there are some ambiguities or some uncertainties, we frequently go back to that standard of clearly and conclusively defective," the chief justice said.
The citizen initiative proposes that "all registered voters (may) vote in primaries for the state Legislature, Governor, and Cabinet regardless of political party affiliation."
Party nominees, third party candidates, and everyone else would be on the same primary ballot, called by some a "blanket primary" (and "jungle primary" by others).
The two candidates who do the best move on to a general election, unless just two candidates initially qualify, in which case the primary closes it out.
The effort has already cost nearly $7 million and has been bankrolled primarily by interests related to billionaire GOP donor Mike Fernandez.
Despite what is largely single-source funding, the effort will need 60 percent support from voters in November.
"For the amendment to be adopted," Burhans said, "six million Floridians will have to vote for it."
___
The News Service of Florida contributed to this post.