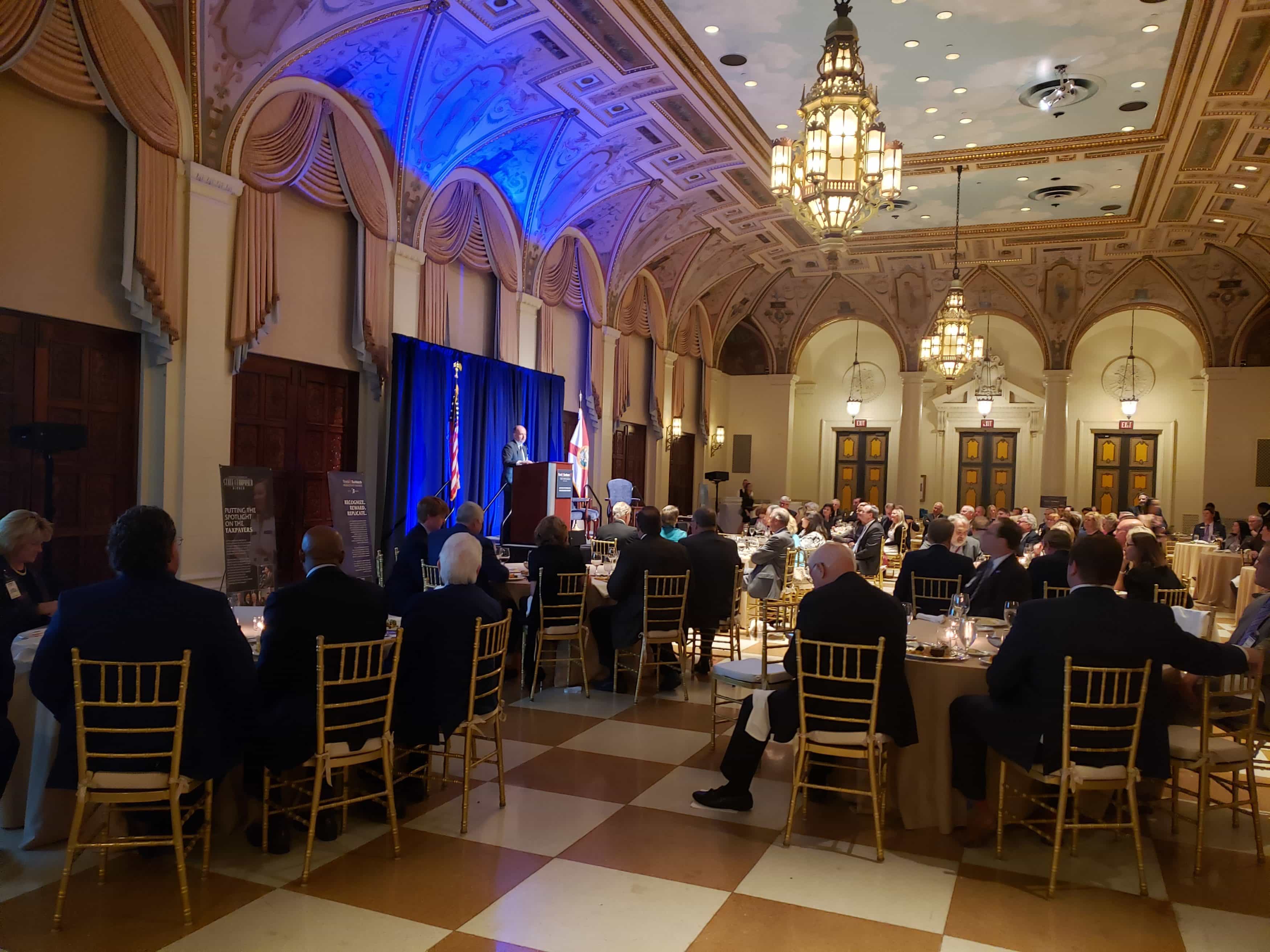 Gov. Ron DeSantis, U.S. Transportation Secretary Elaine Chao and others made appearances this week.
Day two of the Florida TaxWatch 40th annual meeting wrapped Tuesday night, featuring a recap of the organization's four decades of operation within the state.
The group's President and CEO Dominic Calabro and Chairman-Elect George LeMieux guided the evening's festivities, as the group held its 40th anniversary dinner at The Breakers in Palm Beach.
"I want to thank Chairman [Pat] Neal and Dominic Calabro for the best TaxWatch event that I've ever been to," LeMieux said during his remarks.
Tuesday night's dinner featured the last round of featured speakers for the event. That list included state Rep. Vance Aloupis, who used his speech to recount an earlier talk by former American Enterprise Institute President Arthur Brooks.
Brooks highlighted the issue of political polarization in America during his speech and urged attendees to do their part to stop it. Aloupis called Brooks his "intellectual hero," and echoed his concerns regarding polarizations.
But Aloupis argued that despite the dysfunction in national politics, that level of animus has not exploded in the same way inside the state Legislature.
"There's a collegiality in that body that I don't think you see in Washington, D.C. and I'm not sure you see in any other state Legislature," Aloupis said.
"At the end of the day, regardless of the letter behind your name, everybody in that chamber — Republican or Democrat — is there because they believe in a better Florida. And that's what TaxWatch stands for."
Aloupis was on hand to introduce his boss in his other job, David Lawrence Jr. Lawrence serves as the Chair of the Children's Movement of Florida, a nonprofit group that advocates for early childhood education.
During Lawrence's speech he praised Florida TaxWatch for its work on supporting his organization.
"When we needed real research and real expertise, you furnished what we needed," Lawrence said.
"You produced a series of white papers that analyzed teacher preparation in early learning settings. You did another study that spoke to the crucial nature of real quality in delivering outcomes for children — and what the consequences of not doing it were."
He added, "I personally feel blessed — and the children of Florida, and the people of Florida should feel blessed — that we have TaxWatch. You have been nearby. You have been helpful whenever we have asked for help in building a movement for children."
Tuesday also saw speeches from Gov. Ron DeSantis, former Lt. Gov. Jeff Kottkamp and former Attorney General Bill McCollum.
That followed a slate of Monday speakers including U.S. Rep. Brian Mast and U.S. Transportation Secretary Elaine Chao.
The meeting began Monday and will officially wrap with a farewell breakfast Wednesday morning.