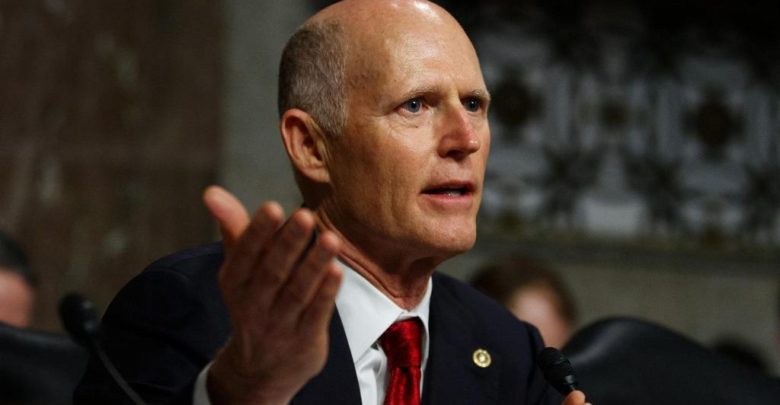 Asks Florida universities for information regarding Chinese espionage among researchers
Florida's junior Republican U.S. Sen. Rick Scott declared Wednesday that he believes China has started a new cold war and in a separate matter made a call for Florida's universities to report to him if any of their researchers might be vulnerable to or participating in Chinese spying.
Scott made his "cold war" declaration in an interview with Stuart Varney on the FOX Business show Varney & Co. Wednesday in which he predicted that President Donald Trump will not be able to complete a new trade deal with China because of that country's untrustworthiness.
The situation, he concluded, is a new cold war.
The conversation came on the same day that Scott issued a letter to Florida's university presidents asking them to tell him if they have any faculty or researchers who have participated in China's "talent recruitment plans" or who may have been involved in other potentially compromising matters with "foreign entities."
Scott also issued a response late Tuesday to the International Olympic Committee that continues his pattern of strongly criticizing institutions that refuse to comply with his requests regarding China. He has delivered similar counterpunches to the NBA, the Peace Corps and businesses that had declined his requests.
He accused the Olympics of naiveté and cowardice because the international organization declined his earlier request that it pressure China to end its human rights violations or consider pulling the 2022 Olympics out of China.
In speaking to Varney on Wednesday, Scott expressed strong pessimism that any trade deal can be struck with China, though he said he would like to see one.
"There's not going to be a deal. They can't change their stripes. I mean, they steal. They treat people horribly. I mean, they're the biggest polluters in the world. Human rights violators. They lie, cheat and steal about everything," Scott said.
At that point it was Varney who suggested that China and America were experiencing a new cold war.
"Absolutely. This is absolutely a new cold war," Scott said.
The letter to the university presidents came after Scott said he was seriously concerned about things he had heard in a recent Senate Homeland Security and Governmental Affairs Committee hearing titled "Securing the U.S. Research Enterprise from China's Talent Recruitment Plans."
"Communist China's talent recruitment plans pose a significant risk to our research enterprise and our economic and national security," Scott wrote to the university presidents. "They are stealing our information to ultimately use against us, and we cannot allow this to continue."
So he asked Florida's university presidents to send information to his office detailing what the universities might know about researchers who failed to disclose participation in Chinese-funded talent requirement programs; whether the universities have identified any faculty members or other employees who shared unauthorized information with foreign entities; and what policies and programs the universities have to disclose research activities and conflicts of interest relating to foreign entities.
Scott also asked to be informed: "What penalties are in place at your university for those who are suspected of espionage?"
The Olympics battle began in October when Scott wrote to IOC Chairman Thomas Bach in Switzerland, urging him to pressure China to change or pull the 2022 Olympics. This came after Scott had made similar overtures to the the NBA, the Peace Corps, Michael Bloomberg, Microsoft, Apple, Tim Cook, LeBron James, Steve Kerr, ESPN, the Walt Disney Co., and others to change how they do business with China.
Bach responded to him in November declaring that the Olympics' mission is "to unite the entire world in peaceful competition. To achieve this, we must remain strictly politically neutral."
Scott responded late Tuesday by calling that response shameful, embarrassing, and disappointing, and accusing the committee of naiveté and cowardice.
"The response I received from the International Olympic Committee is shameful and embarrassing for an organization that prides itself on 'uniting the world in peaceful competition,'" Scott stated in a news release. "Are they naive enough to think Communist China wants to unite the world? Secretary of the Communist Party Xi is violating human rights and stealing intellectual property and technology from the United States in an effort to dominate the world – the opposite of unity. The Committee claims to be politically neutral, but the fight for human rights transcends politics. It's sad they cannot see this.
"On top of that, the Committee provided no information on how they will prevent Communist China from stealing personal information and data of athletes and leaders from around the world who come to the Olympics. This kind of cowardice is shameful and disappointing, and the world needs to speak out against every organization that refuses to defend freedom and human rights."