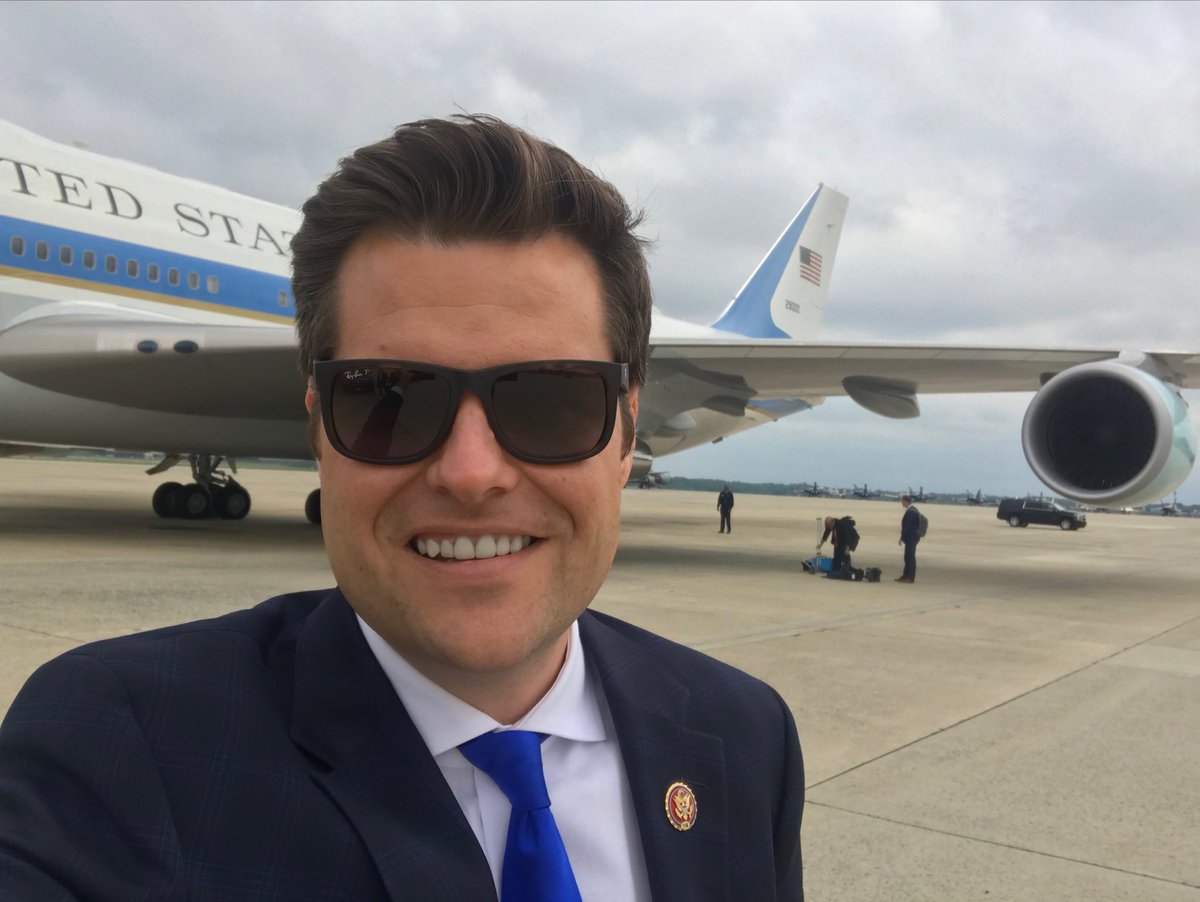 Being boorish is not the same as being interesting
In an interview with GQ called the Trumpiest Congressman in Trump's Washington, Matt Gaetz said, "The organizing principle of today's politics is 'stay interesting.'" Yeah, that's one reason Gaetz is President Donald  Trump's kind of guy.
This is what passes for interesting. Like the President, Gaetz is loud, arrogant, brash, and abrasive. He is not on a first-name basis with things called facts, and he likes to butt in where he doesn't belong.
Take Georgia politics, for instance.
The Representative from Florida's 1st Congressional District inserted his mouth, ego, and ambition into the decision by Georgia Gov. Brian Kemp, a Republican, by the way, to appoint Kelly Loeffler to the U.S. Senate seat vacated by the retiring Johnny Isakson.
Trump wanted U.S. Rep. Doug Collins to fill the seat. And that's where Gaetz took his goober-smooching cue to threaten Kemp – yes, threaten – for daring to think on his own.
"If you substitute your judgement for the President's, maybe you need a primary (challenge) in 2022," Gaetz tweeted.
By the way, Matt, it's spelled judgment – no "e" in the middle. No need to thank me.
Ryan Mahoney, an adviser to Kemp, shot back that Gaetz should forget about receiving an invite to the Governor's feral hog hunt because "self-serving politicians who wear tight, acid-washed jean shorts and cowardly hide behind their keyboard can't cut it in South Georgia."
It's big-picture time.
It doesn't matter which Republican Kemp chose to fill the seat. We can be sure that soon-to-be Sen. Loeffler will dutifully fall in line and vote as instructed by Trump and Mitch McConnell. Surely, Gaetz and the President know that much.
So, this is just Gaetz being Gaetz – bellowing, bloviating, and making even less sense than usual. He's jumping and down like a hyperactive grade-schooler, trying to show the teacher he knows the right answer.
In this case, Trump is the teacher, and Gaetz wants the boss to know he is still 100 percent on the team.
Gaetz may be the best example in the country of why Washington politics has become more than dysfunctional; it has turned into a national embarrassment. I guess Gaetz would call that interesting, though.
Is it interesting to help lead a charge, as Gaetz did, of GOP lawmakers into a secure area and disrupt depositions related to the President's impeachment? Or is proof that Gaetz isn't ready for the big stage?
Is it interesting that as a freshman Congressman, Gaetz introduced a bill to abolish the EPA? Or was it a lame cry for attention?
Gaetz drew wide criticism for his relationship with Charles Johnson. Johnson is a blogger who has denied the Holocaust happened, but Gaetz invited him to the State of the Union address. That's not interesting. But it is peculiar, and maybe a little telling.
Gaetz probably doesn't have to worry about re-election because he represents one of the reddest regions in Florida. Maybe he takes that as a license to say and do with impunity whatever his impulse suggests.
He is not yet 40 years old, and maybe he thinks his blind love for the President will result in a Cabinet post if Trump is re-elected.
Maybe.
The other side of this, though, is that guys like Gaetz eventually fall, and they fall hard.
What seems "interesting" today might have dire ramifications tomorrow. Gaetz has certainly stretched the limits.
This country faces serious challenges, both domestically and abroad. It's a time for sober leadership, not self-aggrandizing clowns.
Put another way, being boorish is not the same as being interesting.