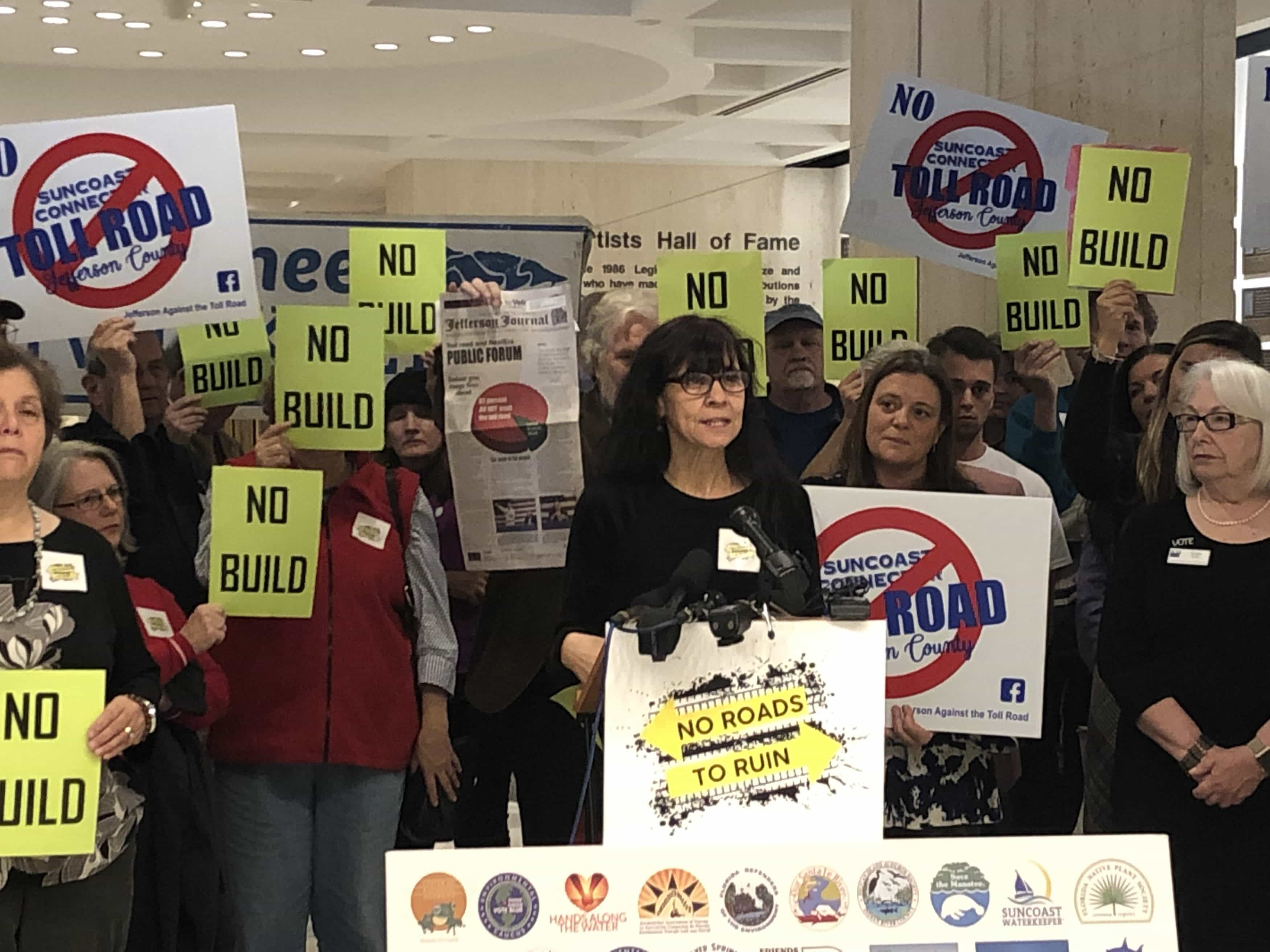 Protesters said the new roads would pollute the environment, tank rural economies and lead to health problems in the future.
Demonstrators occupied the first floor of the state Capitol Thursday to protest a major transportation revitalization project approved last Session.
Senate President Bill Galvano pushed for Multiuse Corridors of Regional Economic Significance (M-CORES) this year to revitalize rural communities and improve the state's transportation network. Now that Gov. Ron DeSantis signed the bill in May, Galvano seeks to build upon the project with "M-CORES 2.0."
But protesters at Thursday's "No Roads to Ruin" coalition event said the new roads would pollute the environment, tank rural economies and lead to health problems in the future. Ryan Smart, executive director of the Florida Springs Council, said the coalition's effort was to protect rural lifestyles and giving a voice to rural communities.
"These roads, if built, will transform Florida as we know it," Smart said. "However, it's clear that the task forces put in place to advise the Department of Transportation (FDOT) on how to construct these roads are nothing more than a sham designed to green wash and rubber-stamp the predetermined outcome of building unneeded and unnecessary damaging toll roads through rural Florida."
Lindsay Cross, Florida Conservation Voters' government relations director, also knocked the project.
"The M-CORES process has been a sham from the start. It does not address our current infrastructure needs but rather creates a taxpayer-funded scheme to pave over and pollute what is best about our state — our natural beauty, our fresh water resources and our cultural heritage."
The project's proponents say new roads will help hurricane evacuation, congestion mitigation, shipping, utilities and electric vehicle technology. FDOT put together a task force to review three roads from Citrus County to Jefferson County, Collier County to Polk County and Florida's Turnpike to the Suncoast Parkway.
After the press conference, Cross said the disagreement in part comes down to a urban-rural divide she's experienced when speaking with big-city interest groups that remain skeptical about the coalition's effort.
"A lot of the times, the urban areas, when they look at conservation, urban taxpayers help to support conservation in rural areas, but it has a benefit to them in terms of protecting their water supply or agricultural food production, and this could very well put them against each other," Cross said.
Michele Arceneaux, past president of Jefferson County Chamber of Commerce, shared her community's experience from past highway projects.
"This road is being sold to us as something that will revitalize rural communities," Arceneaux said. "In Jefferson County, we have I-10 that was built in the '70s and closed several businesses in our town. We are just now recovering from that in the past five to seven years."
"It didn't bring any economic development to us. It brought fast food, gas stations and now we're talking about a north-south road that does the same thing."
Sarah Gledhill, Florida campaigner for the Center for Biological Diversity, said lawmakers and project task forces tout the Endangered Species Act and the Clean Water Act as vehicles to protect the environment.
"The federal administration in D.C. is currently dismantling these laws, essentially weakening them from protecting the environment," Gledhill said.
As for the future, the coalition intends to push back against annual budgets that fund the project and to target lawmakers up for reelection.
"We need to build a constituency that is holding the elected officials accountable," Cross said.