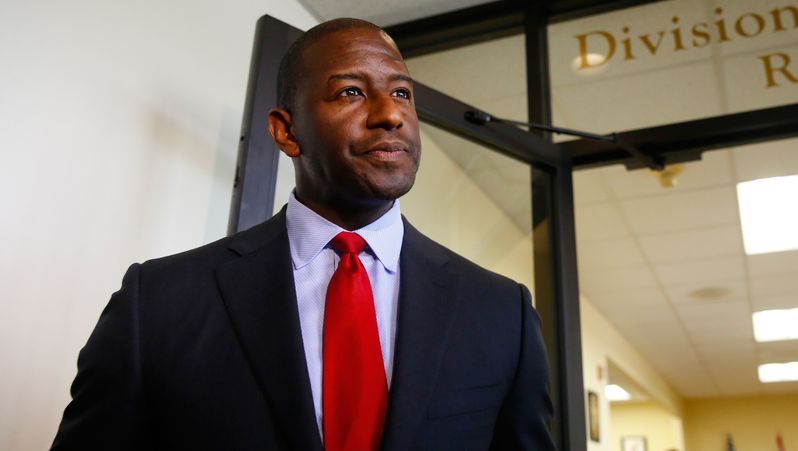 It will be raised for the Democratic Party, not from his Forward Florida committee.
Former gubernatorial candidate Andrew Gillum committed to raising $450,000 for the Florida Democratic Party. Resources will be used to reengage voters of color in Florida to vote in the 2020 presidential election.
But notably, the funding won't come the Forward Florida political committee Gillum chairs or the Forward Florida Action organization he controls.
"We are going to raise these resources directly," Gillum said on a conference call announcing the effort.
Some of the money has already been raised, according to Gillum's team, and some will be raised in the near future.
The effort is part of Gillum's push since losing the gubernatorial election by 0.41 percent to get more Democrats voting in Florida.
Gillum in March announced plans to "register and engage" 1 million voters before the 2020 election. While widely perceived as a goal to register 1 million new voters, Gillum and supporters say that engaging voters who have sat out several elections means just as much.
"Yes we are focused on new registrations," he said. "But we also want to focus on every person in the state who is updating their registration information."
The push comes as Gillum's committee and nonprofit have come under fire for spending substantially but not appearing on target to get 1 million new voters on the books.
Florida Democratic leaders said despite losing the Governor's race and the defeat of a Democratic U.S. Senator, they saw successes in 2018. Among those, more Democratic voters turned out than in the 2016 presidential election, according to Terrie Rizzo, Florida Democratic Party Chair.
She said making easier paths to voting improve turnout for Democrats. For that reason, the party will use the $450,000 raised with Gillum to encourage voting by mail in communities of color.
"This is not about a single election," Rizzo said. By boosting participating among Democratic voters in Hispanic and black communities, Democrats will see greater success from top line elections down to municipal races.
Juan Peñalosa, executive director of the Florida Democratic Party, noted that the party ahead of 2018 enrolled 538,000 votes classified as "low probability" voters, and about 300,000 of them voted in the 2018 election.
The focus of this outreach effort will be on "reengagement," Peñalosa said. That means getting people who are registered to vote but haven't bothered to do so for multiple elections.
"For too long in this state, we have waited until the very end," he said. But the party ahead of 2020 has expanded its staffing and footprint and will make a concerted effort to engage voters early.
Gillum and Peñalosa acknowledged that legal challenges surrounding implementation of Amendment 4 have complicated outreach to felons who expect their rights to be restored. Gillum noted when voters register, individuals must check a box saying they have met all sentencing requirements and risk perjury charges if it turns out they were mistaken.
"We hope to eliminate any uncertainty among returning citizens," Gillum said.