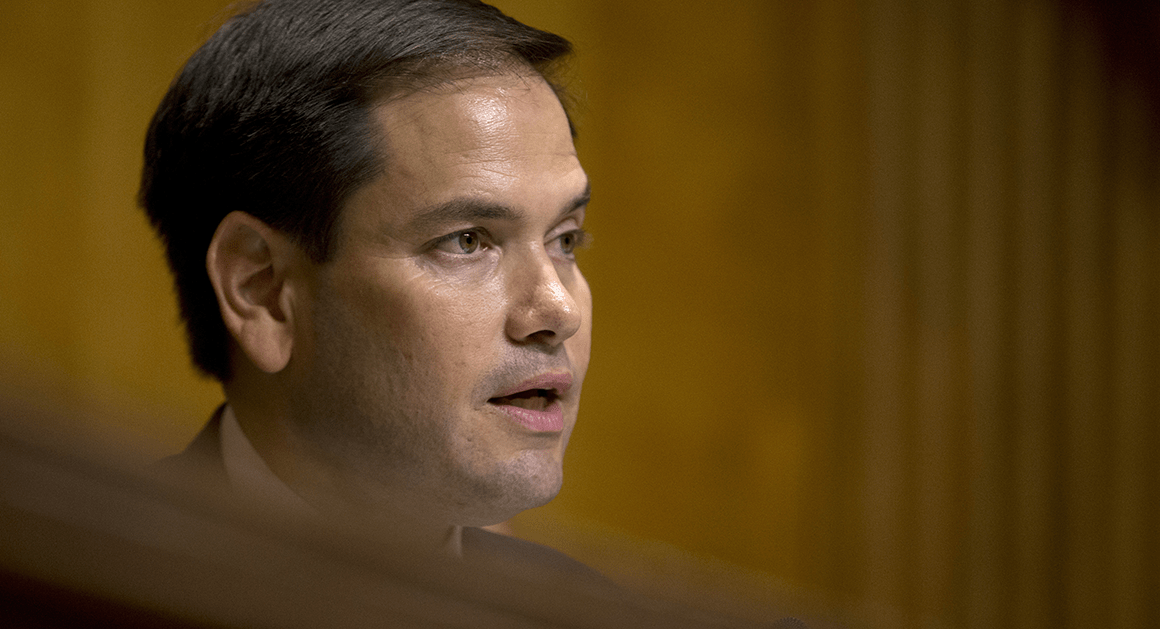 When dignified work for men goes away, so does America's backbone, he said.
If America continues pursuing a completely market-driven economy, the communist planners of China's economy could continue to exploit America's economic vulnerabilities and potentially take control of all the industries that matter in the 21st century, from mining to aerospace, Florida's Republican U.S Sen. Marco Rubio warned Tuesday.
Rubio's speech entitled "American Industrial Policy and the Rise of China," given at National Defense University, a U.S. Department of Defense institution in Washington, D.C., was in large part a corollary to the "common good economics" speech Rubio delivered early last month. In the earlier speech he advanced his call for renewed American economic emphasis on more goals than solely maximizing corporate profits through efficiencies of a pure free market.
Tuesday's speech also brings in Rubio's frequent warnings about China's economic, military, and human rights policies, and their threats to the United States.
Free market fundamentalism has perils, and that includes putting America at risk of being pilfered by a huge, centrally-controlled economy like China's, he warned Tuesday.
That country, he contented, is strategically luring away economic infrastructure of manufacturing and research, accepting short-term losses to leave America vulnerable to China's longer-term plans of economic domination.
"We have awakened to the reality that 'while America slept,' the Chinese Communist Party has emerged as an immediate and growing threat to prosperity, our freedoms, and our security," Rubio said.
"Multinational corporations headquartered in our country, in search of quick profits, have outsourced the dignified jobs that once sustained Americans to China. And our policymakers rewarded them for this behavior. … It is now clear that our consensus on China was dangerously flawed," Rubio added.
Rubio's embrace of common-good capitalism requires a delicate, nuanced approach to leaving markets free while also creating national priorities for industry and support for them. The theory has put him in the difficult but defiant position of insisting he remains a hard-and-fast capitalist yet is someone who believes there must be more direction and control for America's economy.
"This isn't a call to socialism or a rejection of capitalism; it's a call to policymakers to remember that the national interest, not economic growth, is our central obligation," Rubio told the National Defense University audience. "This isn't a call to recreate the economy of America's past. It's a call to invest and compete in the emerging industries of the future, rather than forfeit them to China."
"It is a call for a 21st-century, pro-American industrial policy," Rubio declared.

Specifically, the Chair of the Senate Small Business and Entrepreneurship Committee called for an increase in federal funding for research and development by small businesses and for an overhaul of Small Business Administration programs to encourage investment in "high-potential firms in strategically important industries such as aerospace, rail, electronics, telecommunications, and agriculture machinery."
"In essence, in the same industries China is trying to dominate via their Made in China 2025 initiative," Rubio said. "This is just a small part of the much broader modernization of our economic policies that we need."
Rubio outlined a trend he sees of targeted Chinese imports leading to drops in male employment in regions and sectors in America, something he warned tears the country's social fabric.
"When dignified work, particularly for men, goes away, so does the backbone of our country. Our communities become blighted and wither away. Families collapse, and fewer people get married. Our nation's soul ruptures," Rubio said.
To view the speech, click on the image below: