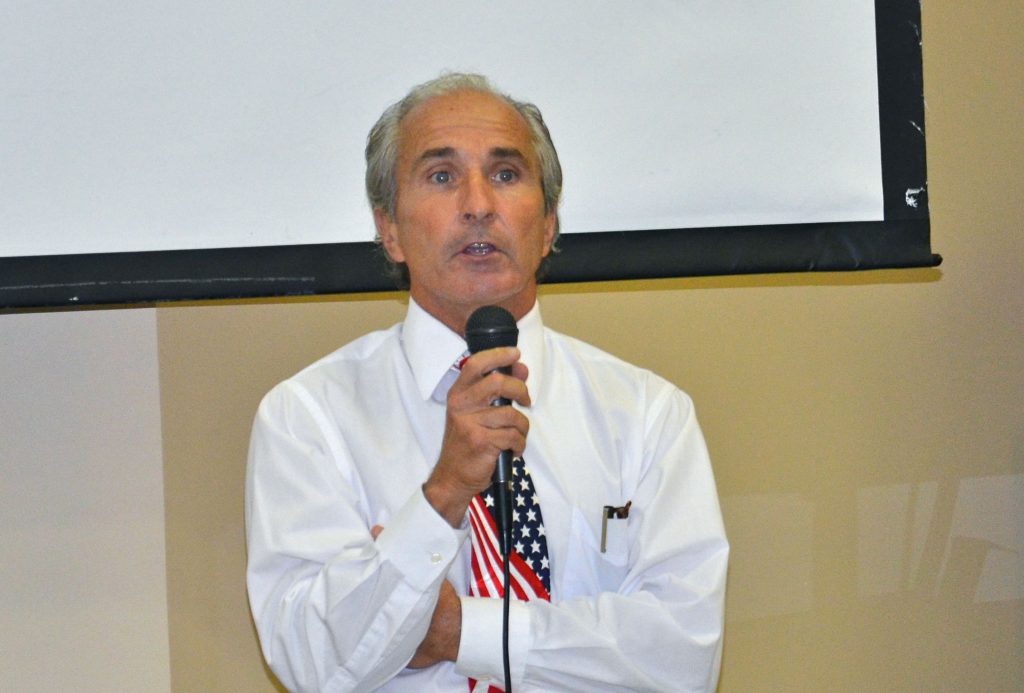 "Keep your comments to the bill and the bill alone."
The House PreK-12 Appropriations Subcommittee meeting Thursday was pretty routine — until Greg Pound stepped up to the podium to give public comments.
Pound is the kind of unique character for which Florida is infamous.
He commonly deals with conspiracy theories. He's also against abortion and spoke in favor of the 2016 anti-abortion bill (HB 865), which would have made abortion completely illegal in the state unless it threatened the life of the mother or interfered with the treatment of an "already life-threatening disease." [It died later in committee.]
Pound seemed to be saying in his public comments that abortion was endangering white culture. He's also run for Pinellas County sheriff several times.
Today, he was commenting on State Rep. Patricia Williams' bill (HB 4219) funding the Save Our Boys Center in Broward County. The legislation sponsored by the Lauderdale Lakes Democrat would give $150,000 to programs that help at-risk boys transition to adulthood by developing positive skills, decreasing negative behavior, discouraging alcohol use and increase attachment to their family, school and community.
The program serves up to 400 participants.
In his comments, Pound claimed boys are molested more often than girls, drawing the first warning from committee Chair Chris Latvala, the Clearwater Republican. Pound argued that more women are working and in college than men. He lamented that the bill doesn't address that boys really need a relationship with their fathers.
"One of the most important things that boys need is a relationship with their fathers," he said. "And there's two other things the Bible says that's very important for men to achieve greatness and become the leaders the creator calls to be is they have to stay away from sex outside of marriage …"
"Keep your comments to the bill and the bill alone," Latvala said.
Latvala shut Pound down seconds later after additional comments about sex.
The committee also heard a presentation on the Governor's proposed PreK-12 budget from Alex Kelly, Chief of Staff to Education Commissioner Richard Corcoran.
State Rep. Susan Valdes, a Tampa Democrat, put Kelly on the defensive. She noted that this year's proposed education budget is below the total 2007-2008 budget. She asked whether the education department has analyzed funding categoricals at 100%, thereby freeing up money and help school boards negotiate with their unions and keep local control.
Valdes points out that the category of transportation is at 47 cents per $1. The state must transport students if they live more than two miles from school. She said that, for example, in Hillsborough County, it would free up $33 million.
"Imagine what school boards can do for teacher salaries, not just teachers because we also have to remember the non-instructional side," she said. "Image what 33 million it frees up for just covering that one categorical at 100%."
Kelly said this budget overall is a record for education funding for the state. He said the administration did do an in-depth analysis, but he would love to work with Valdes on a particular categorical.