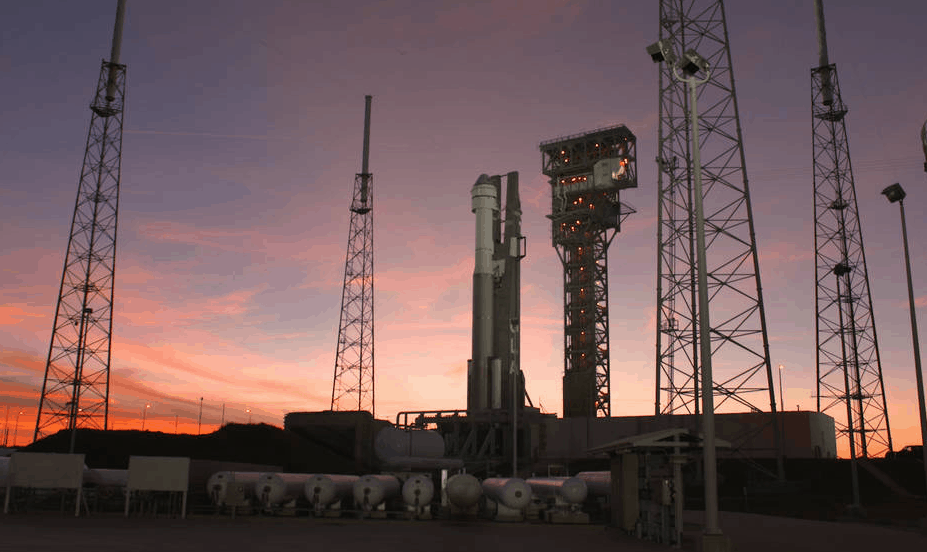 This mission is uncrewed. The next is planned for astronauts.
Boeing's entry into the next generation of human space flight is now set to make its big premier Friday morning with the blast-off of an Atlas V rocket from Cape Canaveral Air Force Station carrying Boeing's CST-100 Starliner spacecraft toward the International Space Station.
United Launch Alliance, which is supplying the rocket, announced a 6:36 a.m. Friday blastoff, from Launch Complex 41 on the Air Force station.
The uncrewed flight will be the maiden mission for Starliner. It is the spacecraft Boeing has developed mainly to ferry NASA astronauts there as the United States finally emerges from nine years of relying on Russian rockets because America was without a human-rated space capsule.
This mission, however, will be for resupplying cargo to the space station under NASA's commercial cargo program. An exception will be an anthropomorphic test dummy astronaut named "Rosie," which will be wired to offer data on how she handles the flight.
Assuming it goes well, and the weather forecast is good for Friday morning, the launch will be a key milestone in Boeing's efforts to join SpaceX in providing NASA with commercially-developed astronaut crew vehicles into lower Earth orbit.
The 6:36 a.m. launch would be about 30 minutes before sunrise, providing a potentially spectacular view for those up and watching.
The next Starliner flight test, using a different spacecraft, is planned to take Boeing astronaut Chris Ferguson, along with NASA astronauts Mike Fincke and Nicole Mann, to the station. Officials are holding off announcing a date for that mission until after this one. However, they held out the possibilty of a 2020 launch.
SpaceX successfully test launched its Crew Dragon spacecraft in March.
NASA astronauts have not launched from American soil or aboard an American spacecraft since Space Shuttle Atlantis made its final mission in July, 2011. Ferguson was NASA's commander for that mission.
While the day of America's return to human space flight, via either SpaceX or Boeing spacecraft, is approaching soon, it is about three years behind the schedule NASA initially envisioned when it hired the two companies to design, build, and provide the next generation of human spacecraft.
Will Ulrich, launch weather officer with the U.S. Air Force's 45th Weather Squadron, forecast an 80 percent chance of favorable weather for launch on Friday morning, with the possibility of cumulus clouds posing the main concern.
Boeing and ULA officials on Tuesday said they see no technical problems emerging.
This will in large part be a test not just of the spacecraft, but of all the human systems and coordinated efforts between Boeing, NASA, ULA, and others, officials said at a pre-launch press conference Tuesday.
"As important as all the space hardware systems, and launch vehicle systems, it is the integrated performance of the launch, the flight, and the landing recovery teams, and making sure we have really sound processes and procedures, and the team is really ready to move forward to go into the crewed-flight test" said John Mulholland, vice president and program manager for Boeing's commercial crew program.
"I am really looking forward to the maiden voyage of the Boeing Starliner this Friday," Kathy Lueders, manager of the NASA commercial crew program said. This first mission will be our critical, uncrewed demonstration mission, designed to validate the end-to-end systems. I always say these demonstrations are a gift. They give us the opportunity to really see how the integrated system works through all the phases of flights. But also, more importantly, it helps us as a joint team to figure out how to work together and get ourselves ready for our crewed mission coming up."
About 31 minutes after Friday's launch, Starliner will reach its preliminary orbit. It is scheduled to dock to the space station at 8:08 a.m. Saturday. Starliner will carry about 600 pounds of crew supplies and equipment to the space station and return some critical research samples to Earth with a parachute-assisted landing at White Sands Missile Range, N.M., on Dec. 28. Unlike SpaceX's spacecraft, Starliner will land on land.
NASA expects the Starliner flight test to provide valuable data on the end-to-end performance of the Atlas V rocket, Starliner spacecraft, and ground systems, as well as in-orbit, docking and landing operations. The data will be used as part of NASA's process of certifying Boeing's crew transportation system for carrying astronauts to and from the space station.
The Atlas V rocket, specially reconfigured for the Starliner, will deliver spacecraft to a 98-nautical mile sub-orbital trajectory. Following separation from the Atlas V, the Starliner engines will propel the spacecraft to its final orbit and on to the ISS.
The Atlas V Starliner configuration does not include a payload fairing. Instead, the Starliner's own protective surfaces take the place of the fairing to protect the uncrewed spacecraft during ascent. This is the inaugural flight of this configuration.
"We are bridging history as we prepare to launch astronauts again and the Orbital Flight Test is the first step in this process," Gary Wentz, ULA vice president of Government and Commercial Programs, stated in a news release. "We are excited to fly this mission-unique Atlas V in support of Boeing's Starliner and NASA's Commercial Crew program."
The Orbital Flight Test will be the 81st launch of the Atlas V and will mark ULA's 136th mission. Officials on Tuesday said there were no technical problems emerging.