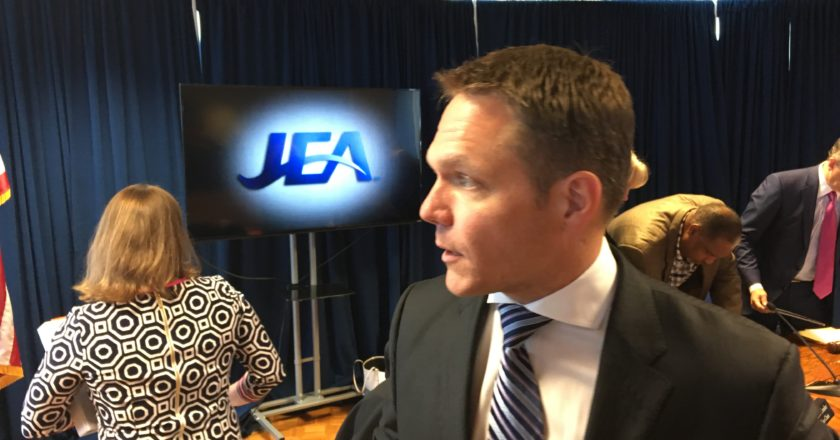 Administrative leave, suspension of duties, eventual termination without cause.
On Tuesday morning, the JEA board unanimously moved to terminate without cause — and with significantly reduced terms — the contract of embattled CEO Aaron Zahn.
Those terms have not been finalized, but he would have to forfeit the vast majority of the money owed him under current deals.
Unless he works out better terms before a Dec. 30 deadline, he will get one month ($52,000) of consulting fees, a fraction of the twelve months of fees he was promised. And 20 weeks of severance pay.
Off the table for now: a side deal giving him 100 percent of his salary in case of involuntary termination.
Zahn, the most public exponent for the thus far politically toxic scheme to privatize America's eighth largest utility, is slated to get administrative leave pay as terms are finalized, with a target date of Dec. 30 for a final accord.
The same board that selected Zahn — choosing his "passion" over outside candidates with actual experience in the public utility sector, moved to fire him — replacing him with COO Melissa Dykes on an interim basis.
Board chair April Green said Zahn had exercised "inappropriate personal and professional misconduct."
This included a failure to disclose secondary employment, as well as the botched executive bonus scheme known as the performance pay plan. Zahn asserted it had been cleared by the Office of General Counsel, but it had not.
Zahn told Green he would resign on Friday, but then walked that decision back, asking for termination without cause, which would entitle him to 20 weeks pay. Green disagreed, refusing to "negotiate."
Green, who was the most enthusiastic supporter of Zahn in the CEO vote, was the first to cast stones at him during the removal action. However, her clarion call was complicated by contractual vagaries.
Resistance from a city lawyer emerged as to whether what Zahn did met the "high bar" of cause in Zahn's contract, "gross negligence" which amounts to "willful misconduct."
The secondary employment, commercial property owned in an LLC with lobbyist Deno Hicks, would give him ten days to "cure" the condition. Significant questions arose as to whether this constituted moonlighting, even with plans to sell the property underfoot.
Green noted, defending her position, her belief that more revelations will drop on the CEO.
"If it walks like a duck, talks like a duck, it is a duck," Green said, adding that "liability must lie with Mr. Zahn."
"We have a responsibility to investigate and make sure," Green said, not to "let the CEO who has been here for less than two years walk away with $842,000."
Board member Henry Brown, arguing to settle and end this today, blamed the drafting of the contract as requiring the "certainty" of "terminating with convenience" and "bringing certainty to the situation."
Board member Kelly Flanagan argued for "further investigation" via "administrative leave, suspension of duties, investigation to determine whether cause is warranted."
A move was made to negotiate terms of departure with Zahn's lawyer at the table, despite the attorney saying he didn't have latitude to negotiate terms. Brown wanted to eliminate the $52,000 monthly consulting retainer and terminate without cause.
"That's a large architectural change," said Zahn's attorney, whose proposed settlement was six months' consultancy.
Brown countered with one month severance, even as new board member Dane Grey cautioned against "legal risk."
However, another wrinkle emerged: another retention agreement was signed in the case of involuntary termination in the case of a recapitalization agreement, which means Zahn would still get paid 100 percent of salary ($500,000+), if the utility sold, with the payment spread out over three installments.
Brown amended his motion to eliminate that payout to Zahn, which passed, leading to a 20 minute recess in which terms were negotiated with Zahn's attorney and an off-premises client.
While terms were not to be finalized Tuesday, negotiations were to take place in the coming weeks.
A seismic change, one only after a community outcry over JEA, the future of public power, and ultimately, how business has been done in Jacksonville in the Lenny Curry era.
Zahn is the second high-profile agency leader to be removed in 2019.
Joe Peppers, the head of Kids Hope Alliance, was removed by Curry's administration, with an Inspector General investigation launched against him.
There has yet to be resolution to that investigation.
— JEA's narrative continued to devolve all autumn, but Zahn and other executives' prevaricating during a City Council inquiry about the Performance Pay Plan led one ally of Curry, Rory Diamond, to call for the resignation of Zahn and CFO Ryan Wannamacher over so-called "legal theft."
The Performance Pay Plan was rescinded unceremoniously before the Zahn action.
Board member Kelly Flanagan, the CFO of the Jacksonville Jaguars, lauded Council members for looking into the plan. Flanagan voted for the plan in July, the same meeting JEA rolled out "invitations to negotiate" to bidders.
Flanagan suggested the board was basically in the dark until November, when Zahn informed the Office of General Counsel of his intention to "indefinitely postpone" the plan.
Flanagan believed there had been a "reasonable" purpose for the plan, with a "stated estimated cost of $3.4 million annually."
"It was clear the board did not have an understanding of the plan under a recapitalization scenario," Flanagan asserted.
Others likewise confessed to a fundamental ignorance of the scheme.
The board also mulled the advice of Jacksonville Mayor Lenny Curry to change the negotiation process, giving the City Council final say from a group of final bidders selected by late January.
New member Dane Grey argued for the move to the City Council, while chair April Green noted that credit ratings agencies and bondholders are watching.
With the process having picked up steam, including negotiations with the c-suite in Atlanta earlier this month, there was some disagreement about the way forward given the CEO change.
Board member Fred Newbill saw the push to sell as "one of the options presented to the board," not as an imperative.
Other options under consideration include a coop setup or maintaining the "status quo," which leadership has said was untenable.
"There's doubt in the process," added board member Henry Brown.
CEO Dykes said that a suite of options would be available by the January board meeting.
And there still was more drama.
Board member Fred Newbill called for an "investigation" of Jacksonville City Councilman Garrett Dennis for suggesting appointees to the board were put there to sell JEA.
"These are qualified people. We were business people. Successful. For him to make a statement somehow that we are serving the Mayor to sell JEA is a lie. He's never called me making statements on JEA," Newbill said.