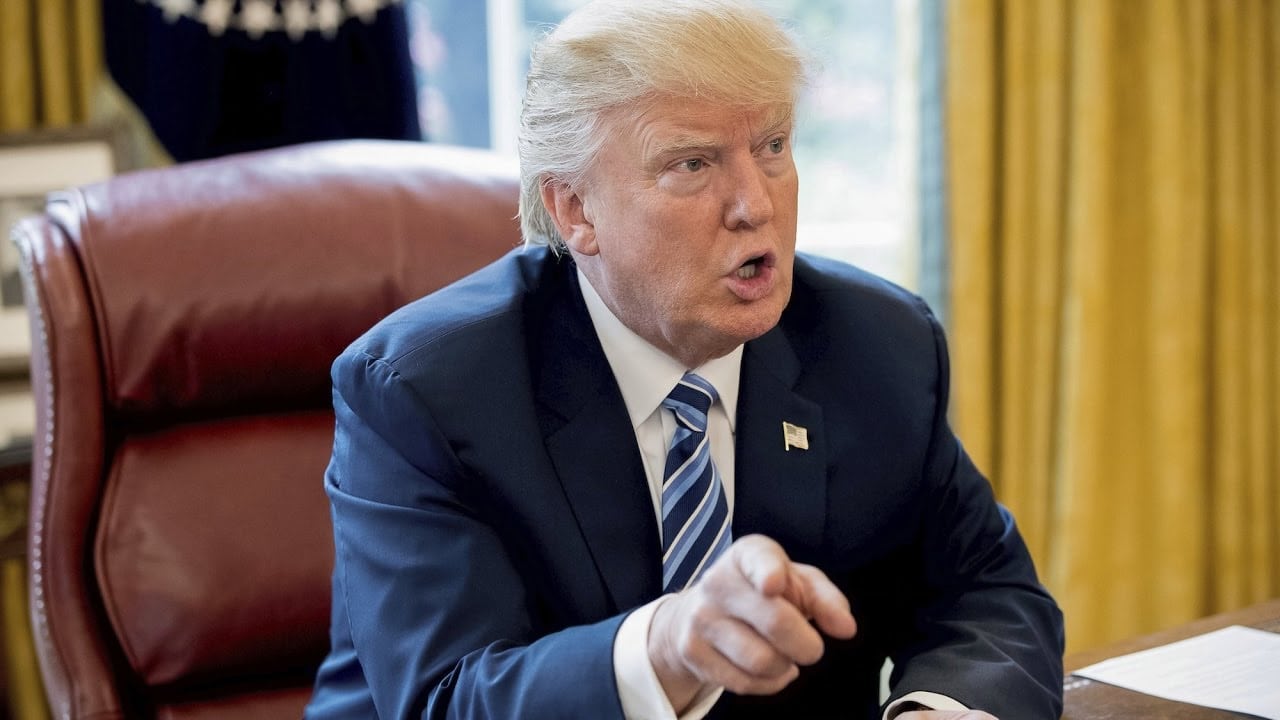 You are declaring open war on American Democracy, Trump wrote.
On the eve of his all-but-certain impeachment, President Donald Trump fired off a furious letter to House Speaker Nancy Pelosi Tuesday denouncing the "crusade" against him but acknowledging that at this point he was unlikely to change any votes.
At the Capitol, meanwhile, Democrats and Republicans sparred over the rules of debate for Wednesday's historic session, setting aside the lofty rhetoric of constitutional duty for the rugged politics of the House action and the Senate trial that is expected to follow.
Trump, who would be just the third U.S. president to be impeached, seemed resigned to the House-then-Senate scenario, aiming his message less at Pelosi and House Democrats than the broad audience of citizens — and 2020 voters — closely watching.
In the fiercely accusatory, sometimes rambling six-page letter, Trump defended his "absolutely perfect" phone call with the Ukraine president that sparked the impeachment inquiry. He also tried to justify anew the Ukrainian investigations he wanted into Democratic rival Joe Biden while withholding military aid from the vulnerable U.S. ally and disputed the charges of abuse of power and obstruction of Congress' investigation into the charges against him.
"You are the ones interfering in America's elections. You are the ones subverting America's Democracy. You are the ones Obstructing justice. You are the ones bringing pain and suffering to our Republic for your own selfish, personal political and partisan gain," Trump contended, accusing Democrats of "Trump Derangement Syndrome" while still smarting from their 2016 election losses.
Painting himself as a blameless victim, he compared the impeachment inquiry to the ''Salem Witch Trials." When asked later if he bore no responsibility for the proceedings, he said, " No, I don't think any. Zero, to put it mildly."
Trump called the impeachment effort "an attempted coup."
Pelosi had no immediate response as U.S. House of Representatives Democrats pushed ahead toward Wednesday's debate and votes. The Democratic-majority Rules Committee met through the day, with lawmakers arguing over the parameters for the debate.
"It's unfortunate that we have to be here today, but the actions of the president of the United States make that necessary," said Chairman Jim McGovern, a Massachusetts Democrat. "The evidence is as clear as it is overwhelming.″
He said the president "jeopardized our national security and he undermined our democracy" and added that "every day we let President Trump act like the law doesn't apply to him, we move a little closer" to rule by dictators.
The two articles of impeachment brought by the Democrats say Trump abused the power of his office by pressuring Ukraine to investigate Democratic rival Biden ahead of the 2020 election and obstructed Congress by aggressively trying to block the House investigation from its oversight duties as part of the nation's system of checks and balances.
The articles are almost certain to be approved along nearly partisan lines Wednesday.
Republican Rep. Tom Cole of Oklahoma, ranking member of the Rules Committee, said the split view among Americans over impeachment should be reason enough not to proceed with the rare action. "When half of Americans are telling you what you are doing is wrong, you should listen," he said.
Trump called the first article of impeachment, "a baseless invention of your imagination." He called the second article, "preposterous and dangerous." He gave a narrative of his term in office that ranged from his firing of former FBI Director James Comey, whom he called "one of the dirtiest cops Our nation has ever seen;" to quoting Michigan's Democratic U.S. Rep. Rashida Tlaib's statement that she wanted to impeach the motherf****r [Trump inserted the asterisks;] to Pelosi's statement last week that she prayed for Trump.
"By proceeding with your invalid impeachment, you are violating your oaths of office, you are breaking your allegiance to the Constitution, and you are declaring open war on American Democracy," Trump wrote. "You dare to invoke the founding Fathers in pursuit of this election-nullification scheme — yet your spiteful actions display unfettered contempt for America's founding and your egregious conduct threatens to destroy that which our Founders pledged their very lives to build. Even worse than offending the Founding Fathers, you are offending Americans of faith by continually saying "I pray for the President," when you know this statement is not true, unless it is meant in a negative sense. It is a terrible thing you are doing, but you will have to live with it, not I!"
___
Scott Powers of Florida Politics contributed to this report.