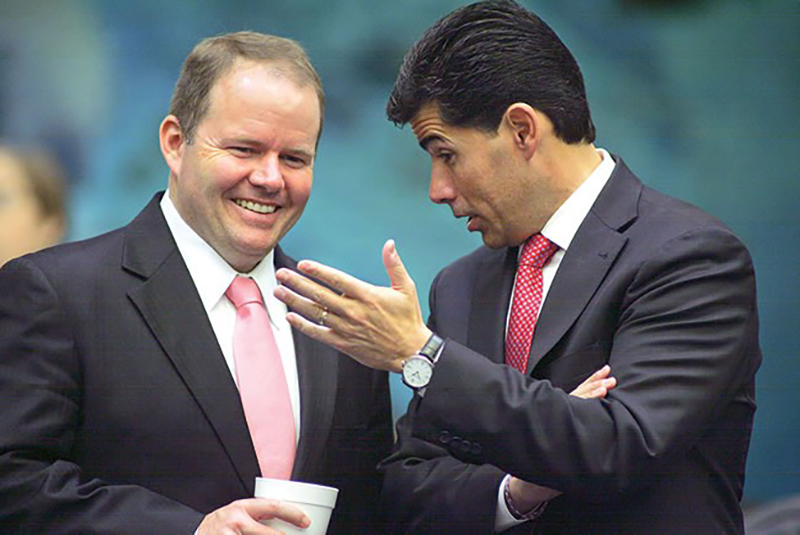 There's a $1.5B difference between the House and Senate budgets.
The respective rollouts of the Senate and House budgets were literally day and night.
The $92.8 billion Senate budget came early Thursday afternoon, accompanied with helpful quotes highlighting the Senate's willingness to spend on everything from education and the environment to pay raises for state workers.
The House budget dropped as the evening sun fell from the Tallahassee sky, devoid for over a day of quotes from House Speaker Jose Oliva and Budget Chief Travis Cummings. However, it did have a website launch attached, "as part of its commitment to transparency and access to public information."
The quotes came, eventually.
On Saturday morning, when many Capitol reporters are recovering from the week just concluded, the House advanced its own narrative about a $91.3 billion budget presented as "the lowest cost to taxpayers."
"Compared with the Governor's and Senate's proposals, the House's $91.4 billion budget comes in at the lowest cost to taxpayers and brings state government spending down to $4,158 per person — $47 less per-capita than the current fiscal year," a media release noted.
Speaker Oliva has prioritized shrinking government spending per capita, and this document would meet that goal.
The Senate justified spending bumps in Gov. Ron DeSantis' budget with "significant changes in estimates of future state obligations" since DeSantis rolled out his budget, concerns that don't jibe with the Oliva' agenda to shrink government spending per capita.
Oliva, in comments released Saturday, noted "the temptation to spend the natural increases in revenue received by the government. But the Florida House, like every individual and family in our great State, must plan for the down times and save for a rainy day."
Oliva lauded the proposal as "a budget that funds our needs, raises teacher pay, augments child welfare and prison workers, and balances at a lower per-capita spending rate than last year's budget. We also put more money into savings to guard against any economic headwinds, including tripling the constitutional reserve requirements."
House Appropriations Chair Travis Cummings said they had put their "best foot forward" with a "budget plan that covers Florida's needs and represents taxpayers well by keeping true to our conservative values."
"We took what we heard from the Governor and his agencies and came up with something that met those significant requests in a logical, substantial and sustainable way. At the same time, we're investing in our workers on the front lines in education, public safety and child welfare. This budget also includes an increase in annual salary for state employees making less than $50,000 per year," Cummings added.
Appropriations Vice-Chair Dane Eagle, the House Majority Leader, also lauded the "cost-effective and conscientious state budget."
"Just because our tax-base is growing doesn't mean the government should spend more. People — not the government — make better decisions about how to spend their money. Keeping Florida a fiscally responsible, low-tax and small government state is the key to continue to see our economy grow. This proposed plan does just that," Eagle asserts.
There are areas of broad agreement, such as the need to spend on the environment. Eagle remarked on the House's proposed "substantial $650.2 million investment in our environment … work toward protecting and cleaning our water, the Everglades, and our other most precious, natural resources."
Other areas will be open for negotiation in a more contentious way.
The teacher-pay program is one area where negotiations will be hammered out until the final hankie drop.
The Senate was willing to commit $500 million for teacher pay raises, with 80% being used to increase the minimum salary to $47,500 as the Governor wants.
The House made the same commitment, with money to "increase the minimum base salary for a full-time classroom teacher to an amount that is achievable by the school district's portion of the $500 million; however, no school district is required to increase the minimum base salary to an amount that exceeds $50,000."
If a district has no salaries below that threshold, the money generally would go for raises.
DeSantis wants $602 million to set a minimum salary for teachers at $47,500, which would put Florida only behind New Jersey in starting teacher pay. He's seeking an additional $300 million for a bonus program for teachers and principals, targeting underserved populations.
Bonuses may be a hard sell though.
VISIT FLORIDA is another area of potential concern. DeSantis may struggle to get the full $50 million he wants.
Whereas the Senate allocated $52.5 million, the House budget doesn't even contain the words … a sign that the agency will again be fighting for its life, despite CEO Dana Young saying she's been making the case for funding to lawmakers.