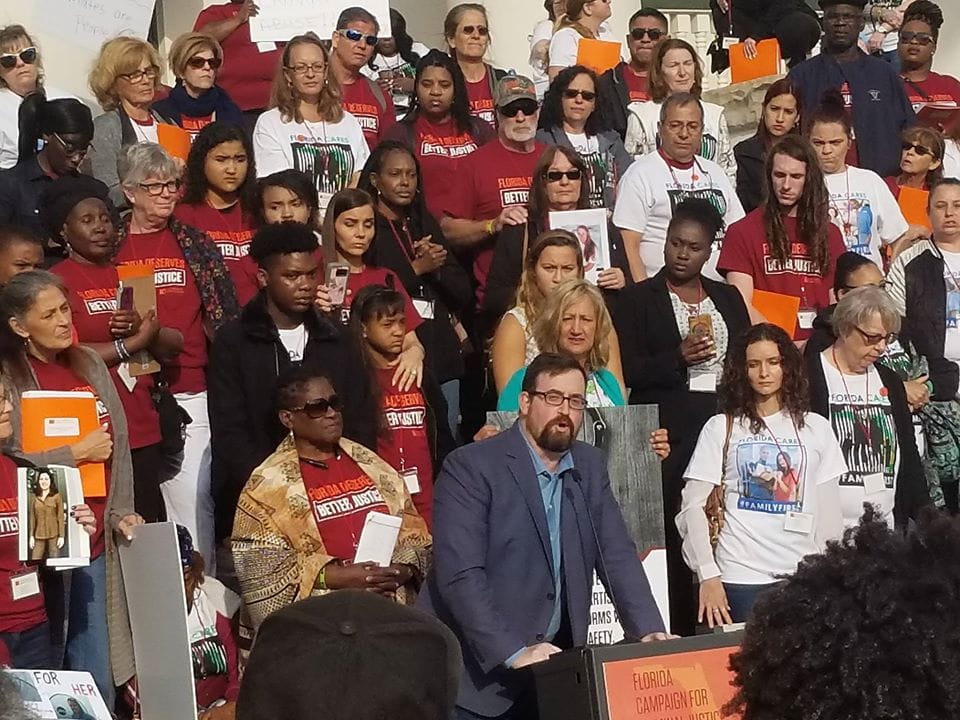 "Our message is that our vote is our voice."
Neil Volz two years ago spent his time in Tallahassee hoping to turn returning citizens into registered voters. That mission succeeded — for the most part — with passage of Amendment 4.
As the Florida Rights Restoration Coalition shows up en masse Tuesday at the Florida Capitol, Volz this year has a new reminder. Returning citizens are now voting constituents.
"As this new Florida constituency heads to its first election, our message is that our vote is our voice," said Volz, the Coalition's deputy director.
It's a message made clear in a video released by the Coalition ahead of the Advocacy Day on Tuesday. Leaders assert that Senators and Representatives who aren't working to remove barriers to voting should fear being replaced.
But Volz said it's not just lawmakers who need to be reminded of the power of citizens once again allowed on Florida's voter rolls.
Publicity around the Legislature's controversial implantation of Amendment 4, which makes clear voters must repay all fines and financial restitution before registering to vote, has largely overshadowed that new voters by the thousands have rejoined the electorate.
A court battle continues for a more streamlined path to registration, but it also wants to remind many felons whose sentences have been completed that they can sign up to vote right now.
As 14 buses bring more than 700 Coalition activists to Tallahassee on Tuesday, Volz wants to make sure many return home with the training and skills to activate a constituency.
"This year, it's really about empowering and developing leaders who can go back and fully engage with their communities," he said. "The more people who register, the more amplified our voices are with issues around criminal justice reform and making our communities safer."
There's also funds available throughout the state to help individuals concerned about outstanding financial restitution to have their bills covered. Even absent a court victory, that can help clear hurdles many face in retaining a right to vote they thought had been secured when Amendment 4 passed.
An attorney assistance program also will aid those fearful of court costs associated with settling all costs in court.
"We've helped hundreds of citizens with fines and fees," Volz said. "There is a variety of different avenues to help people."
The Coalition does arrive with a legislative agenda, and wants clemency reform and the restoration of other civil rights.
Volz said the group will advocate for HB 903, a bill by Rep. Byron Donalds streamlining the process for renewing suspended licenses, and for SB 572, a sentencing reform being championed by Sen. Jeff Brandes.
Also on the priorities list are Sen. Rob Bradley's SB 346 adjusting drug charge sentencing and Rep. Bobby DuBose's HB 259 which provides for compensation for the wrongfully incarcerated. And Volz said a gain time bill (HB 189) introduced by Reps. Dianne Hart and Kionne McGhee is a huge priority of the Coalition.
All of these will update Florida statutes in a way that prioritizes civil rights and promotes successful reentry into society over excessive punishment for crimes.
Volz said it's important to remember that the right to vote isn't the only right stripped from those convicted of felonies. Returning citizens face challenge to employment, housing and a host of other things many Floridians take for granted.
But with the blunt power of the vote available for political influence, Volz said he's looking forward to lobbying for change with the ballot box in his toolbox.
"We're excited for people's voice to be heard," he said, "people who have not had a voice in a long time."