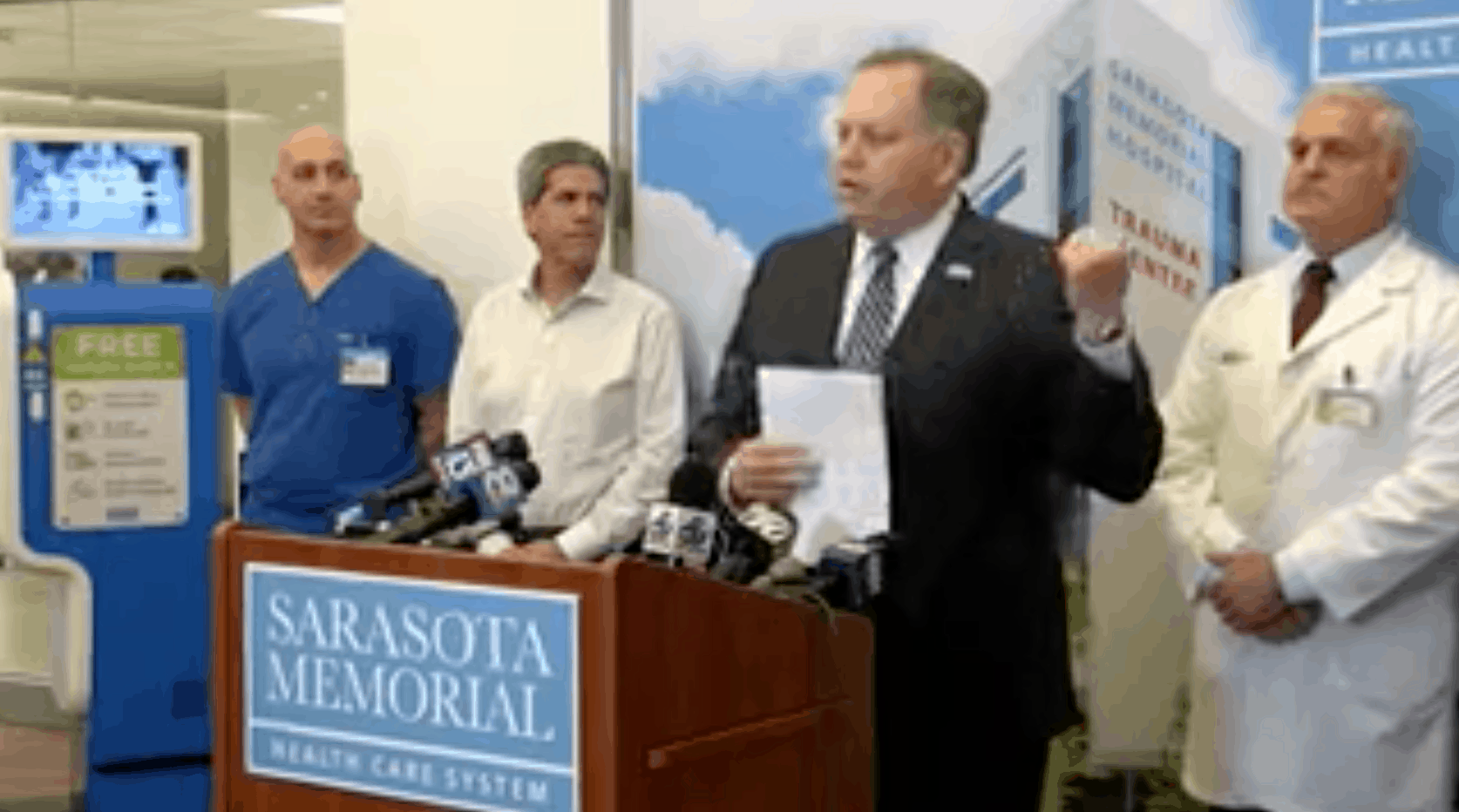 The patient is a 67-year-old woman from Manatee County
Late Friday night, Sarasota Memorial Hospital announced a second patient has tested presumptively positive for coronavirus.
A presumptive positive case is when a state health lab has a positive test without CDC confirmation.
The patient is a 67-year-old woman from Manatee County who was admitted to the hospital on Wednesday, March 10, the same day as the hospital's first coronavirus patient, a 70-year-old Massachusetts man.
Both patients were placed in isolation under the care of staff who's been trained in appropriate infection prevent and control measures.
This now makes three patients within Sarasota County with coronavirus, the third being a 50-year-old New York man.
Hospital leaders are working with the Florida Health Department to isolate and monitor any healthcare provide and close contacts of the patients who were potentially exposed, as well as to implement testing for anyone who develops coronavirus symptoms.
State health officials are still investigating how both patients contracted coronavirus and will identify anyone in the community who may have been exposed.
"Our team has been preparing for this eventuality for more than a month, and we have trained teams equipped with the resources needed to help keep our community safe," SMH CEO David Verinder said. "As more people are diagnosed in our nation, it is important to remember that we are talking about more than numbers. These are people we care for, and care about, and we all need to do our part to protect those most vulnerable in our community."
Officials at SMH say patients with severe respiratory illness are hospitalized in isolation rooms and treated by staff trained to care for patients at risk for coronavirus. The hospital keeps logs on everyone entering these rooms to identify anyone who came in contact with the patient should a test later show they have coronavirus.
SMH says all of its facilities are operating with extra staff and infection control measures in place. All surface areas of the hospital and outpatient sites are being continually and thoroughly cleaned and high high-risk areas are being treated by ultraviolet disinfection robots.
The hospital is also instituting a change to its visitor policy. Effective Friday at 6pm, no more than two visitors will be allowed per room and no visitors under the age of 13 will be allowed. Anyone with a cough or fever will not be allowed to visit a patient. For patients in isolation, all visitors are restricted and asked to utilize video calling apps.
Late Thursday night, the Florida Health Department announced more than a dozen new positive coronavirus cases, including cases in Palm Beach, Sarasota, Alachua, Volusia, Duval, Clay, Broward, Hillsborough, Lee and Miami-Dade counties.
Many of the new cases remain under investigation to determine how the patients contracted coronavirus, but a few have known origins, such as the Nile River cruise in Egypt, Port Everglades in Broward County, and international travel.
—